Biden pitches optimism in State of the Union address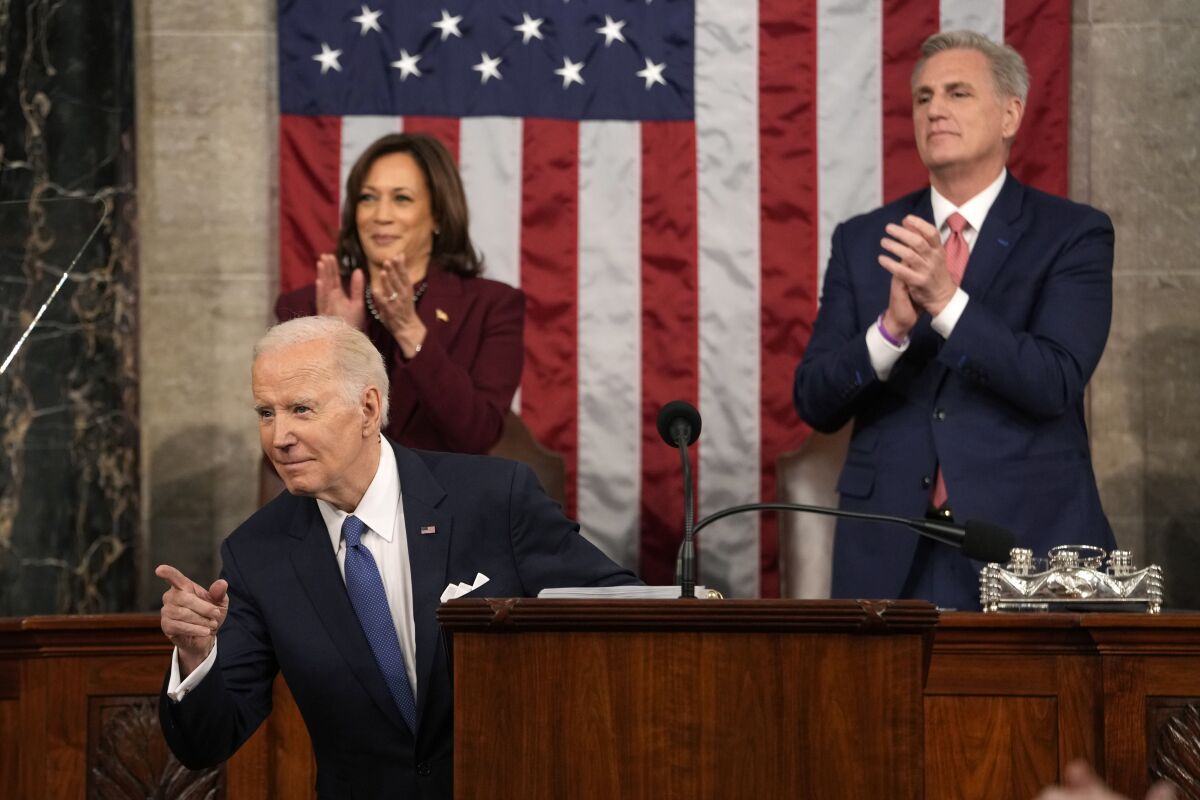 Hello, it's Wednesday, Feb. 8, and here are the stories you shouldn't miss today.
TOP STORIES
President Biden pitches optimism to skeptical Americans in State of the Union address. It started as a bipartisan appeal. But the president appeared combative and feisty at times during his State of the Union address as he sparred with Republicans over his legislative record, the federal deficit and border security.
House Speaker Kevin McCarthy (R-Bakersfield) at one point tried to quiet hecklers who shouted as Biden called on Congress to pass comprehensive immigration reform and help him address border security.
Biden, who spoke for roughly an hour, sought to reassure Americans that he has repaired the economic damage wrought by the COVID-19 pandemic. He reminded his critics that he has repeatedly defied predictions that he would be unable to work across the aisle.
Must-read stories from the L.A. Times
Get the day's top news with our Today's Headlines newsletter, sent every weekday morning.
You may occasionally receive promotional content from the Los Angeles Times.
Corporations are combating California's progressive agenda with ballot measures.
Twice in the last two weeks, major corporations have succeeded in suspending progressive policies approved by lawmakers at the California Capitol. Until voters can weigh in, measures meant to boost wages for fast food workers and ban oil drilling near schools and homes are on hold.
Labor unions, environmentalists and good government groups are raising concerns about the tactics, alleging that the corporations are abusing the direct democracy process and intentionally misleading voters who signed petitions calling for the referendums.
More politics:

Sign up for our California Politics newsletter to get the best of The Times' state politics reporting and the latest action in Sacramento.
A race to find survivors in Turkey and Syria as quake death toll exceeds 11,000. As temperatures dipped below freezing, rescue crews raced to free those trapped under the thousands of buildings that collapsed in the magnitude 7.8 earthquake that rocked southern Turkey and northern Syria.
The full scale of the devastation left by the massive temblor — one of the most powerful to hit the region in more than a century — has yet to become clear.
LeBron James passed the all-time NBA scoring record last night. James became the NBA's all-time leading scorer late in the third quarter, history coming on a step-back fadeaway jumper from 14 feet. The record he broke belonged to Kareem Abdul-Jabbar, who was present to congratulate him. Bill Plaschke says now LeBron is the greatest basketball player of all time.
Here's how LeBron claimed NBA's scoring crown, step by step.
Check out "The Times" podcast for essential news and more.
These days, waking up to current events can be, well, daunting. If you're seeking a more balanced news diet, "The Times" podcast is for you. Gustavo Arellano, along with a diverse set of reporters from the award-winning L.A. Times newsroom, delivers the most interesting stories from the Los Angeles Times every Monday, Wednesday and Friday. Listen and subscribe wherever you get your podcasts.
PHOTO OF THE DAY
CALIFORNIA
One of skid row's largest housing providers is facing financial implosion. Skid Row Housing Trust, a pioneer in the decades-old movement to revive aging downtown real estate as housing for homeless people, is seeking a lifeline to keep its doors open for more than a thousand low-income tenants.
After a Riverside high school freshman is beaten on video, parents ask why no one has been arrested. The Riverside County Sheriff's Department has not made an arrest in the case, and the school district did not address the shocking footage until Tuesday — after KTLA published a report on the incident.
California offers help for more homeowners who missed mortgage or tax payments. One reason for the expansion is that the state has yet to spend most of the $1 billion in homeowner aid the federal government provided last year through the American Rescue Plan.
The number of trees that died in California spiked last year. Drought is mainly to blame. Roughly 36.3 million dead trees were counted last year across the state. The survey likely missed even more.
Support our journalism
Subscribe to the Los Angeles Times.
NATION-WORLD
The U.S. Navy releases photos of the recovered Chinese balloon. Using underwater drones, warships and inflatable vessels, the Navy is carrying out an extensive operation to gather all of the pieces of the massive spy balloon a U.S. fighter jet shot down on Saturday.
Helping whales to flourish can help with climate change. Twelve great whale species — minkes, Antarctic minkes, sei, Bryde's, blue, fin, bowhead, gray, humpback and three species of right whale — hold an estimated 2 million metric tons of carbon in their bodies, according to a new study.
What's happening with the Trump special counsel investigation? Jack Smith, a veteran Justice Department prosecutor, is tasked with overseeing criminal investigations into former President Trump's handling of classified documents after he left the White House and a separate probe into attempts to stop Biden from assuming office after the 2020 election. Here's what Smith has been up to.
HOLLYWOOD AND THE ARTS
Gustavo Dudamel will leave the L.A. Philharmonic for the N.Y. Phil. The celebrated conductor told The Times that the decision was complex and difficult. With three seasons left under his contract, he will keep his focus in L.A. until 2026.
Michelle Yeoh says she finally gets to be herself: 'Thank you for seeing me.' The Academy Award nominee has been a movie star for decades. But it's her leading role in "Everything Everywhere All at Once" that let her show what she's capable of, she says.
Janelle Monáe jokingly threatens to quit music after fan compares her to Monopoly Man. The singer and actress is sending fans directly to Twitter jail (Do not pass go. Do not collect $200) for liking a viral tweet comparing her to Mr. Monopoly, the mustachioed game character.
M. Night Shyamalan's 'Knock at the Cabin' twists a book's original ending — and meaning. Author Paul Tremblay talks about the changes Shyamalan's film made to his novel "Cabin at the End of the World."
BUSINESS
A lawsuit alleges that Wells Fargo didn't act after an L.A. executive was raped by her boss. The former executive said the assault happened on a work trip and the bank created a hostile work environment, failed to protect her from sexual harassment and retaliated against her.
Fed Chair says strong hiring could force further rate hikes. Jerome H. Powell said Tuesday that that if the U.S. job market further strengthens or inflation readings accelerate, the Fed might have to raise its benchmark interest rate higher than it now projects. Powell's remarks come as the unemployment rate fell to its lowest level in 53 years, 3.4%.
OPINION
Editorial: Oil companies spent millions to keep drilling in neighborhoods. California shouldn't let them. New health protections are being lifted just a month after they took effect. But there is really nothing preventing California's state oil and gas regulators from acting to prevent neighborhood drilling.
Opinion: The State of the Union shouldn't be self-care for presidents. The Constitution mandates that the president of the United States report to Congress on the state of the union "from time to time." It does not require him to do this in person, late in the evening, for an hour or more, like a dinner guest who keeps on talking while the plates are cleared.
Free online games
Get our free daily crossword puzzle, sudoku, word search and arcade games in our new game center at latimes.com/games.
SPORTS
How growing up in an MLB clubhouse prepared Patrick Mahomes for NFL stardom. The younger Mahomes has become one of the NFL's best quarterbacks since he took his first snap as the starter in 2018, leading the Kansas City Chiefs to three Super Bowls in four years, including Sunday's game against the Philadelphia Eagles.
ONLY IN L.A.
The first time most people in Los Angeles heard of gay porn actor Billy London — a.k.a. Bill Newton — was when he was murdered. For decades, he remained one of L.A.'s many unavenged souls. Homicide detectives pursued the case but kept running into dead ends in a community with good reason to distrust them. But a team of amateur internet sleuths just helped crack the case — 30 years after the murder.
FROM THE ARCHIVES
On Feb. 8, 1952, Elizabeth II became queen following the death of her father, George VI. The front page of the Los Angeles Times took a cheeky tone to the story, which starts like this:
"With ancient pomp, Britain tightened the skeins of sovereignty around young Elizabeth II today, then released her temporarily to flee into the arms of her mother."
We appreciate that you took the time to read Today's Headlines! Comments or ideas? Feel free to drop us a note at headlines@latimes.com.

Must-read stories from the L.A. Times
Get the day's top news with our Today's Headlines newsletter, sent every weekday morning.
You may occasionally receive promotional content from the Los Angeles Times.