Hurricane Dorian continues to pound Southeastern U.S. coast
CHARLESTON, S.C. —
Blustery wind and sideways rain lashed the low-lying coast of South and North Carolina on Thursday as Hurricane Dorian churned offshore, downing power lines and stately live oak trees, spawning tornadoes and threatening hundreds of thousands of coastal residents with intense flooding.
After pummeling the Bahamas as a Category 5 hurricane, killing more than 20 people, the erratic and wobbly storm weakened early in the week, only to pick up strength briefly overnight Wednesday and then weaken again. By Thursday evening, Dorian was a Category 2 as it moved about 30 miles south of Cape Fear, N.C., with maximum sustained winds of 100 mph.
Beaufort Police Officer Curtis Resor, left, and Sgt. Micheal Stepehens check a sailboat for occupants in Beaufort, N.C. after Hurricane Dorian passed the North Carolina coast.
(ASSOCIATED PRESS)
Bill Bailey, assistant chief of the Emerald Isle Police Department, walks past a damaged trailer in the Holiday Trav-l Park in Emerald Isle, N.C., that was hit by a tornado generated by Hurricane Dorian.
(Julia Wall / [Raleigh, N.C.] News & Observer)
Waves pound the Bogue Inlet Fishing Pier in Emerald Isle, N.C., as Hurricane Dorian moves north off the coast.
(Julia Wall / [Raleigh, N.C.] News & Observer)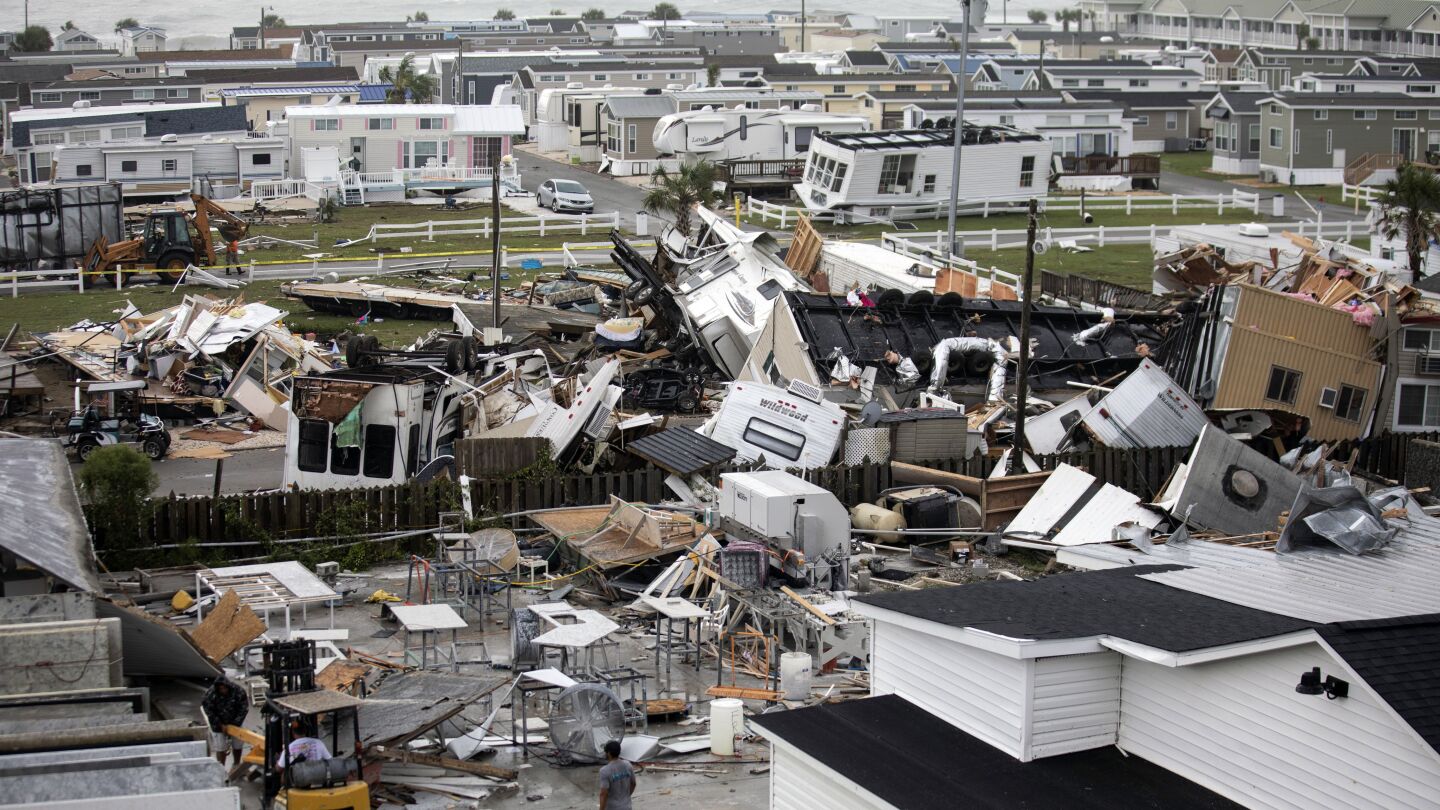 Mobile homes are upended and debris is strewn about at the Holiday Trav-l Park in Emerald Isle, N.C, after a tornado generated by Hurricane Dorian struck the area.
(Julia Wall / [Raleigh, N.C.] News & Observer)
A city crew works to clear the road blocked by a demolished mobile home after a tornado hit Emerald Isle N.C., as Hurricane Dorian moved up the East Coast.
(Tom Copeland / Associated Press)
A sailboat that came loose from its moorings wound up next to a bridge as Hurricane Dorian passed Isle of Palms, S.C.
(Mic Smith / Associated Press)
A gas station shows wind damage near Pawley's Island, S.C.
(Sean Rayford / Getty Images)
Residents find a neighborhood road blocked by a downed tree during Hurricane Dorian at the Isle of Palms, S.C.
(Mic Smith / Associated Press)
Johnny Crawford navigates his kayak down a flooded street in Charleston, S.C.
(Meg Kinnard / Associated Press)
Bill Chambers looks at the damage to the Summerville High School football stadium's goalpost and signage after Hurricane Dorian passed in Summerville, S.C.
(Mic Smith / Associated Press)
Bill Olesner walks down South Battery Street while cleaning debris from storm drains in Charleston, S.C.
(Sean Rayford / Getty Images)
While South Carolina fared better than expected — Gov. Henry McMaster lifted evacuation orders early Thursday afternoon for three of eight coastal counties — North Carolina was still at risk of tornadoes, storm surge and flash flooding. Major river flooding was expected at the Northeast Cape Fear River near Burgaw.
"We are feeling the storm's force, but it has only started," North Carolina Gov. Roy Cooper said Thursday afternoon. "We have a long night ahead of us."
The National Hurricane Center expects Dorian to slowly weaken as it moves along the South and North Carolina coasts, but a hurricane warning remains in effect from the South Santee River to the border of North Carolina and Virginia, as well as the Pamlico and Albemarle sounds.
Even though Dorian is not as powerful as it was when it made landfall in the Bahamas, it has grown in size, with hurricane-force winds stretching as far as 60 miles from its center and tropical-storm-force winds reaching as far as 220 miles.
Shortly after 9 a.m., a tornado touched down in Emerald Isle, a long barrier island in North Carolina, knocking down rows of mobile homes in the Boardwalk RV Park.
More than 100 miles southwest, near the South Carolina state line, another tornado hit the small fishing town of Calabash, N.C., blazing a trail of damage all the way to the nearby seaside town of Sunset Beach.
"During hurricanes, tornadoes can form quickly with little warning," North Carolina Emergency Management warned on Twitter, noting that the threat of tornadoes would continue across parts of central and eastern North Carolina through Friday.
Water rose in the historic South Carolina city of Charleston hours before the eye of the storm passed about 35 miles offshore, blasting Charleston Harbor with wind gusts of 80 mph. By midmorning, Market Street, a popular spot where tourists flock to buy sweetgrass baskets and warm pralines, was engulfed in a foot of rainwater.
Roaring winds knocked down palmetto fronds and tree branches and scattered pink crepe myrtle petals across the streets like confetti.
On Charleston's East Side, Terrence McNeil, a 24-year-old plasterer, smoked a cigarette on his narrow porch in white socks and sandals as he watched rainwater puddle around the Wragg Borough Homes public housing complex and submerge the wheels of a row of sedans and SUVs.
Like most residents of the squat 1940s-era apartments, he had received severe-weather alerts from the National Weather Service on his cellphone, but he wasn't too worried.
"It ain't nothing new," he said with a shrug of his shoulders. "Charleston is always flooding."
A neighbor, Serenbe Bruce, dashed through the pelting rain, hopscotching around the soggy grass and muddy puddles in light sneakers and clutching the hood of her green parka so the fierce wind wouldn't whip it off her head.
"I've run out of milk for my boy," the 25-year-old said as she ducked under an awning for a minute. "Hopefully a store will be open somewhere."
She did not have a car or rain boots, and all the nearby convenience stores, gas stations and restaurants were locked or boarded up.
While Florida and Georgia emerged largely unscathed as Dorian moved up the Southeastern coastline of the United States — the closest Dorian's eye got to the Florida coast was 90 miles in the Cape Canaveral area — forecasters warned North Carolina residents not to be complacent.
Brittany MacNamara, a forecaster for the National Weather Service in Charleston, said Dorian was likely to get a bit closer to the coast, bringing inner rain bands and high wind gusts to the shore, before potentially making landfall farther north.
"The flooding occurring now is only going to get worse" she said.
Across the South Carolina coast, more than 800,000 people in low-lying and flood-prone areas were under mandatory evacuation orders, but many did not leave. Officials estimated that more than 440,000 evacuated ahead of the storm.
In Florida, officials confirmed that six people died as a result of the storm — either as they prepared for it or after they evacuated. An 85-year-old man also died in North Carolina after falling off a ladder while he was preparing his home for the storm.
As Dorian pulled away from the Bahamas, search-and-rescue crews continued to pick through the wreckage of collapsed and flattened homes.
The official storm-related death toll in the Bahamas climbed to 23 by Thursday evening, and officials said they expected the number would increase.
Over the last two days, a string of organizations from across the globe — including the U.S. Coast Guard and Britain's Royal Navy — have descended on the Bahamas to airlift endangered residents to safety and offer food and medicine. On Thursday, Royal Caribbean's Empress of the Seas cruise ship arrived in Freeport to deliver 10,000 meals, 10,000 bottles of water, medical supplies and generators.
Dorian is the latest of several hurricanes to threaten the Carolina coast in recent years.
Last year, Hurricane Florence dropped more than 30 inches of rain on parts of the Carolinas, killing more than 50 people. In 2017, Hurricane Irma stirred up a massive 10-foot tidal surge that submerged large swaths of South Carolina's Lowcountry. In 2016, Hurricane Matthew made landfall as a Category 1 hurricane near McClellanville, S.C., and lingered in North Carolina, inundating rivers with heavy rain that caused devastating flooding.
More than 3,500 people across South and North Carolina were staying in 85 emergency shelters Thursday, and 230,000 residents were without power.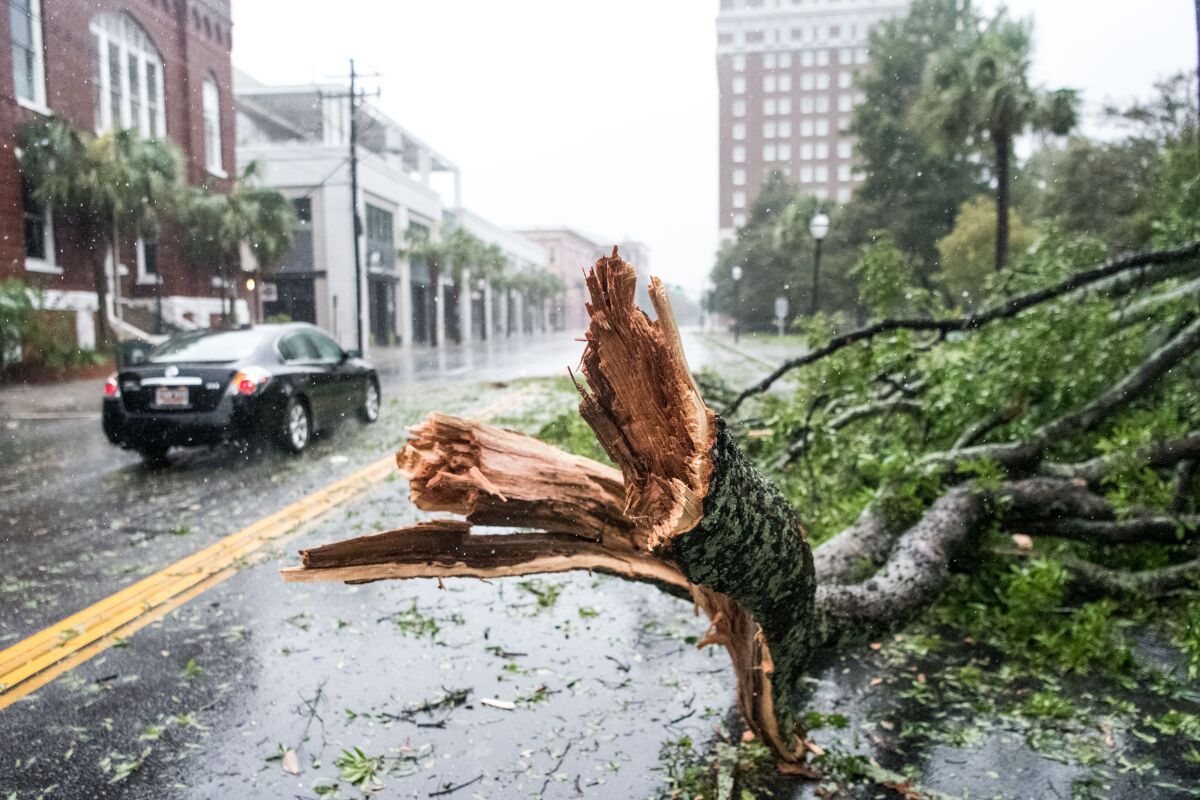 As dusk fell, many leaders in South Carolina felt relief.
"I think we dodged a big bullet," Brendon Barber, the mayor of the historic seaport town of Georgetown, said after touring the city Thursday afternoon to assess the damage.
A major thoroughfare, Front Street, flooded with about a foot of water, but most businesses had laid out sandbags at their doors, and the damage was not nearly as bad as expected.
"If we were going to have major flooding, it would have already impacted us by now," Barber said.
In North Carolina, where Dorian is expected to pummel the port city of Wilmington as well as the 200-mile string of barrier islands on the Outer Banks, Gov. Cooper said that some areas had seen 9 inches of rain in a short period of time and that conditions would continue to worsen throughout the night. Many areas were under curfew.
"Stay home and safe," he urged. "Don't drive through standing or moving water. If the road is covered with water, turn around. Don't risk your life or the lives of first responders."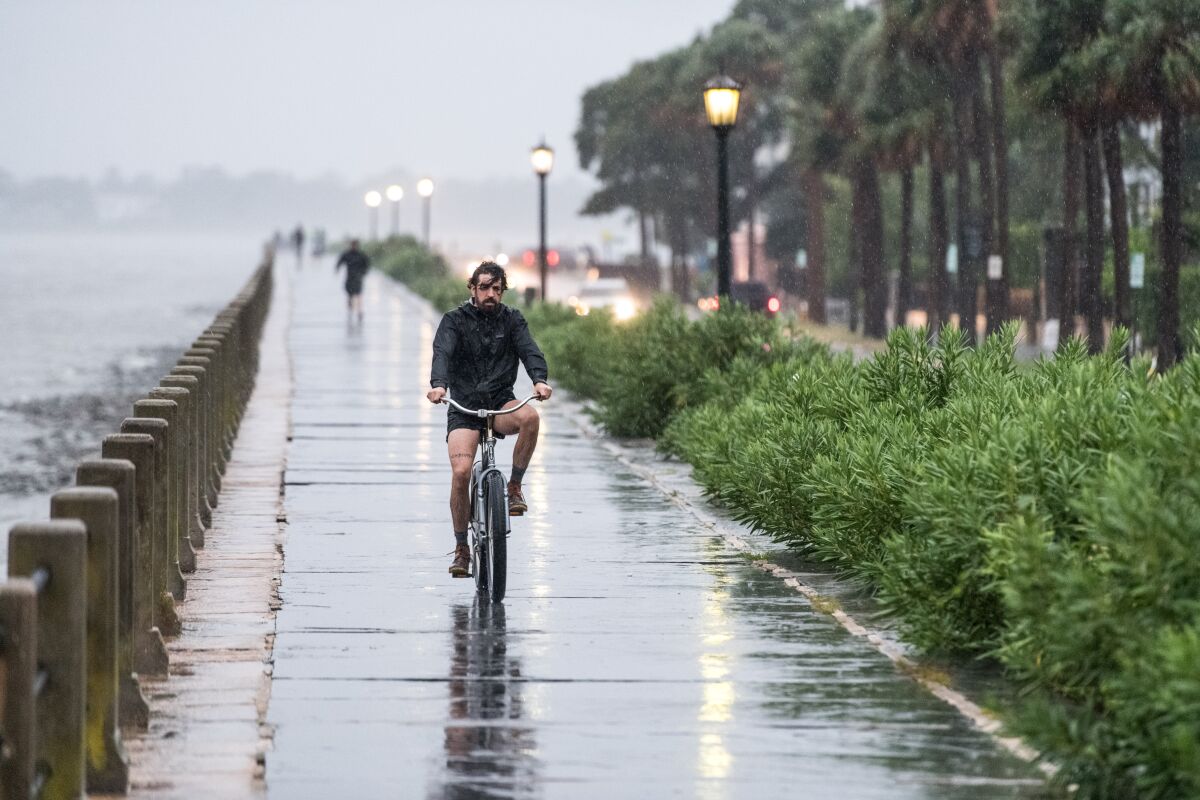 ---
Must-read stories from the L.A. Times
Get the day's top news with our Today's Headlines newsletter, sent every weekday morning.
You may occasionally receive promotional content from the Los Angeles Times.