Iranian women allowed to attend FIFA soccer match at home for the first time in decades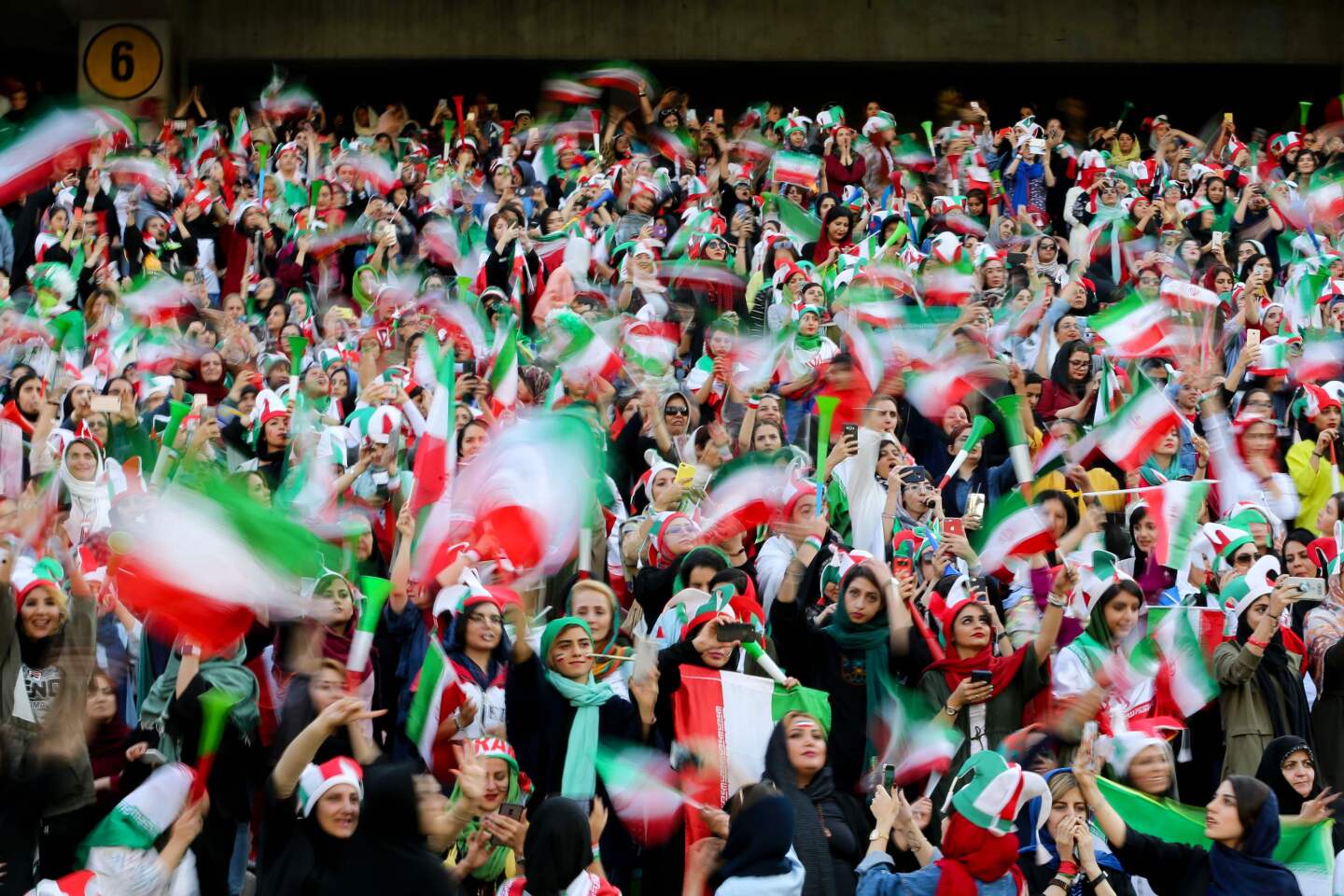 Iranian women cheer during the World Cup Qatar 2022 Group C qualification match between Iran and Cambodia at Azadi Stadium in Tehran.
(Atta Kenare / AFP / Getty Images)
An Iranian woman flashes a victory sign during a soccer match between Iran and Cambodia in the 2022 World Cup qualifier at the Azadi Stadium in Tehran.
(Vahid Salemi / Associated Press)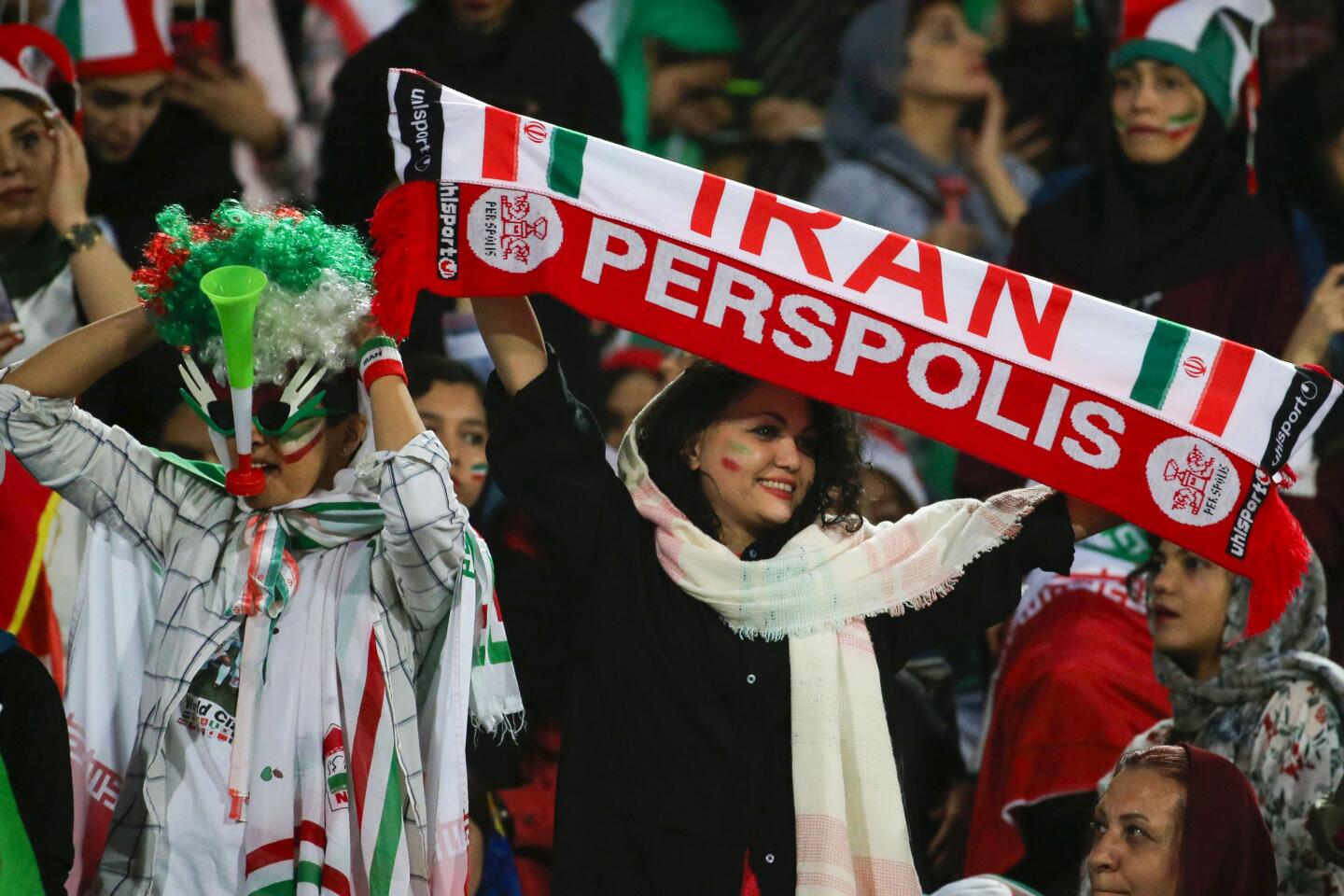 Iranian women cheer during thematch between Iran and Cambodia at Azadi Stadium in Tehran.
(Atta Kenare / AFP / Getty Images)
Female soccer fans watch the match as as female police officers, left, monitor at Azadi Stadium in Tehran.
(Vahid Salemi / Associated Press)
Iranian women cheer during the match.
(Amin M. Jamali / Getty Images)
Iranian women hold an Iranian flag during a soccer match between their national team and Cambodia at Azadi Stadium in Tehran.
(Vahid Salemi / Associated Press)
TEHRAN —
As thousands of Iranian women young and old made their way inside Tehran's Azadi Stadium on Thursday to watch the World Cup qualifying match between the Iranian and Cambodian men's teams, the excitement was palpable.
The sea of cheering women grew louder as they took their seats in women's-only sections, making their presence known by proudly showing their faces, painted with streaks of green, white and red, as they waved Iranian flags from their seats.
"We are so happy to be here. It is a memorable day for our generation," Marziye Hoshmand, 30, said before she entered the stadium with her friend Elahe Hoshyar.
It marked the first time in nearly four decades that Iranian women were able to buy tickets and enter a stadium here to watch a live sports event.
The ban on women has been an unwritten policy in effect since 1981, shortly after Iran's Islamic Revolution.
Domestic pressure spearheaded by the country's burgeoning women's rights movement, coupled with international condemnation, has now culminated in what many see as a step in the right direction.
Before Thursday's match, some women had gone to great lengths to sneak into stadiums, at times even disguising themselves as men.
Such was the case for 29-year-old Sahar Khodayari, now memorialized as Iran's Blue Girl. Khodayari set herself on fire last month outside a courthouse in Tehran where she had been summoned after she was arrested trying to enter Azadi Stadium in March to watch a soccer game.
She died in a Tehran hospital less than two weeks later.
It was her plight and subsequent death that prompted Iranians from all walks of life to take to social media to express outrage. Khodayari's story made international headlines and drew condemnation from FIFA officials, who threatened to suspend the country from international tournaments.
"FIFA's position is firm and clear: Women have to be allowed into football stadiums in Iran," FIFA President Gianni Infantino said in late September.
Iranian authorities appeared to succumb to pressure last week when they made tickets available for women to purchase. Authorities had initially capped the number of seats for female-only sections in the 78,000-seat Azadi Stadium at 2,000, but later increased it to 3,500 given the high demand.
Hoshmand and Hoshyar went to great lengths to snag their tickets after government officials, bowing to international condemnation, announced Oct. 3 that women would be allowed to attend.
Hoshmand said she stayed up all night hitting the refresh button on a purchasing website.
"Once we got the tickets, we couldn't believe it," she said.
"This is a new chapter in our history and we are happy," Hoshyar chimed in.
Khodayari was not forgotten during the soccer match, with some women deciding to honor her life by chanting, "Blue Girl, your seat is empty."
Such behavior was risky. Authorities intensified security ahead of the game. Empty seats and barbed wire separated the women's sections from the men's, and some male journalists caught speaking or taking photos of women were detained by plainclothes police officers.
Female attendees said they were warned by security officials that they could be ejected if they shouted slogans deemed inappropriate. Still, many women ignored such warnings and embraced the moment.
"I think FIFA has played a very important role in opening the stadium to women," said Raha, a 27-year-old psychology student. She asked that only her first name be used because of concerns for her safety.
Although Thursday's game marked a pivotal moment, some Iranian activists remain wary that the change is merely temporary. Conservative lawmakers continue to be dead-set against allowing women into stadiums.
"It still remains to be seen whether officials will allow women to enter stadiums to watch domestic sports games," Raha said.
The game ended on a high note, with Iran winning 14-0.
Until last week, Marzie Rasooli, a 40-year-old women's rights activist, said she didn't consider attendance at sports events an issue worth aggressively addressing compared with other pertinent issues women face. But Rasooli says she has had a change of heart.
"Thanks to FIFA's pressure and the self-sacrifice of Blue Girl, we will keep fighting for our rights until families can enjoy watching matches together ... shoulder to shoulder and next to each other."
Special correspondent Mostaghim reported from Tehran and Times staff writer Etehad from Los Angeles.
Public outcry over the death of a 29-year-old who set herself on fire after she was arrested for entering a stadium to watch a soccer match unveils Iran's growing women's rights movement and how it has changed in recent years
I
Sign up for Essential California for news, features and recommendations from the L.A. Times and beyond in your inbox six days a week.
You may occasionally receive promotional content from the Los Angeles Times.