Typhoon Hagibis rescue efforts in full force in Japan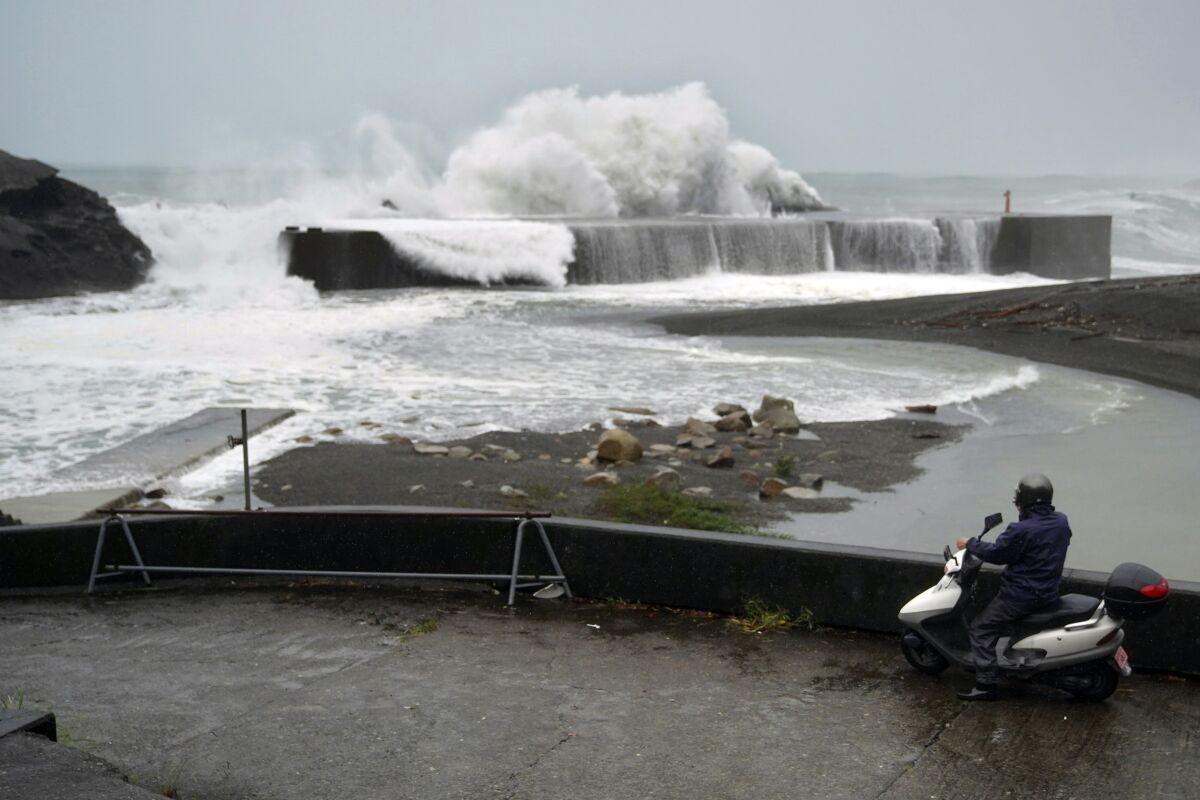 FUJISAWA, Japan —
Rescue efforts for people stranded in flooded areas were in full force Sunday after a powerful typhoon dashed heavy rainfall and winds through a widespread area of Japan, including Tokyo.
Typhoon Hagibis made landfall south of Tokyo on Saturday and moved northward.
The typhoon left seven people dead, 15 missing and more than 100 people injured, according to public broadcaster NHK. The numbers were growing, underlining the damage from Hagibis, which means "speed" in the Philippine language of Tagalog.
News footage showed a rescue helicopter hovering in a flooded area in Nagano prefecture after an embankment of the Chikuma River broke, plucking people from the second floor of a home submerged in muddy waters.
Several other rivers had also overflowed, including Tama River near Tokyo, according to NHK.
Authorities warned that the risk of mudslides remained.
Some train service in the Tokyo area, much of which had halted, resumed in the early morning, although other lines were undergoing safety checks and were expected to start later in the day.
The World Rugby Cup match between Namibia and Canada, scheduled for Sunday in Kamaishi, northern Japan, was canceled as a precautionary measure for safety reasons.
An earthquake shook the rain-drenched area shortly before the typhoon made landfall in Shizuoka prefecture on Saturday evening. The U.S. Geological Survey said the magnitude 5.3 quake was centered in the ocean off the coast of Chiba, near Tokyo, and was fairly deep, at 37 miles. Deep quakes tend to cause less damage than shallow ones.
Forecasters had said that the typhoon was expected to be Japan's worst in six decades.
"Be ready for rainfall of the kind that you have never experienced," said meteorological agency official Yasushi Kajihara, adding that areas usually safe from disasters may prove vulnerable.
"Take all measures necessary to save your life," he said.
Kajihara said people who live near rivers should take shelter on the second floor or higher of any sturdy building if an officially designated evacuation center wasn't easily accessible. He also expressed fears that disaster may have already struck in some areas.
Hagibis advanced north-northwestward with maximum sustained winds of 90 mph Saturday evening, according to the meteorological agency. It was traveling toward Tokyo and northern Japan at 22 mph.
The storm brought heavy rainfall in wide areas of Japan all day ahead of its landfall, including in Shizuoka and Mie prefectures, southwest of Tokyo, as well as Chiba to the north.
Heavy rain caused rivers to swell, flipped anchored boats and whipped up a dangerous surge along the coast, flooding some neighborhoods and leaving people to wade in ankle-deep water amid floating cars.
In Shizuoka, one of two men who went missing in the Nishikawa River was rescued, Gotemba city official Fumihiko Katsumata said. Firefighters said the two men were working at a river canal to try to control overflowing water when they were swept away.
Yusuke Ikegaya, a Shizuoka resident who evacuated ahead of the storm, said he was surprised that the nearby river was about to overflow in the morning, hours before the typhoon made landfall.
"In the 28 years of my life, this is the first time I've had to evacuate even before a typhoon has landed," he said.
Authorities also warned of mudslides, common in mountainous Japan.
Shiroyama dam in Kanagawa prefecture, also southwest of Tokyo, and three other dams may release some of their waters, which were nearing limits, NHK reported. An overflowing dam is likely to cause greater damage, so releasing some water gradually is a standard emergency measure.
About 17,000 police and military troops were called up, standing ready for rescue operations.
The typhoon disrupted a three-day weekend in Japan that includes Sports Day on Monday. Qualifying for a Formula One auto race in Suzuka was delayed. The Defense Ministry cut a three-day annual navy review to a single day on Monday.
All Nippon Airways and Japan Airlines grounded most domestic and international flights at the Tokyo, Osaka and Nagoya airports. Central Japan Railway Co. canceled bullet train service between Tokyo and Osaka except for several early Saturday trains connecting Nagoya and Osaka. Tokyo Disneyland was closed, while Ginza department stores and smaller shops throughout Tokyo were shuttered.
A typhoon that hit the Tokyo region in 1958 left more than 1,200 people dead and half a million houses flooded.
---
Must-read stories from the L.A. Times
Get the day's top news with our Today's Headlines newsletter, sent every weekday morning.
You may occasionally receive promotional content from the Los Angeles Times.