Teen climate activist Greta Thunberg 'a bit surprised' to be Time's person of the year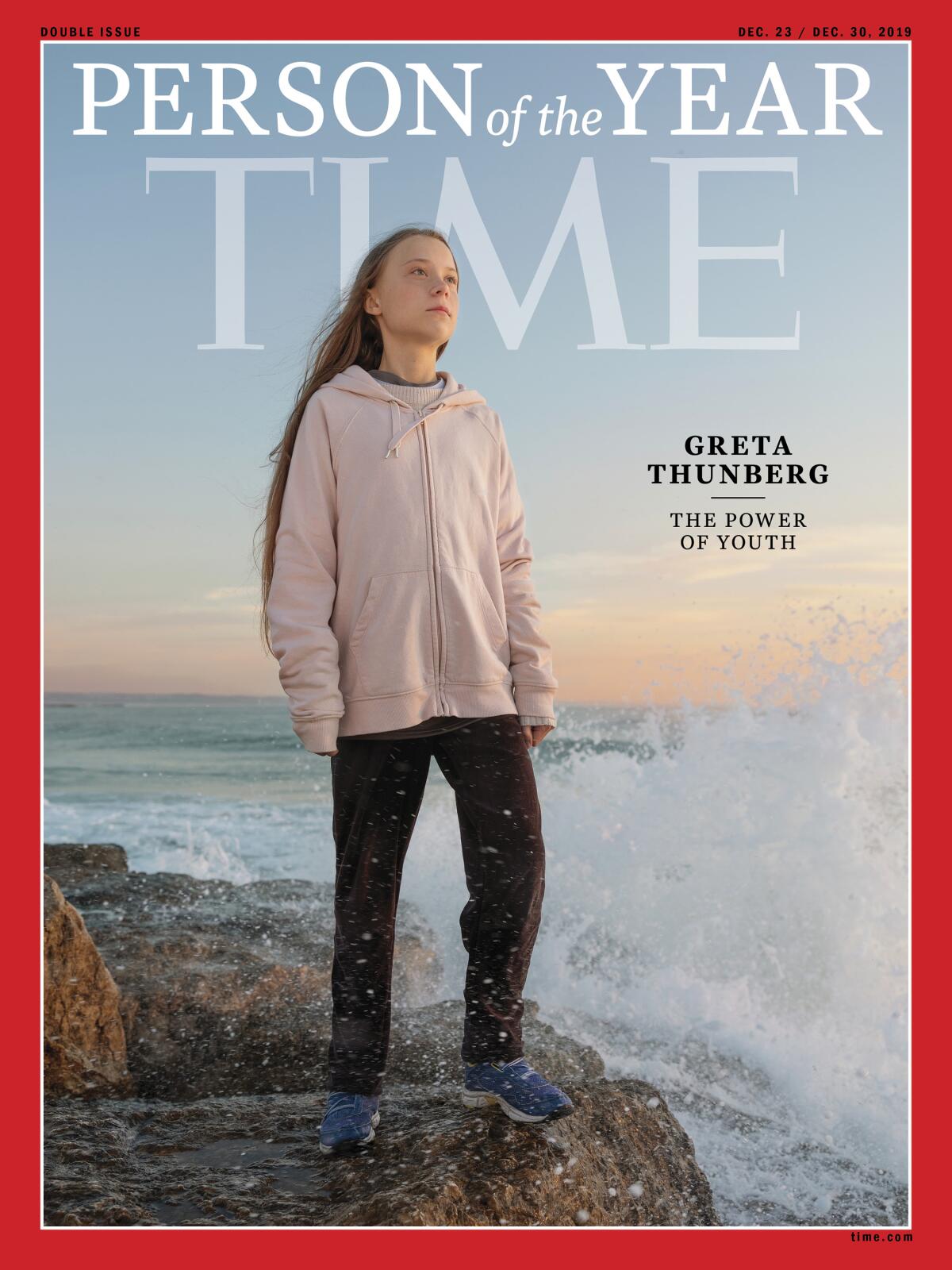 MADRID —
Teenage climate activist Greta Thunberg said she was surprised and honored Wednesday to be named Time's youngest person of the year, but added that others in the global movement she helped inspire deserve to share the accolade.
The 16-year-old Swede has become the face of a new generation of environmental activists, drawing large crowds with her appearances at protests and conferences over the last year and a half. Some have welcomed her work, including her speeches challenging world leaders to do more to stop global warming. But others have criticized her sometimes combative tone.
"For sounding the alarm about humanity's predatory relationship with the only home we have, for bringing to a fragmented world a voice that transcends backgrounds and borders, for showing us all what it might look like when a new generation leads, Greta Thunberg is Time's 2019 Person of the Year," the media franchise said on its website.
As she left a United Nations climate conference in Madrid, Thunberg told the Associated Press that she was "a bit surprised" at the recognition.
"I could never have imagined anything like that happening," she said in a phone interview.
"I'm of course very grateful for that, very honored," Thunberg said, but added, "It should be everyone in the Fridays for Future movement because what we have done, we have done together."
Thunberg said she hoped the message being pushed by her and other activists — that governments need to drastically increase their efforts to combat climate change — is finally getting through. The "Greta effect" has already been linked to a rise in support for environmental parties in Europe.
But she insisted that the media should also pay attention to other activists, particularly indigenous people, whom she said "are hit hardest by the climate and environmental crisis."
Her concern over the slayings of indigenous Brazilians in the Amazon drew a harsh rebuke from the Latin American nation's president Tuesday.
"Greta said that the Indians died because they were defending the Amazon," Jair Bolsonaro said. "It's impressive that the press is giving space to a brat like that," he added, using the Portuguese word pirralha.
Thunberg responded by changing her bio on Twitter, where she has more than 3 million followers, to say "Pirralha."
The teenager has also been a strong advocate of science, regularly citing complex studies about the causes and effects of climate change.
On Wednesday, Thunberg used her address at the U.N.'s annual climate summit to accuse governments and businesses of misleading the public by holding talks that she said aren't going to stop the world's "climate emergency."
"The real danger is when politicians and CEOs are making it look like real action is happening, when in fact almost nothing is being done, apart from clever accounting and creative PR," she said.
Sign up for Essential California for news, features and recommendations from the L.A. Times and beyond in your inbox six days a week.
You may occasionally receive promotional content from the Los Angeles Times.