Texas has tech that could prevent utility-caused wildfires. California is interested
BASTROP, Texas —
The most destructive wildfire in Texas history began on Sept. 4, 2011, when high winds from Tropical Storm Lee knocked tree branches onto power lines, sparking multiple blazes. The fires merged and blackened some 50 square miles of pine woods and swaths of the city of Bastrop.
The Bastrop County Complex fire shocked the Bluebonnet Electric Cooperative into taking action to prevent future catastrophes. Now some California utilities are looking at Bluebonnet's technology to decide whether it could prevent disasters like last year's Camp fire, the most destructive in California history, also sparked by utility lines.
"The fire burned right up to the building," Bluebonnet spokesman Will Holford said last week, surrounded by some of the piney woods scorched in the 2011 blaze. The utility's headquarters are outside Bastrop, a town of about 9,400.
The Bastrop fire killed four people, destroyed 1,673 homes and prompted 80-year-old Bluebonnet to adopt new technology to better detect faults in its electrical system.
The technology, Distribution Fault Anticipation, is being tested by Pacific Gas & Electric Co. and Southern California Edison, the utilities blamed for some of California's worst fires. One of the Texas professors who developed it is expected to join PG&E's chief executive on Thursday to testify before the Senate Energy and Natural Resources Committee about the technology's advantages. It's also being tested in Australia and New Zealand, which have suffered their own deadly wildfires this year.
Ratepayer advocates say California's investor-owned utilities would do just fine making less money.
The technology detects variations in electrical currents caused by deteriorating conditions or equipment and notifies utilities so they can send a repair crew.
"What we've always needed is real-time diagnostics, something looking at the system and saying, 'It's not healthy, it's not doing what it's supposed to do, it's about to fail,'" said B. Don Russell, the engineering professor at Texas A&M University scheduled to testify before the congressional committee.
He compared the technology to car sensors that alert drivers to low tire pressure: It can anticipate problems before they worsen, sometimes years ahead of an outage. It can also help direct a utility to shut off particular circuits to prevent sparking wildfires, instead of shutting whole areas down in response to local fire conditions, as California utilities have been doing.
PG&E has warned that it may be forced to intermittently shut down power for 10 years until it develops technology to keep its lines safe.
Without fault-detecting technology, electric companies often don't know they have a problem until there's a failure or a customer calls to report a power cut.
Last Friday, two Bluebonnet staff members were using the technology to track potential faults in the rural, 3,800-square-mile electrical system. The faults were caused by downed tree branches, errant animals and broken surge protectors, among other hazards. Carl Benner, a professor of electrical and computer engineering at Texas A&M who developed the technology with Russell and has been advising seven Texas utilities on how to use it, pointed to a map of Bluebonnet's sprawling service area on one of the room's dozen screens.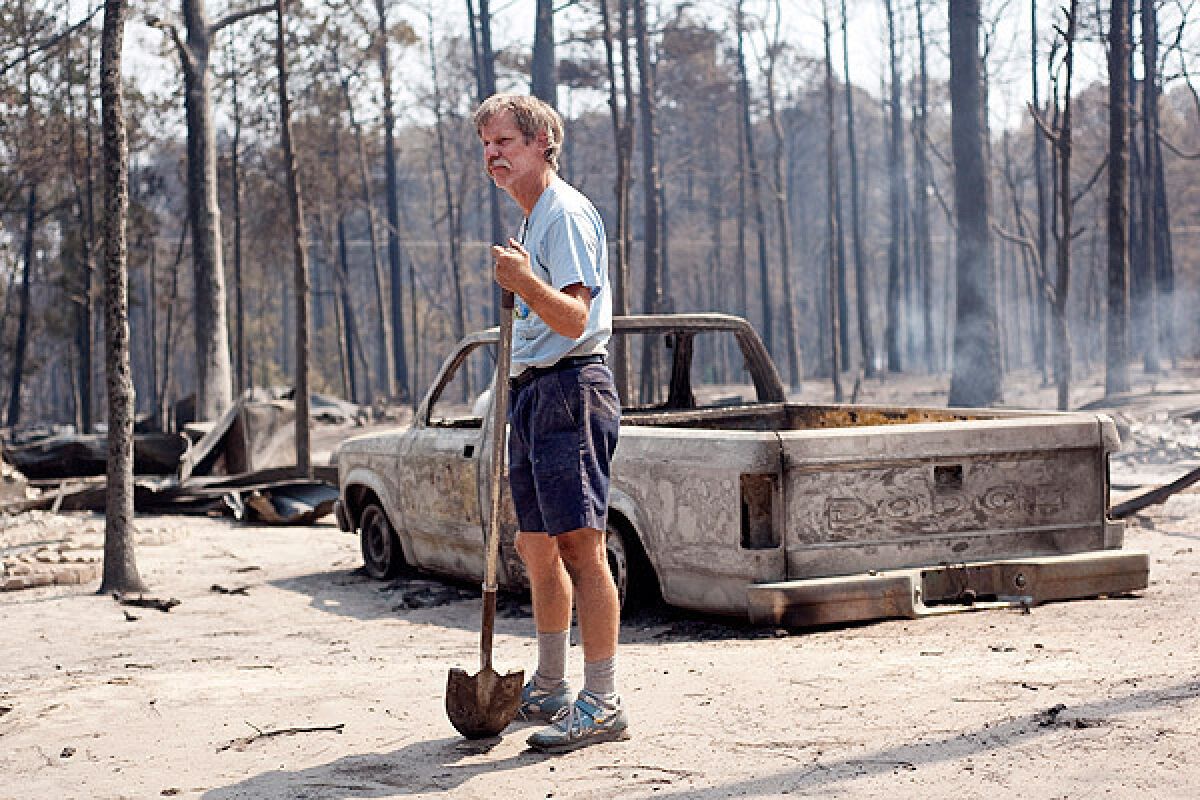 "It's impossible to constantly patrol and lots of the failures would be difficult to see from the ground even if you did," Benner said. "They can get a lineman very close to where this is and if he gets close, they're very good at finding things. The key is they have to know it's happening."
Bluebonnet has installed the technology in high fire-risk areas that account for 16% of its circuits, which serve a total of about 80,000 customers, Holford said. The company plans to expand its use of the technology next year and is working to streamline how the software analyzes information to find and help them fix problems more quickly.
In California, utility officials said the testing process has just begun and there are no results yet.
SoCal Edison, which serves 14 million people across 50,000 square miles, is much larger than Bluebonnet and the other half-dozen Texas utilities where the technology has been tested. It started using the software this year on just 60 of its 1,100 circuits that run through high fire-risk zones, according to Cameron McPherson, senior manager of key initiatives and new technology for grid resiliency. The high fire-risk circuits account for about one-quarter of Edison's total grid.
Officials plan to decide next year whether to expand use of the technology by itself or with alternatives, he said.
The technology is cheaper than some alternatives, like insulating power lines, he said. And it's a fraction of what a moderate wildfire could cost. But it would still cost SoCal Edison $15,000 to $20,000 per circuit, for a total of at least $16.5 million, to add it in high fire-risk areas, not including installation, operation and maintenance costs.
"There's a lot of people touting it as a silver bullet, but there's still testing to be done," McPherson said.
PG&E began testing the technology earlier this year at three substations in the Napa Valley area, spokesman Paul Doherty said. The company plans to decide in July whether to expand its use on its 70,000 square-mile system, which serves about 16 million people statewide.
On Tuesday, a federal bankruptcy judge in San Francisco approved two settlements totaling $24.5 billion, which PG&E will pay to victims of Northern California wildfires and insurance companies after the utility acknowledged that its equipment had ignited several catastrophic fires. PG&E was driven into bankruptcy earlier this year after facing at least $20 billion in losses from wildfires during the last two years.
SoCal Edison also recently agreed to pay $360 million to local governments to settle lawsuits over deadly wildfires sparked by its equipment during the last two years.
Must-read stories from the L.A. Times
Get the day's top news with our Today's Headlines newsletter, sent every weekday morning.
You may occasionally receive promotional content from the Los Angeles Times.