Oil prices jump after U.S. kills Iranian general; California gas prices may follow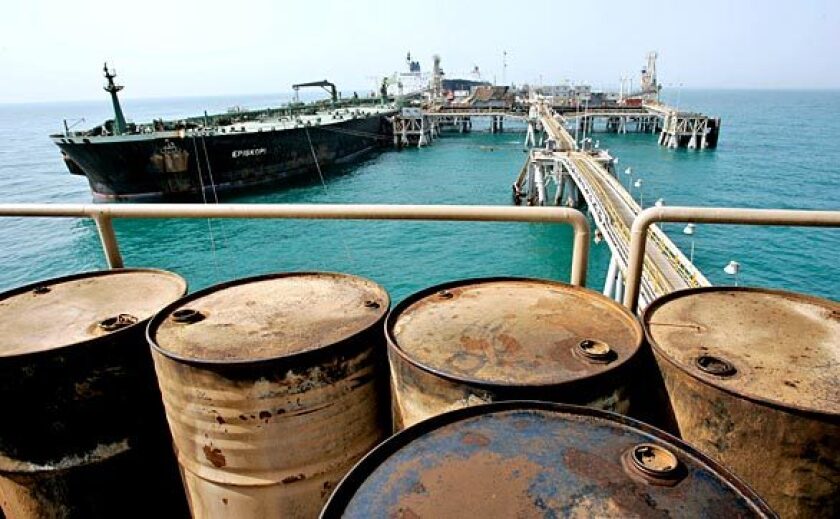 Crude oil prices jumped in response to the United States' targeted killing of Iran's top general, and California drivers could see gasoline prices climb too, a fuel analyst said Friday.
California likely will see only a modest rise in gasoline prices in the short term, said Patrick DeHaan, head of petroleum analysis at fuel-tracking site GasBuddy.com. "There may be a very slight uptick of several cents a gallon," he said. "Call it 5 cents a gallon. But it may take a week or 10 days."
Prospects for even higher pump prices could grow, however, if Iran carries out threats to retaliate and crude prices climb further on fears that the tensions could disrupt the global flow of oil, DeHaan said.
News that Gen. Qassem Suleimani, head of Iran's elite Quds Force, was killed in an air attack at the Baghdad international airport led Iran to vow "harsh retaliation," and U.S. defense officials said nearly 3,000 more Army troops were heading to the Middle East.
"This is a seismic event in the region," said Jason Bordoff, a former Obama administration official who now works for Columbia University. "This is how U.S.-Iran tit-for-tat spirals out of control. Iran's response will be severe and deadly. And certainly may include escalating attacks on energy infrastructure."
In previous flare-ups in tensions with the United States, Iran has threatened the supply of oil that travels from the Persian Gulf to the rest of the world. About 20% of oil traded worldwide goes through the Strait of Hormuz, where the shipping lane is only 2 miles wide and tankers have come under attack in the last year.
The international benchmark for crude oil jumped 4.1%, or $2.70, to $68.95 a barrel in London trading before retreating from its highs of the session. The price of West Texas intermediate crude on U.S. markets rose slightly more than 3% to settle at $63.05 a barrel.
"Revenge will come, maybe not overnight, but it will come, and until then we need to increase the geopolitical risk premium," Olivier Jakob, head of consultancy Petromatrix, said in a note to investors. He noted that Iran's response may not be limited to the Strait of Hormuz.
Meanwhile, gas prices in California have fallen in recent weeks. As of Friday, the state average for a gallon of regular gasoline is $3.550, down from $3.786 a month ago but still up from $3.343 a year ago, according to AAA.
The current average in the Los Angeles-Long Beach region is $3.603 a gallon, and in Orange County the average is $3.536 a gallon, AAA said.
Gasoline supplies in California are about normal, and it's a time of lower seasonal demand, which could benefit motorists if Middle East tensions do escalate, according to DeHaan.
"If Iran retaliates in the next month or two, the impact may be stunted due to the fact that demand is lower this time of year," he said.
Oil prices retreated somewhat from their Friday peaks as swelling U.S. gasoline and diesel inventories offset the biggest crude decline since June. The Energy Information Administration also reported record-high crude exports, which pulled Gulf Coast stocks down by the most ever. Stockpiles in the region often decline at year-end as companies manage tax exposure.
The EIA report couldn't have pushed prices up more than what the Middle East attacks triggered, said Rob Thummel, managing director and portfolio manager at Tortoise, a Kansas firm that oversees more than $21 billion in assets. "From here on the market will be watching for disruptions to global supply."
The U.S. airstrike escalates an already tense three-way situation between the U.S., Iran and Iraq. The two Middle East countries combined pumped more than 6.7 million barrels a day of oil last month, according to data compiled by Bloomberg, more than one-fifth of OPEC output. Exports from both countries rely on the Strait of Hormuz.
Killing Suleimani "is more than just bloodying Iran's nose," Stephen Innes, chief market strategist at AxiTrader Ltd., said in a note. "This is an aggressive show of force and an outright provocation that could trigger another Middle East war."
Still, the rally in oil prices could just as quickly subside. In September, Yemen's Iran-backed Houthi rebels launched drone attacks on the world's largest oil processing facility in Saudi Arabia. The strike briefly took out about half of the supplies from the world's largest oil exporter. The U.S. directly blamed Iran, which denied any involvement. Prices initially soared after that attack, but they then retreated in another sign that the market is concerned more with a surplus than supply shortages.
OPEC is sitting on vast amounts of spare capacity after reducing supplies for most of the past three years. Consuming countries from the U.S. to China control millions of barrels stored in strategic petroleum reserves that can be deployed to offset any shortage.
In the biggest sign of the oil market's transformation after the shale boom, the United States reported its first months as a net exporter of petroleum, including crude and refined oil products, late last year for the first time in roughly 75 years. In October, the U.S. exported a net 389,000 barrels a day, compared with net imports of close to 9 million barrels a day a decade or so earlier.
About 80% of the crude oil that goes through the Strait of Hormuz goes to countries in Asia, including China, Japan, India and South Korea.
But the rise in the global price of oil will affect other countries more widely, particularly oil-importing countries with big manufacturing sectors such as Germany and Italy. Those countries fared worst in the stock market Friday, with their main indexes falling 1.4% and 1.1%, respectively.
Peltz is a Times staff writer. Smith and Tobben write for Bloomberg.
---
Be your money's boss! Learn how to make a budget and take control of your finances with this eight-week newsletter course.
You may occasionally receive promotional content from the Los Angeles Times.