Spain being placed on coronavirus lockdown, limiting movement, closing businesses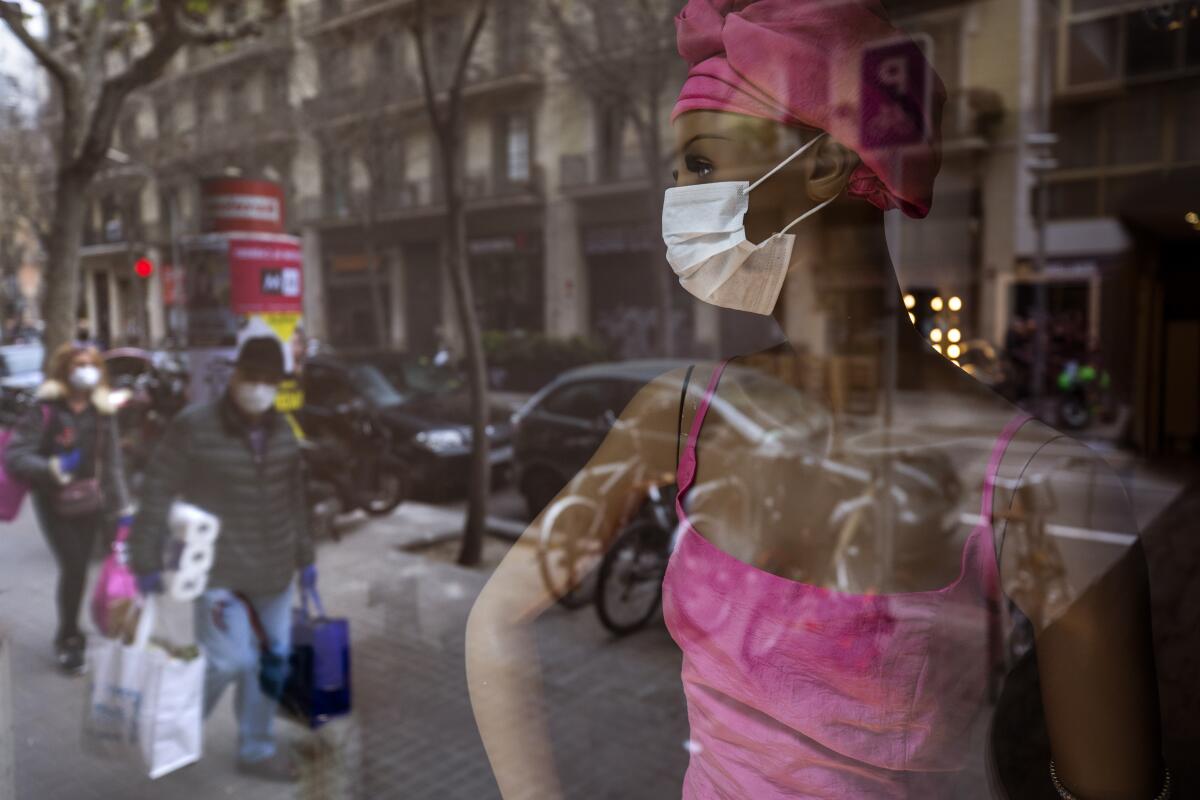 BRUSSELS —
The Spanish government on Saturday put the country of 46 million on lockdown and declared a state of emergency in response to the COVID-19 crisis, only the second time such a crisis measure has been taken in Spain's 40-year democracy.
The shutdown, effective Monday and initially in place for 15 days, is an extraordinary step meant to curb the spread of the coronavirus, which has infected more than 5,000 people and resulted in 200 deaths across the country.
Spanish residents will be permitted to leave their homes only in cases of necessity: grocery shopping, medical assistance and work. Companies are encouraged to allow their employees to work from home.
Schools and universities across the country will remain closed. Bars, restaurants, museums, and libraries will shut their doors — though hairdressers will remain open. And while Spain's prized soccer matches will continue, players will face off in front of empty stadiums.
The Spanish army, as well as all levels of police forces, will work to respond to the crisis.
In the town of Haro, famed for its Tempranillo, exaggerated or distorted news reports quickly shut down the local tourism trade.
Speaking to the Spanish public Saturday after a daylong meeting with Cabinet members, Prime Minister Pedro Sánchez laid out his vision for the state of emergency, invoking the battle as one against a common enemy of all Spaniards.
"'We are prepared for the state of alarm. We have the ideas, clear policies, and our hands will not tremble as we win against the virus," he said. "The measures we are taking are drastic and unfortunately are going to have consequences."
News reports Saturday said Sánchez's wife, Begoña Gómez, had tested positive for the coronavirus.
The public health crisis is testing Europe's cornerstone policy of free movement, as countries close borders, ban flights, and limit the movement of their citizens. Spain follows Italy in announcing sweeping measures to slow the spread of the virus, and France on Saturday ordered the closure of all non-essential business, including cafés, bars and movie theaters.
As cases skyrocket across Europe, the World Health Organization on Friday declared the continent the new epicenter of the illness.
COVID-19 presents the first major challenge to Spain's new government, sworn in this January after two rounds of general elections in 2019. Until now, the country's biggest crisis in recent years had been the central government's standoff with Catalonia, the wealthy northeastern region whose rogue 2017 independence referendum briefly plunged the country into chaos.
In his address, Sánchez alluded to recent territorial polarization by calling on Spaniards to work together to slow the spread of Covid-19.
"It's important that we not mistake the enemy," he said. "It is the virus, and we should all combat it united."
After Sánchez's address, people in cities across the country banged pots and pans from their balconies in support of medical workers.
For days, Spaniards had anxiously awaited a shutdown as they watched the situation in their country worsen.
Cases multiplied in Madrid, the Basque Country and La Rioja. Cities including Sevilla canceled their Semana Santa processions — one of the biggest tourist events of the year. The city of Valencia postponed its famous Fallas festival, originally scheduled for this week.
In Catalonia, the regional government had already declared a lockdown and requested the central government to restrict access to the region.
More than 100 countries have barred people coming from Spain. Airlines that operate in Spain have canceled thousands of flights.
The virus has taken its toll on Spain's public health system. Hospitals in Madrid, one of the worst-hit regions, are crowded with hundreds of patients.
Adrian Valls, 29, a neurologist at the San Carlos Clinic in Madrid, believes he will be called in to help any day now. His friends at other hospitals in the city have told him they're exhausted from all the work.
"Emergency rooms have basically turned into coronavirus rooms," he said.
Last week, before the situation in Spain took a turn for the worse, Valls and his colleagues did not wear gloves or masks when they saw neurology patients — a lack of precaution Valls believes may have resulted in the infection of medical workers. Now, all workers do, though he has noted a scarcity in masks.
Valls also said that for the past few days, Madrid's normally crowded squares are vacant; hardly anyone rides the metro.
"At the beginning of the week I never would have thought that by the end of the week everything would be closed, " Valls said.
Carmen Marmolejo, who lives in the northern Spanish city of Gijón, shuttered her two Mexican restaurants Friday after it appeared imminent the Spanish government would close down all nonessential establishments.
The 49-year-old and her family had spent Friday morning preparing meals for the reservations they had slated for that day. Now, during the 15-day closure, they won't be in want of food. They've taken the leftovers home: tacos al pastor, salads, queso and nachos.
Marmolejo, who has lived in Spain for 20 years after immigrating from Guadalajara, Mexico, said even though she will have to continue paying the restaurants' rent and utilities, she is not worried about the economic impact of the closure. If anything, she is grateful to have time at home with her family.
"Sometimes it's sad we have stopped seeing our homes as a special place to enjoy our families," Marmolejo said. "Sometimes we have lost a little. Now could be a good moment to realize how important it is to maintain yourself united in the home and appreciate what you have."
The Catalan town of Igualada has been shut down for two days, after 49 coronavirus cases — the majority involving health providers — cropped up.
On Thursday, officials cut off highways and rural roads into the town and neighboring villages, leading to a quarantine of about 70,000 people.
While pharmacies and grocery stores remain open, many have opted to only allow two or three customers at a time, according to resident Marta Rodríguez, 29. As a result, residents form long lines outside the establishments — taking care to ensure they stand a meter and a half apart.
On Thursday, when Rodríguez took a bus to Barcelona to get to her job as an educator, people were in a panic.
"It was stressful," she said. "When someone coughed, we were afraid."
When she learned Igualada had been shut down and she would be working from home, Rodríguez said she felt "strange."
"It was a sensation of closing in," Rodríguez said. "I suppose as young people who haven't lived during times of war, we wondered, 'what is this, to be closed in here?'"
At least, Rodríguez said, neighbors are friendly to one another. When she goes to walk her dog, she waves at other passersby — though at a distance. And while working from home has proved a less-than-comfortable experience, she is grateful to have a terrace where she can breathe fresh air every once in a while.
Rodríguez turns 30 in three weeks. She won't have the big celebration she had dreamt of, but she hopes she can spend her birthday with friends.
"I hope I don't have to celebrate inside my house," she said.
Sign up for Essential California for news, features and recommendations from the L.A. Times and beyond in your inbox six days a week.
You may occasionally receive promotional content from the Los Angeles Times.