Joe Biden gets backing of influential labor activist Dolores Huerta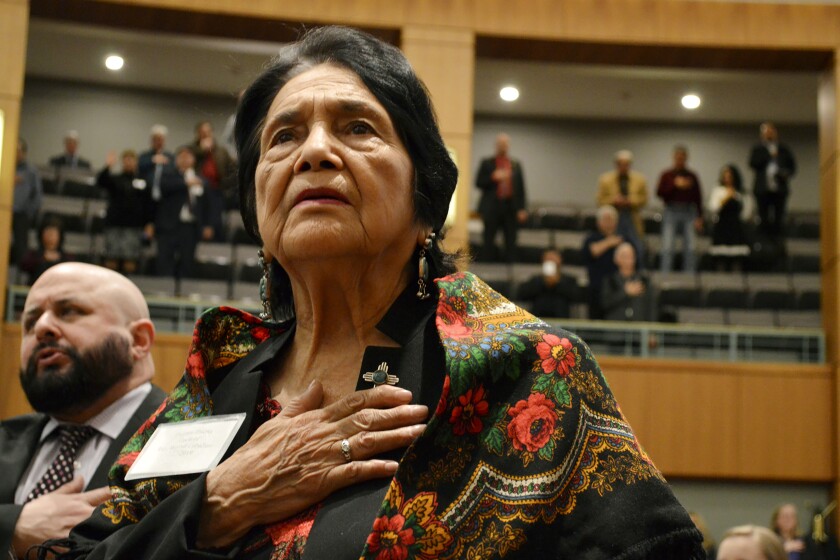 Dolores Huerta, the labor and civil rights leader who co-founded what eventually became the United Farm Workers union, endorsed Joe Biden for president on Friday.
Huerta, who is based in Bakersfield and is one of the nation's most prominent Latino activists, offered her support on International Workers Day and as Biden's campaign seeks to improve support among Latino voters.
He trailed Vermont Sen. Bernie Sanders, his main rival for the Democratic presidential nomination, among Latinos for much of the primary. Biden's campaign attributed the gap to a lack of financial resources that made it difficult to reach voters, but the former vice president also faced protests over the Obama administration's deportation of nearly 3 million immigrants who were in the country illegally.
Huerta on Friday said Biden has been a "staunch advocate for labor" and has prioritized Latinos.
"At a time when the current White House has used fear mongering and racist rhetoric towards Latinos, Joe has made it clear that he will fight to protect and advance our community," she said in a statement.
Huerta plans to appear at a virtual Todos Con Biden roundtable on Sunday with actor John Leguizamo.
Cristóbal Alex, a senior Biden advisor, said in an email that Huerta is "an icon" and her endorsement "represents the Latino community's excitement and confidence" in the former vice president.
Biden has 'work to do' to win Latino support and trust, and it's hard to get a message out in a pandemic.
Huerta founded the National Farmworkers Assn. with labor leader Cesar Chavez in 1962 and is credited with coming up with the rallying cry "Sí se puede" ("Yes we can"). In 2012, President Obama awarded her the Presidential Medal of Freedom.
She endorsed California Sen. Kamala Harris' presidential bid in February 2019 and co-chaired her campaign. During the primary, Huerta criticized Biden's opposition to decriminalizing unapproved border crossings.
At a July 31 Democratic debate, Biden also found himself at odds with rival candidates who said crossing the border without permission should be a civil violation, not a criminal act. "If you cross the border illegally, you should be able to be sent back. It's a crime," Biden said.
"It was a great disappointment to hear Vice President Biden use that kind of language because he's really speaking just like the Republicans," Huerta said after the debate.
On Friday, Huerta said in an interview that Biden's track record of supporting immigration reform bills when he was in the Senate made her optimistic about what he would pursue as president.
"When we look to Joe Biden's record, he actually voted for immigration reform," she said. "That's why we have the hope that he will be with us as we try to get immigration reform again."
In the weeks since Sanders suspended his campaign, Latino groups — including the Congressional Hispanic Caucus' BOLD PAC and Voto Latino, a voter registration group founded in 2004 — have started to coalesce around Biden.
After trying to remain silent, the presumptive Democratic presidential nominee says the allegation of an assault dating to the 1990s 'isn't true.'
María Teresa Kumar, Voto Latino's president and chief executive, said the group decided to back Biden with its first-ever endorsement after he sent a 22-page document answering questions on his positions on student debt, the environment, immigration, criminal justice reform and the modernization of electoral systems.
The group is now talking to his campaign about how to address the impact of the coronavirus outbreak on the Latino community. "We want him to think boldly, because it's the time for that leadership to help get our country out of where we are," Kumar said.
Kumar said Sanders' success with Latino voters came from his strategy of reaching young voters and discussing not just immigration, but healthcare, student debt and climate change.
"Young people in the Latino community have tremendous leverage in their households," Kumar said. "The more that we can speak to them, they in turn influence their family members."
---
For reporting and exclusive analysis from bureau chief John Myers, get our California Politics newsletter.
You may occasionally receive promotional content from the Los Angeles Times.