Teen arrested after 2 are killed amid protests in Kenosha, Wis., over shooting of Jacob Blake
KENOSHA, Wis. —
Two people were killed and one was injured amid gunfire overnight in Kenosha, Wis. It was the third night of angry protests in this small Midwestern city over the police shooting of Jacob Blake, a Black man. Blake, who was apparently shot from behind as his children watched, is now paralyzed.
Police on Wednesday arrested a juvenile in the slayings of two people during the protests. Kyle Rittenhouse, 17, was charged in Antioch, Ill., with first degree intentional homicide. The city is 21 miles from Kenosha, across the state line.
The shootings took place just before midnight Tuesday by a gas station near Kenosha's uptown district, close to where hundreds have demonstrated each night in defiance of city curfews and clashed with police outside the county courthouse. City officials and activists are bracing for crowds to throng the streets again for a fourth night Wednesday.
Two people are killed and one injured in gunfire overnight in Kenosha, Wis.
The wounded gunshot victim is in the hospital and is expected to survive, Kenosha Police Lt. Joseph Nosalik said.
Two Kenosha County supervisors wrote Wednesday to Wisconsin's Democratic governor, Tony Evers, demanding that he send in 1,250 National Guard members to the city to reinforce the 250 already on patrol in the aftermath of the police shooting Sunday of Jacob Blake. Bystanders' videos of at least seven shots being fired by officers at the 29-year-old prompted protesters to converge on a lakeside business district. Demonstrators are demanding officer resignations and police reform.
Several buildings, including a Mexican restaurant, a furniture store, an auto dealer and a parole office, were set on fire this week.
"Our county is under attack," Monica Yuhas, vice chairwoman of the county board, wrote in the letter to Evers.
A white L.A. firefighter allegedly struck a Black man who was handcuffed on a gurney. The firefighter remains on duty pending a rights hearing.
The fatal shootings Tuesday night took place after police drove away crowds that had gathered by the county courthouse. Videos showed shots being fired near a gas station that had been patrolled by an armed militia group.
Kenosha County Sheriff David Beth described the armed gunmen as being "like a vigilante group" but said it was unclear if they were behind the shootings. Beth said one person who died was shot in the head and another in the chest.
A cellphone video of two of those shootings was posted online. It shows a white male with a semiautomatic rifle running as he's trailed by a crowd and officers. A voice says the male has shot someone. The video then shows the pursued male falling to the ground and firing his gun, hitting two people.
Clashes have continued nightly in Kenosha, a city of 100,000 on Lake Michigan between Milwaukee and Chicago, since police shot Blake over the weekend as he tried to enter his gray SUV. Police have fired tear gas and rubber bullets as demonstrators chant, "No justice, no peace," in front of the courthouse. Protesters have hurled bottles and fireworks at police, and set garbage trucks on fire. Ashes blew over a church that was partially burned after a lot was set ablaze next door.
In the wake of the Jacob Blake shooting, LeBron James and other Lakers spoke about the impact of police brutality while Celtics and Raptors players talk about a possible stoppage of play.
"We've long had problems with police in this area, and I've protested regularly since George Floyd died, but this is the most tense it's been in a long time," said Kejuan Goldsmith, a 19-year-old college student who lives just north in Racine and regularly visits his sister in Kenosha.
"I've been out every night, and gotten tear-gassed twice even though I've been peaceful. In the short term, we want this officer fired; in the long term, we need broad change in our country over policing," said Goldsmith, who is Black.
Protests have grown in the U.S., with police facing off against residents as near as the Wisconsin state capital, Madison — where thousands rallied downtown — and as far as Seattle; New York; Richmond, Va.; Washington; and Portland, Ore.
Police have arrested at least six people in Madison on charges of vandalism of the state Capitol and property destruction, and at least 11 in Minneapolis, where groups broke windows at the county jail. Many demonstrations, including one down Fifth Avenue in New York on Monday, have been largely peaceful.
Meanwhile, Blake, who family members say has several bullet wounds, is in a Milwaukee hospital, alive but paralyzed from the waist down, according to his lawyer.
Kenosha is not accustomed to upheaval. Concrete barriers block downtown streets. Suburban businesses as far as six miles from protest sites are boarded up and now shut their doors by early afternoon.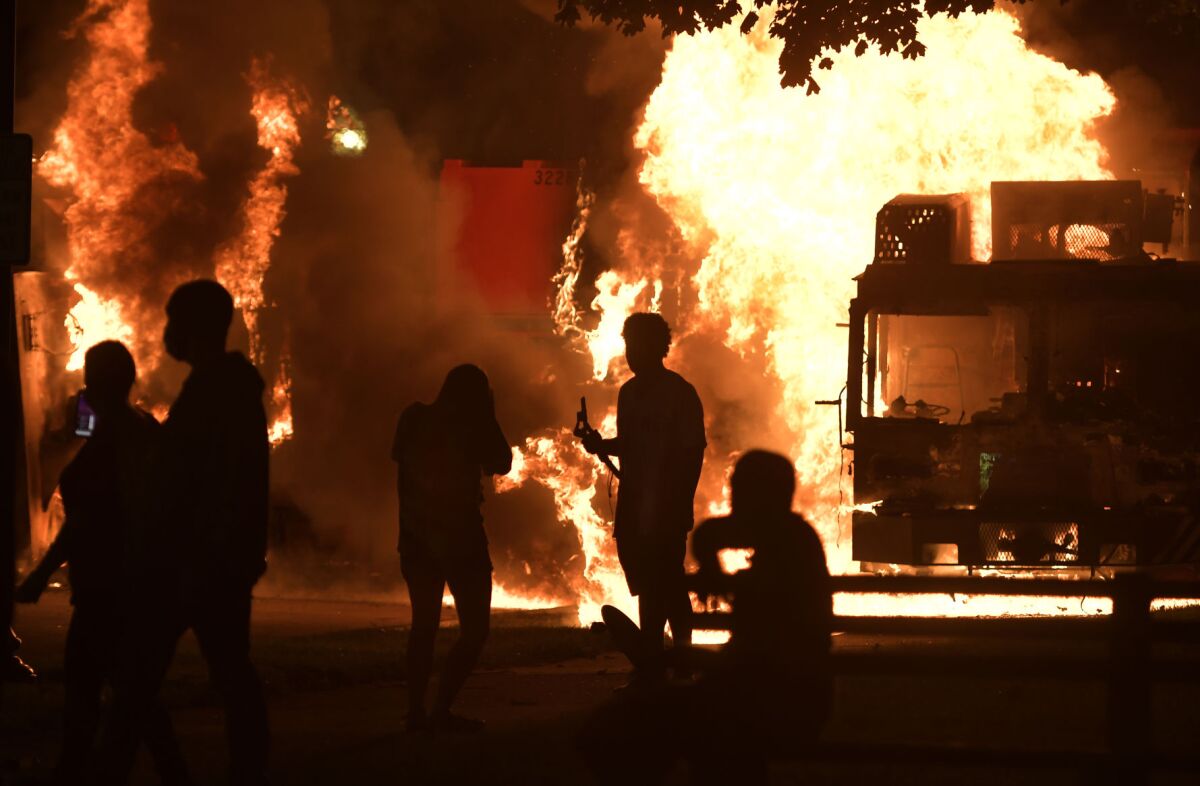 In an emotional news conference on Tuesday, Blake's mother, Julia Jackson, said the family and country "need healing."
"We really just need prayers," she said. "As I was riding through here, the city, I noticed a lot of damage. It doesn't reflect my son or my family. If Jacob knew what was going on as far as that goes — the violence and the destruction — he would be very unpleased."
Police have released few details about the shooting as family members, witnesses and Blake's lawyer, Benjamin Crump, have given their accounts of the incident caught on bystander videos.
Crump, who also represents the Floyd family, said "it's a miracle he's still alive," as he described Blake's injuries.
Crump said that Blake's sons, ages 3, 5 and 8, were in the SUV as police shot him. The lawyer, who said police had used a Taser on Blake before the shooting, called the officers "irresponsible, reckless and inhumane." In an interview, Blake's father, who is also named Jacob Blake, said that his son had "eight holes" in his body and that doctors were unsure whether his paralysis was permanent.
Authorities on Thursday released body-camera video, which police say shows Anthony McClain was armed with a gun while running away from officers.
The shooting took place around 5 p.m. Sunday when police responded to a domestic dispute. In an initial video that quickly spread across social media, two officers follow Blake as he walks around to the driver's side of a gray SUV. As he is reaching to open the door, the closest officer grabs Blake's tank top. Shots are heard in the video before the car horn beeps continuously as Blake slumps onto it.
Another video from a different angle, recorded from a nearby home's window, shows police attempting to restrain Blake before they follow him to the car.
Kenosha police do not wear body cameras, though they do have microphones.
Two officers are now on administrative leave, a standard practice after police shootings. An investigation by state authorities is underway.
Blake reportedly was getting one of his children from a home near where his car was parked. Bystanders said they believed they heard police yell at Blake to drop a knife. Crump said Blake was "simply trying to do the right thing by intervening in a domestic incident."
Police have not said if Blake had a weapon or why police fired. They gave no details on whether Blake was involved in the domestic dispute.
The police union said it was too early to judge the shooting.
"As always, the video currently circulating does not capture all the intricacies of a highly dynamic incident," Pete Deates, president of the Kenosha Professional Police Assn., said in a statement. "We ask that you withhold from passing judgment until all the facts are known and released."
A year after Elijah McClain was stopped by police in suburban Denver, people are celebrating his life as well as calling for justice over his death.
Kenosha County Dist. Atty. Michael Graveley is investigating the shooting alongside the Wisconsin Justice Department's Division of Criminal Investigation. The department said it will release its report to the district attorney within 30 days.
The shooting and protests have shaken Kenosha, an otherwise quiet city just north of the Illinois border that was once an auto manufacturing center. The county is majority white, with 7.4% of residents who are Black and 13.5% who are Latino.
In June, protests erupted in Kenosha after Floyd's death, but residents said this week's demonstrations and violence had far eclipsed those marches.
Randy Bryce, a 55-year-old labor activist and former Democratic congressional candidate who was out Tuesday in Kenosha, said the shooting highlighted the need for more police oversight.
"Given the times we live in, it's outrageous the police didn't even have body cameras on," Bryce said.
Some property owners guarded their businesses against damage. Others spray-painted signs such as "Black-owned" and "Black Lives Matter" on boarded-up buildings. A few — despite fires and broken glass — saw a moment for reflection.
"While we are relieved that our church home mostly survived the inferno in the lot next door, we affirm that we would rather lose 100 buildings than one more life to police violence," the Rev. Erik Carlson of Bradford Community Church said in a statement.
In response to Blake's shooting, Evers has called lawmakers back to Madison for a special session to push through a police use-of-force bill initially introduced after Floyd's death.
"We cannot forget the reason why these protests began, and what we have seen play out over the last two nights, and many nights this year is the pain, anguish and exhaustion of Black people in our state and country," he said in a statement, adding that people should be able to protest "peacefully and safely."
"We cannot allow the cycle of systemic racism and injustice to continue. We also cannot continue going down this path of damage and destruction."
---
Must-read stories from the L.A. Times
Get the day's top news with our Today's Headlines newsletter, sent every weekday morning.
You may occasionally receive promotional content from the Los Angeles Times.