Trump reboots his campaign pitch, but struggles to stick to it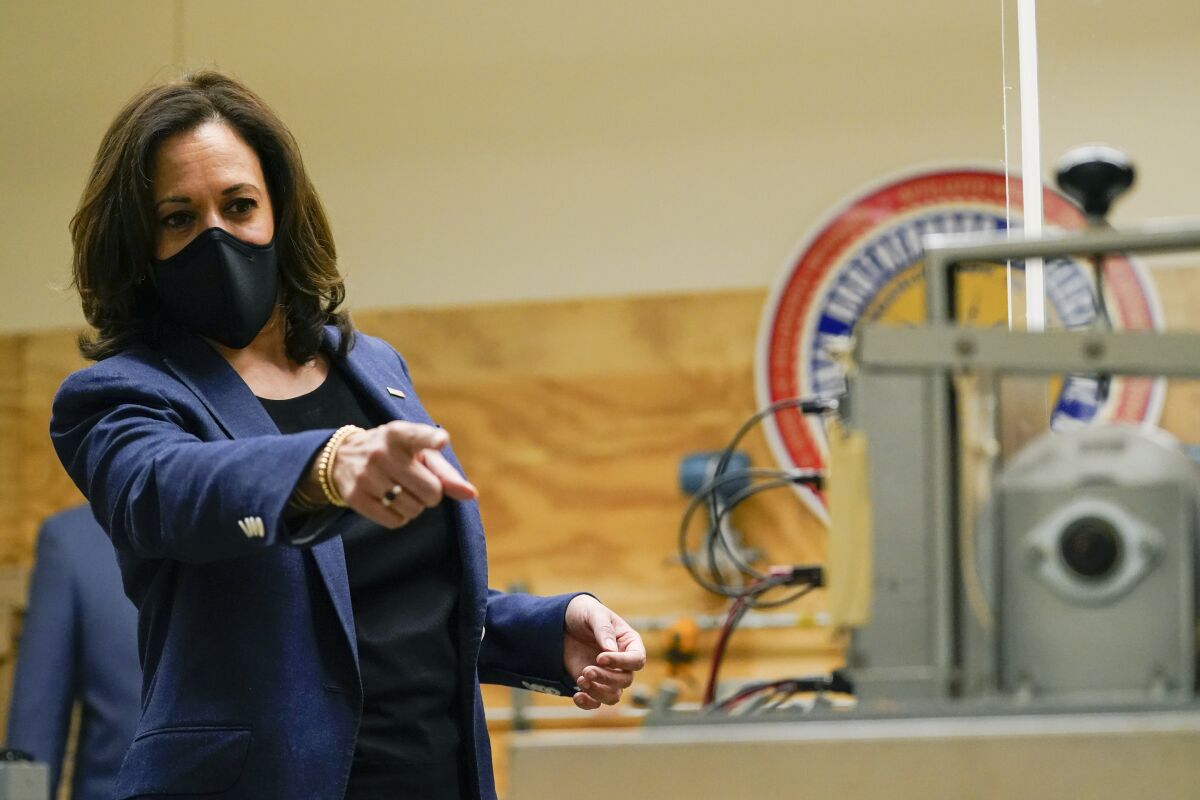 WASHINGTON —
The Trump campaign on Monday launched an aggressive push to win back voters in the industrial Midwest, asserting — dubiously — that a coronavirus vaccine could be only weeks away, but it struggled to stay on message while the president continued lashing out at the nation's military leaders.
The race shifted into a new, more frenzied pace on Labor Day. Both the candidates and their running mates were out stumping for votes, with three of four of them parachuting into key swing voting areas despite the complications of candidate travel during the COVID-19 pandemic. In front of the White House, President Trump touted the economy and the pace of vaccine development before he veered into renewed attacks on the late Sen. John McCain.
For the record:
9:37 a.m. Sept. 8, 2020A previous version of this story misidentified the city where Biden had a backyard gathering. It was in Lancaster, Pa., not in Harrisburg.
The volley of fresh insults toward an American war hero — triggered by the president's urge to discredit media reports that he repeatedly disparaged and demeaned service members and America's war dead — came as Trump, trailing in most every swing state, desperately tries to narrow the polling gap with less than two months to go before election day.
As the campaign heats up post-Labor Day, President Trump emphasizes law and order while Joe Biden seeks to keep focus on the incumbent
The White House had dispatched Vice President Mike Pence to La Crosse, Wis., where his speech was to provide counterprogramming to an appearance in the battleground state the same day by Democratic vice presidential nominee Kamala Harris, the California senator.
A pivotal pickup for Trump in 2016, Wisconsin has surged back to the forefront after the police shooting of a Black man, Jacob Blake Jr., in Kenosha set off days of civic unrest.
The two running mates offered sharply contrasting visions, with Harris stressing the theme of racial justice and healing as she spent time with the family of Blake; she also spoke to the shooting victim on the phone, as Joe Biden did during his Wisconsin trip late last week.
"They're an incredible family and what they've endured … they do it with such dignity and grace," the senator said during her first trip on the stump since joining the ticket. "And you know, they're carrying the weight of a lot of voices on their shoulders."
Pence sidestepped the topic of racial division in an economic appeal oriented toward on-the-fence blue-collar workers and suburbanites who could swing states like Wisconsin, Pennsylvania and Michigan to Trump just like in 2016.
"Joe Biden said, 'No miracle is coming,' but here in America we are in the miracle business," Pence said, laying out a questionable timeline for a vaccine that was far more bullish than any provided by public health experts inside and independent of the administration. "And we are going to have a safe and effective vaccine before the end of the year."
Get our Essential Politics newsletter
The latest news, analysis and insights from our politics team in D.C.
You may occasionally receive promotional content from the Los Angeles Times.
Pence railed on Biden and Harris for supporting energy and economic policies he warned would derail economic recovery, taking aim at their support for a Green New Deal, immigration reform and rolling back the Trump tax cuts.
But Trump, speaking at a hastily called news conference from the rarely used North Portico of the White House, repeatedly went off-script during his 45-minute rant, trailing into the signature Trump grievances and conspiracy theories that have unnerved key voters in the coalition he built in 2016.
As the administration's handling of the pandemic continues to plague Trump's reelection prospects, the campaign's events Monday were designed to shift attention away from bungled testing and preventative measures to a vaccine. Trump said the vaccine could be ready "maybe before a special date, and you know what date I'm talking about." But then he said he was not referring to the Nov. 3 election date. He then accused Biden and Harris of using "reckless" political rhetoric to denigrate efforts to develop a vaccine for the virus that is killing hundreds of Americans daily.
He said they were undermining science, an accusation more often levied against the president.
Harris, late last week, echoed concerns from public health officials that a vaccine in time for election day, as Trump has suggested, was a dangerous prospect, casting doubt on whether she would get such a vaccine.
"I think that's going to be an issue for all of us," Harris said on CNN. "I will say that I would not trust Donald Trump. And it would have to be a credible source of information that talks about the efficacy and the reliability of whatever he's talking about."
On Monday, Biden renewed that critique, arguing that Trump, by "playing politics," has undermined public trust and makes people reluctant to take any potential vaccine.
"Pray to God we have it. If I could get a vaccine tomorrow, I'd do it," Biden told reporters in Lancaster, Pa. "If it cost me the election, I'd do it. We need a vaccine, we need it now. … We have to listen to the scientists."
As the Trump campaign worked to distract voters from a coronavirus response that has left the nation with nearly 189,000 deaths from the virus and more than 6 million infections, it also tried to reframe the associated economic fallout. Trump and Pence argued they are guiding the nation to a robust rebound that will collapse if Democrats gain control of the White House.
"Biden is a stupid person," Trump said. "You know he doesn't have a clue. In prime time he wasn't good, and now it is not prime time."
But the message has so far proven a tough sell against a candidate who during his stint as vice president helped guide the nation out of the last big recession. At a time tens of millions of Americans remain unemployed, and Trump has been unable to make a deal with Congress that would extend desperately needed federal unemployment assistance, the lead Trump once enjoyed over Biden on the issue of the economy has steadily eroded. A recent Quinnipiac University poll released last week found voters were evenly split on who would do a better job in that area.
Biden continues to enjoy a strong lead on every other key issue voters were asked about in the poll, including handling of the coronavirus and healthcare.
In Pennsylvania on Monday, Biden worked to further lock down his support with union members — a nod to both the Labor Day holiday and the need for Democrats to win back rank-and-file laborers with whom Trump had unexpected success in 2016.
"You're going to have the best friend labor has ever had in the White House," Biden told a handful of workers at a backyard gathering in Lancaster. He touted his work while vice president under Barack Obama on the 2009 stimulus package as proof of his economic stewardship, and accused Trump of believing the health of the stock market was the only thing that mattered.
"He has been spending too much time on the golf courses and the sand traps," Biden said of the president.
In Harrisburg, Pennsylvania's capital, Biden worked to focus attention on Trump's feuding with military leaders, as the president who avoided military service in Vietnam with a claim of bone spurs struggles to get past reports that he referred to U.S. servicemen and servicewomen as "suckers" and "losers" for fighting wars in which many have lost lives.
"When it comes to veterans, he's downright un-American. I've never said that about a president ever, ever," said Biden, whose late son Beau served in Iraq.
In the course of trying to defend himself, Trump unleashed on McCain, saying he "was never a fan" of the senator, accusing McCain of colluding with the FBI to undermine Trump. Trump then congratulated himself for nonetheless authorizing a state funeral for the senator.
Mason reported from Los Angeles and Wilkinson reported from Washington.
Life is stressful. Our weekly mental wellness newsletter can help.
You may occasionally receive promotional content from the Los Angeles Times.