In Mexico, study of 'excess deaths' shows at least 60% more COVID-19 victims than reported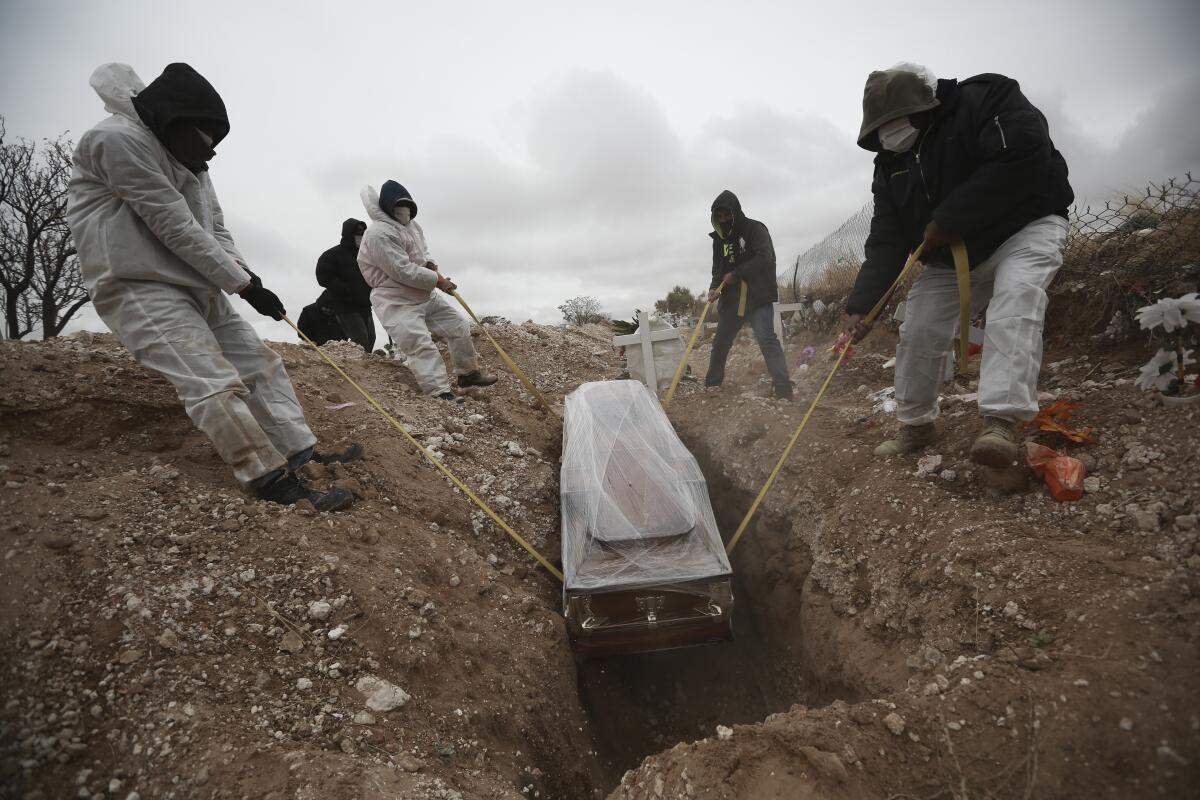 MEXICO CITY —
As Mexican and foreign tourists head to the country's beaches for Holy Week, prompting fears of a new wave of COVID-19 infections, the government here has publicly confirmed what many have long suspected — the number of people lost to the pandemic is more than 300,000, well beyond the totals officially reported.
The new data examined so-called "excess deaths'' — the additional number of people who die from any cause in a given period compared with recent norms. The findings suggest that almost 322,000 Mexicans have probably succumbed to COVID-19.
That figure is 60% more than the officially reported death toll of 201,429 as of Saturday — which counts only the victims who tested positive for the virus.
Mexico has one of the world's lowest testing rates for COVID-19, a fact that has sowed suspicion that authorities were deliberately under-reporting the number of deaths. The government of President Andrés Manuel López Obrador has repeatedly denied allegations of covering up the true scope of fatalities in a pandemic that has caused widespread loss of life and crippled the economy.
The Mexican government has avoided imposing mandatory lockdowns and mask-wearing measures. President López Obrador, widely criticized for a tardy response to the health emergency, has said he prefers voluntary compliance with social distancing and other preventative steps. He also said mandatory shutdowns would have inflicted disproportionate harm on Mexico's poor and working classes.
The 322,000 total deaths would top Brazil's officially reported 310,550 fatalities and would rank Mexico second globally behind only the United States, with almost 550,000 deaths, according to Johns Hopkins University.
Mexico, with a population of 126 million, is home to far fewer people than either the United States or Brazil.
Almost every country — including the United States and Brazil — has probably undercounted the total number of dead from COVID-19, experts say, mostly because official statistics often exclude victims who did not test positive. Yet Mexico's extremely low testing rate suggests that the undercount is more pronounced here.
Mexican officials have long acknowledged that the actual number of virus-related deaths is considerably higher than those officially reported. Many victims die at home or at hospitals and clinics without ever having been tested for the virus.
Some studies have suggested that Mexico's true death toll may be two or three times the officially reported totals.
The latest numbers, released Saturday on a government website without fanfare, represent the country's most extensive report to date on the total suspected death toll. Researchers combed through death certificates to determine which cases were probably COVID-19-related, even if the victims had never tested positive. In some cases, researchers said, the virus was listed as a suspected or contributing cause of death.
The report found a total of 1,263,501 deaths from all causes in Mexico between late December 2019 and Feb. 13, 2021. That was 417,002 more deaths than would have been expected based on comparisons with the previous five years, the study said, for an excess death rate of 49.3%. The researchers attributed the great majority of the excess deaths — 70.6% — to COVID-19. The study concluded that 294,287 people in Mexico had probably died from COVID-19 by Feb. 13.
An additional 27,658 deaths confirmed by testing occurred from Feb. 14 through March 27, according to government figures.
Authorities in Mexico's Yucatan peninsula have complained about tourists not wearing face masks as Mexico braces for a surge of Easter Week visitors.
The study did not address what other factors besides the coronavirus may have inflated the number of deaths. The Mexican Health Secretariat, which prepared the report, did not respond to a request for comment.
But health professionals have speculated that, in Mexico and elsewhere, the pandemic probably discouraged many people from pursuing treatment for non-COVID-19 health conditions, or even seeking checkups or other preventative measures. That hesitance may have led to an increase in fatalities from diseases not linked to the virus.
The study also dramatized the severity of the so-called "second wave" of the pandemic that swept through Mexico in January, following the year-end holidays, when many people got together with loved ones. Mexico experienced 74,185 deaths probably linked to COVID-19 between Jan. 3 and Feb. 6, an average of more than 2,000 a day — far surpassing the totals during an initial spike last summer. In recent weeks, authorities say, infections and deaths have generally been on the decline in Mexico.
But authorities are fearful that Holy Week, a traditional time for family gatherings and trips to the beach that begins Monday, could spark a third wave. Officials have been warning people to maintain social distancing and stay at home. Church officials have called off traditional processions, opting for virtual events, including a webcast of the famed annual passion play in Mexico City's Iztapalapa district that normally attracts more than 2 million visitors.
"A new outbreak of the virus is still possible," José Luis Alomía, the health ministry's chief of epidemiology, told reporters on Saturday. "We could see a new increase [in cases] at whatever moment."
Special correspondent Cecilia Sánchez contributed to this report.

Sign up for Essential California for news, features and recommendations from the L.A. Times and beyond in your inbox six days a week.
You may occasionally receive promotional content from the Los Angeles Times.