Some parts of Germany halt use of AstraZeneca's COVID-19 vaccine for people under 60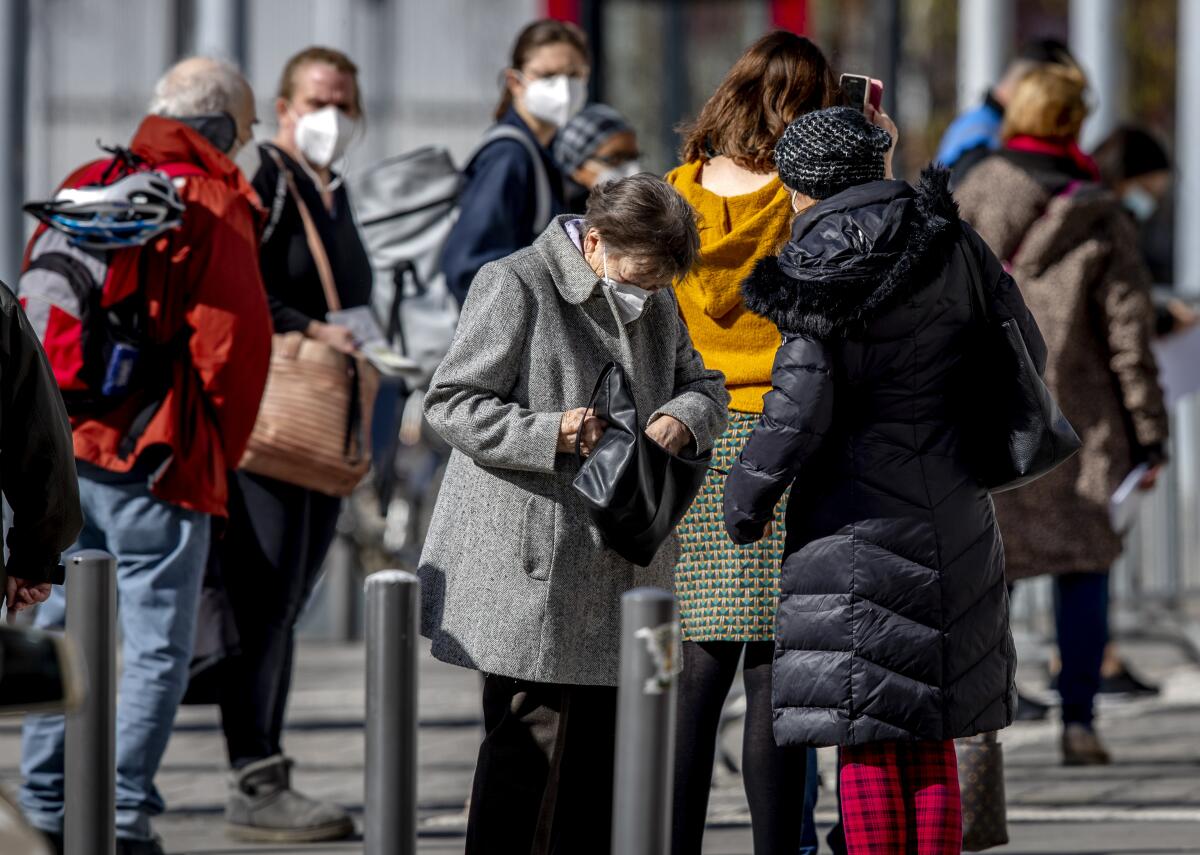 BERLIN —
Several health authorities in Germany announced Tuesday that they were again suspending the use of AstraZeneca's COVID-19 vaccine for residents under age 60 amid fresh reports of unusual blood clots in people who recently received the shots.
Officials in Berlin, Munich and the eastern state of Brandenburg took the decision to temporarily halt vaccinations ahead of a meeting later Tuesday of representatives from Germany's 16 states.
The meeting was called after Germany's medical regulator announced that it had received 31 reports of rare blood clots in people who recently received the AstraZeneca vaccine. Nine of the people died, and all but two of the cases involved women aged 20 to 63, the Paul Ehrlich Institute said.
The decision by some German authorities to suspend use of AstraZeneca's vaccine came a day after a similar move by Canada, which began limiting injections to residents 55 and older.
Reports of an unusual form of blood clot in the head, known as sinus vein thrombosis, prompted several European countries to temporarily halt the use of the AstraZeneca vaccine earlier this month.
After a review by medical experts, the European Union's drug regulator, European Medicines Agency, concluded that the benefits of the vaccine far outweighed the risks but recommended that warnings about possible rare side effects should be given to patients and doctors.
The latest twist created another layer of uncertainty for a product already facing dwindling public support in Europe
Most of the EU's 27 countries have since resumed use of the vaccine.
Earlier Tuesday, two state-owned hospitals in Berlin announced that they had stopped giving the AstraZeneca vaccine to female staff members under 55. The heads of five university hospitals in western Germany called for a temporary halt to the vaccine for all younger women, citing the blood-clot risk.
Dilek Kalayci, the Berlin state health minister, said the suspension of AstraZeneca vaccines for younger people was a precautionary measure.
"We have not had a case of serious side effects in Berlin yet," she said, adding that all of those who had received the shot already could rest assured that it provides good protection against COVID-19.
AstraZeneca's release of encouraging data on its COVID-19 vaccine from its U.S. trial raised hopes that the company could erase doubts about the shot.
"Still, we need to treat it carefully and wait for the talks taking place at the federal level," said Kalayci.
The decision could affect appointments for tens of thousands of teachers and people with preexisting conditions who received invitations in recent days to get vaccinated in Berlin.
German news agency DPA quoted a spokesman for Munich, the country's third-largest city, saying that the suspension of AstraZeneca vaccinations for people younger than 60 would last "until issue of possible vaccine complications for this group of persons has been resolved."
About 2.7 million doses of the AstraZeneca vaccine have been administered in Germany so far.
Scientists at the University of Greifswald in northern Germany this week published the results of their investigation into the possible causes of the blood clots, saying that the condition is similar to a side effect seen in some patients who receive the blood-thinning medication heparin.
The study, which has not been peer-reviewed yet, doesn't provide a conclusive explanation as to why the blood clots are found in some people vaccinated with the AstraZeneca shot. Still, experts not involved in the study said it offers important information for doctors.
"Since this [blood-clotting] mechanism is already known in modified form, there is a therapy option for the patients, which is very reassuring," said Alice Assinger, a specialist in vascular diseases and blood clot research at the Medical University of Vienna.
Bernd Salzberger, an infection specialist at the University Hospital Regensburg in southern Germany, cautioned that the generally low risk of death from COVID-19 in younger women could be similar to the risk of suffering a serious blood clot.
"That's why the AstraZeneca vaccine should be primarily used in older people," he said.
Sign up for Essential California for the L.A. Times biggest news, features and recommendations in your inbox six days a week.
You may occasionally receive promotional content from the Los Angeles Times.