Merck says its experimental pill cuts COVID-19 hospitalizations and deaths by half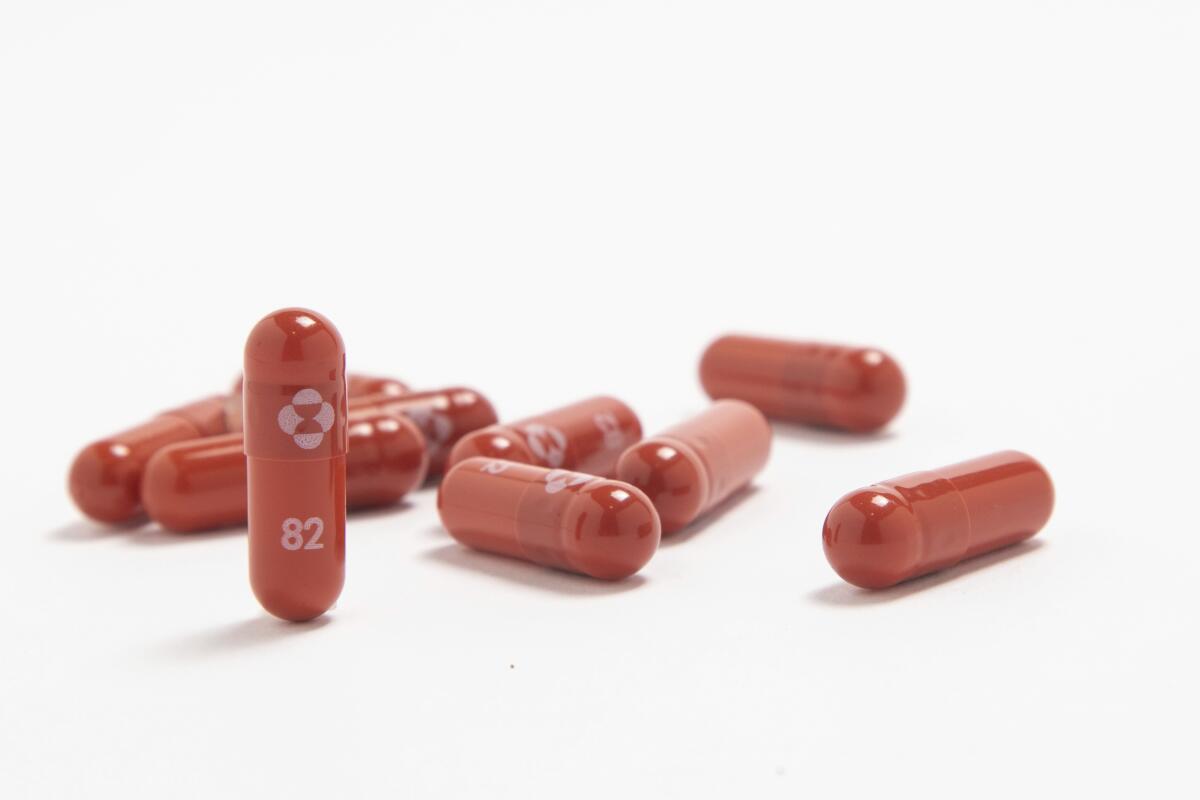 Could a bullet-shaped pill change the trajectory of the pandemic?
Drugmaker Merck said Friday that its experimental antiviral pill cuts rates of severe disease and death in half for newly diagnosed COVID-19 patients at high risk of becoming seriously ill.
If cleared by the U.S. Food and Drug Administration and other drug-safety agencies around the world, molnupiravir would become the first effective treatment for COVID-19 that can be taken in pill form.
As such, it would plug a yawning gap between prevention strategies — masking, social distancing and vaccination — and available treatments, all of which require skilled medical care and costly facilities to deliver.
Molnupiravir is intended to be started soon after a patient develops mild to moderate symptoms of COVID-19. In clinical trials, the drug appeared to shorten the duration of illness and reduce the severity of symptoms that can lead to hospitalization and death.
Merck and its partner, Ridgeback Biotherapeutics, said they would seek emergency use authorization from the FDA "as soon as possible." If it meets the agency's standards for safety and effectiveness, millions of Americans could be using it at home by the end of the year.
Health experts from Dr. Anthony Fauci on down have long called for a convenient pill that patients could take when COVID-19 symptoms first appear, much the way the decades-old Tamiflu helps fight influenza. Such medications are seen as key to controlling future waves of infection and reducing the impact of the pandemic.
"Nothing is as easy as giving people a prescription to take home, so I think it has extraordinary potential," said Dr. Jeanne Marrazzo, who directs the infectious diseases division at the University of Alabama School of Medicine in Birmingham.
Pills like the malaria drug hydroxychloriquine and the anti-parasitic medication ivermectin seem to hold special appeal among the unvaccinated, Marrazzo said. With so many patients clinging to treatments that have no track record of helping, "it would be my prayer" to have one that had been shown to be safe and effective, she added.
It may seem like biotech companies are focused solely on developing vaccines for COVID-19, but some are hard at work on drugs that could treat those who become sick.
Merck's clinical trial tracked 775 adults who were considered to be at higher risk for severe disease because they had underlying health problems such as obesity, diabetes and heart disease, or they were over 60 years old. Participants took eight pills a day for five days, though they didn't know whether they got the experimental drug or a placebo.
Among 385 patients taking molnupiravir, 7.3% were either hospitalized or died at the end of 30 days, compared with 14.1% of the 377 patients who got the dummy pill.
There were no deaths in the drug group during the study period, compared with eight deaths in the placebo group, Merck said in a statement. The company plans to present full results of its study at a future medical meeting.
An independent group of medical experts monitoring the trial recommended stopping it early because the interim results were so strong. That is typical when early results so clearly show a treatment works that there is no need for further testing before applying for authorization.
Earlier study results showed that the drug did not benefit patients who were already hospitalized with severe COVID-19.
Roughly 40% of participants' viral samples were genetically sequenced, revealing that several coronavirus strains were present among those enrolled in the international study. Molnupiravir "demonstrated consistent efficacy across viral variants Gamma, Delta, and Mu," Merck said.
That finding highlights one of the pill's key features: its ability to fight SARS-CoV-2 even as it evolves.
Molnupiravir appears to work by disrupting the coronavirus' ability to replicate itself inside of human cells. The drug tricks the virus into using its recipe for replication, then inserts a program that generates so many mutations the virus quickly sputters and dies.
This strategy of inducing "lethal mutagenesis" appears to work not only on SARS-CoV-2 but on other coronaviruses that plague humankind with respiratory illnesses ranging from the common cold to deadly pneumonias. It has also been shown to hobble alpha viruses that cause equine encephalitis, the Ebola virus and others.
By focusing its destructive powers on a part of the coronavirus that's common to many pathogens, "this compound is more of a generalist than a specialist," said Dr. Mark R. Denison, a microbiologist at Vanderbilt University who performed some of the earliest lab work leading to the drug's development.
"That's a wonderful thing," he said, because it means molnupiravir will probably work on all coronavirus variants.
In the skeletal trial results released Friday, the red capsule showed no early signs of worrying side effects. Drug-related adverse events were seen in 12% of those taking molnupiravir and 11% of those who got the placebo, Merck said. Just 1.3% of subjects taking the anti-viral medication withdrew from the trial due to worrying symptoms, along with 3.4% of those getting the placebo.
Two antibody treatments are currently available for COVID-19 patients with mild to moderate disease. But each must be administered intraveneously, requiring a trip to a hospital or infusion center.
One FDA-approved antiviral, remdesivir, has been approved as treatment for COVID-19. But it is used only in hospitalized patients whose illness has already progressed.
If molnupiravir joins the formulary, it could be targeted to people with conditions that make them vulnerable to becoming severely ill, not only preventing some deaths but reducing strain on hospitals.
Researchers are developing vaccines that could be taken as a capsule, a dissolvable tablet or a nasal spray. But the barriers to success are high.
Once Merck's application for emergency use authorization is complete, the FDA could make a decision within weeks — and, if approved, the drug could be on the market soon after.
Merck studied its drug only in people who were not vaccinated. But FDA regulators may consider authorizing it for broader use in vaccinated patients who get COVID-19 symptoms.
"It exceeded what I thought the drug might be able to do in this clinical trial," said Dr. Dean Li, vice president of Merck Research Laboratories. "When you see a 50% reduction in hospitalization or death, that's a substantial clinical impact."
The company expects to produce 10 million courses of treatment by the end of 2021, with more in 2022. The U.S. government has locked in the purchase of 1.7 million courses of the drug.
Merck has also said it would license the production of molnupiravir to established generic drug manufacturers "to accelerate availability" of the pill in more than 100 low- and middle-income countries.
Several other companies, including Pfizer and Roche, are studying similar drugs and could report results in the coming weeks and months.
The Associated Press contributed to this report.