Demonstrators disperse after standoff with Canadian police at U.S. border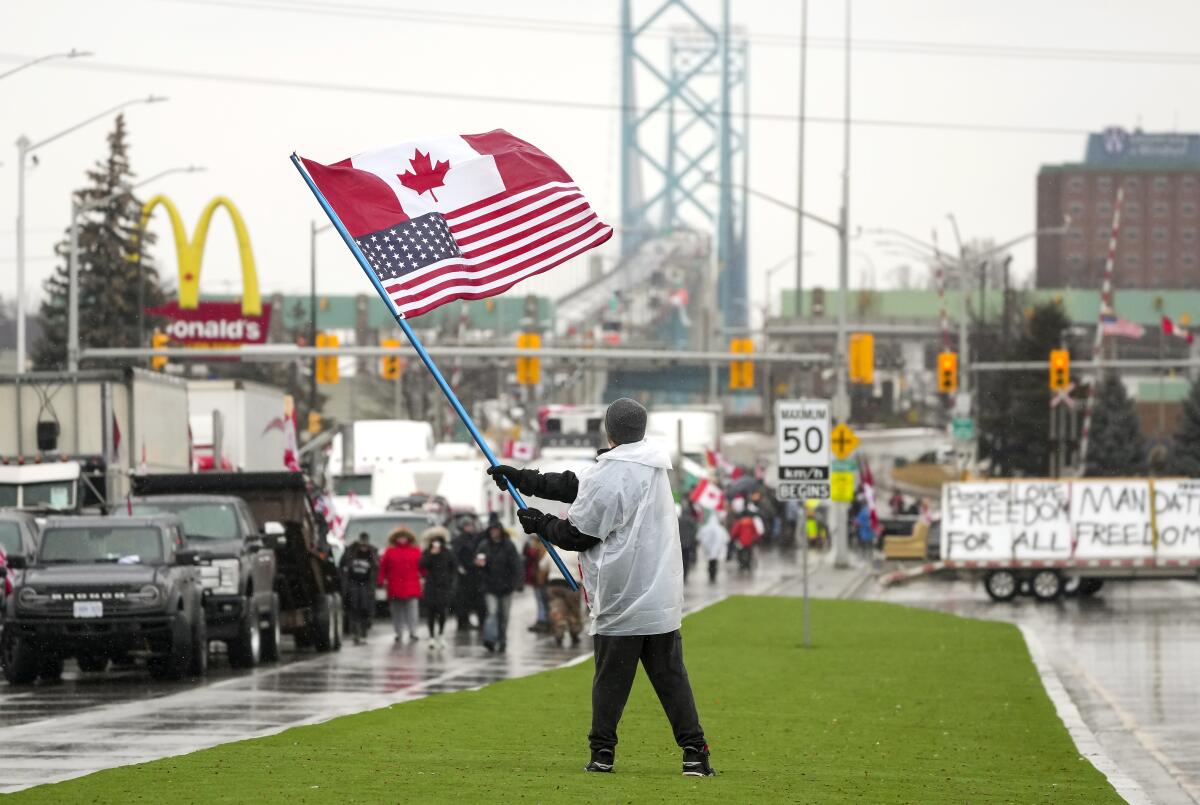 WINDSOR, Canada —
Protesters who shut down traffic on a key bridge between the United States and Canada for almost a week retreated Saturday under heavy police pressure, signaling an apparent end to a blockade that has threatened to cripple the auto industry while becoming a global symbol of opposition to coronavirus restrictions and vaccine mandates.
The demonstrators, many sporting Canadian flags — some slung from hockey sticks — began to withdraw peacefully early Saturday as a phalanx of police advanced on their ranks from the entry and exit lanes of the Ambassador Bridge, which connects Windsor, Ontario, with Detroit and has been blocked by a collection of big-rig trucks, pickups and SUVs since Monday.
On Friday, an Ontario provincial judge ordered the bridge approaches cleared, but that only seemed to draw more people on foot to the boisterous protest site, which featured a makeshift food stand and rock tunes blaring from speakers. Some brought their children and pets.
Some participants complained of having lost jobs because they refused to get vaccinated or abide mask mandates. Many spoke of how their children have suffered from missing in-person schooling.
"These restrictions have hurt so many people, thrown so many out of work, it's really terrible," said Jennifer Handsor, 31, a Windsor resident who was at the site Friday with her 9-year-old daughter. "This is not what Canada is about, dividing people like this."
A principal target has been Canadian Prime Minister Justin Trudeau and his Liberal government, which has backed pandemic restrictions that have generally been more stringent than those in many parts of the United States — though polls have mostly shown support among Canadians for his government's actions.
Canada's death rate from COVID-19 is about one-third of that in the United States. More than 85% of all Canadians are fully vaccinated, compared with 65% in the United States, according to Johns Hopkins Coronavirus Resource Center.
Demonstrators have also taken to the streets of the Canadian capital, Ottawa, and blocked other border crossings with the United States.
The horn-honking truckers here and in other parts of Canada have inspired similar demonstrations in Europe and elsewhere, but police action on Saturday helped thwart a threatened blockade of Paris, the Associated Press reported.
Dozens of trucks and other vehicles arrived in The Hague for a similar protest on Saturday, AP said, blocking an entrance to the historic Dutch parliamentary complex.
The almost century-old Ambassador Bridge, the busiest commercial crossing along the U.S.-Canadian border, carries about one-quarter of all merchandise traded annually between the two nations. Some $50 million in auto parts cross the span each day, according to industry estimates.
Shortages resulting from the blockade in recent days have prompted General Motors, Ford, Toyota, Honda and Chrysler to close plants temporarily or cancel shifts. Smaller auto-parts suppliers and related enterprises also saw their business slashed. President Biden spoke to Prime Minister Trudeau on Friday expressing the urgency of reopening the bridge.
In Windsor, a city of 230,000 long dependent on cross-border trade, the economic effect has contributed to considerable resistance to the protests.
"I respect people's right to protest, but this blockade is hurting a lot of average workers, not just CEOs," said Jonathan LoMedico, 39, who runs an auto body shop in Windsor. "The auto industry is absolutely essential to the economy here."
The so-called Freedom Convoy has found supporters among Republican figures in the United States, including former President Trump and Texas Sen. Ted Cruz.
As the police moved in Saturday, demonstrators sought a reprieve from the officers — who donned yellow vests, masks and knit caps in subfreezing temperatures — but ultimately participants backed off as police moved slowly towards them. Officers warned that vehicles deployed as barricades to block the bridge would be towed and violators could face arrest.
Departing protesters drove off reluctantly in their pickups and sports utility vehicles, along with several large rigs, that had obstructed the bridge over the Detroit River.
Although the protests began with truckers assailing vaccine mandates and other COVID-19-related restrictions, the demonstration soon expanded to include people from varied occupations. Many complained of being forced to take vaccines that they did not have confidence in and balked at mask-wearing rules.
"This may be over, but I think they got our message," said a woman who brandished a pair of Canadian flags Saturday and a placard reading, "No Mandates."
Demonstrators chanted "Freedom!" as the police advanced, and some broke into a version of the Canadian national anthem.
A protester who gave his name only as Paul pleaded repeatedly with police to back off, saying their actions were "hurting Canada" and eroding individual liberties.
"Shame on you!" he shouted, pacing in front of slowly advancing police lines. "The whole world is watching!"
But the entreaties from him and others went to no avail as dozens of police — backed by at least two tactical vehicles — progressed toward the protest site. The police operation seemed to go smoothly and without violence.
Elsewhere in Canada, demonstrators against coronavirus restrictions gathered Saturday in Toronto outside the provincial legislature, while protesting truckers maintained their large presence in Ottawa, the capital.
— Special correspondent Denis Calnan in Toronto contributed to this report.
Paris police have intercepted at least 500 vehicles attempting to enter the French capital to take part in protests against virus restrictions.
Economies on both sides of the U.S.-Canada border are threatened by the blockade, with Detroit automakers starting to shut down plants.
It was not immediately clear when or if law enforcement officers would be sent in to remove the demonstrators.
Sign up for Essential California for news, features and recommendations from the L.A. Times and beyond in your inbox six days a week.
You may occasionally receive promotional content from the Los Angeles Times.