Deadly Russian missile strikes target Ukrainian cities including capital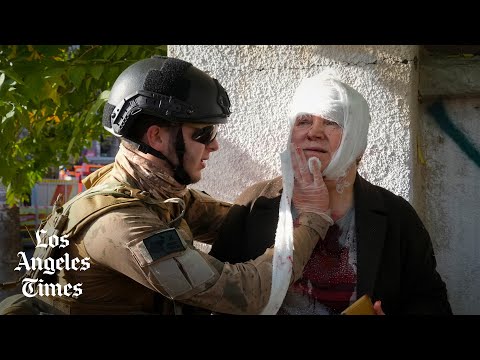 Russian President Vladimir Putin said the attacks were in retaliation for the bombing of a bridge linking Russia to its annexed territory of Crimea.
DNIPRO, Ukraine —
Russia rained missiles on cities and towns across Ukraine on Monday in its most concerted blitz since the start of the war, targeting civilian population centers and infrastructure far from front lines where Moscow's forces in recent weeks have faced a series of humiliating defeats.
Russian President Vladimir Putin, speaking soon after deadly cruise missile and "kamikaze" drone strikes hit at least 10 Ukrainian cities, indicated the attacks came in vengeance for a weekend blast that damaged a bridge connecting the occupied Crimean peninsula to Russia. He called the attack on the Kerch Bridge "a terrorist act" by Ukraine and warned that more "severe retaliation" lay in store.
After blasts set rush-hour commuter cars ablaze in the heart of the capital, Kyiv, and carved a huge crater next to a children's playground in a city-center park, Ukrainian President Volodymyr Zelensky declared that Russia would not succeed in attempts to "wipe us off the face of the Earth."
Ukrainian officials immediately voiced new calls for more sophisticated defensive and offensive weapons systems. Presidential advisor Mykhailo Podolyak wrote on Twitter that "instead of talking we need air defense," together with multiple-launch rocket systems and longer-range projectiles. Zelensky said later that he and President Biden had a "productive" discussion about air defense.
In attacks that spanned Ukraine's north and south, east and west, explosions struck apartment buildings and power stations, sending residents hurrying to basements and bomb shelters. In one Kyiv metro station, those seeking haven underground burst into defiant renditions of the national anthem.
At least 16 deaths were reported across the country, together with nearly 100 injuries. With electricity knocked out in a number of areas — including Kharkiv in the northeast, which was Ukraine's second-largest city before the war — authorities called on people to conserve power as much as possible until urgent repairs could be made. The attacks also disrupted water supplies in several parts of the country.
In the central city of Dnipro, hit by successive strikes, Konstantin Rachitski, who is in his 60s, survived a strike on his apartment block that blew out windows and left "blood all over the floor" of a neighbor's flat.
"Putin is a sick man," he said.
Another missile in Dnipro landed just in front of a bus, heavily damaging it, but officials said all the passengers apparently survived.
International condemnation poured in swiftly. Biden renewed a call on Russia to withdraw all of its forces from Ukraine, calling the attacks a mark of "the utter brutality of Mr. Putin's illegal war."
"These attacks only further reinforce our commitment to stand with the people of Ukraine for as long as it takes," he said.
United Nations Secretary General Antonio Guterres said he was "deeply shocked" by the bombings. The head of the European commission, Ursula von der Leyen, said she was "appalled." NATO Secretary General Jens Stoltenberg decried the attacks as "horrific and indiscriminate." The Group of 7 industrial powers was to meet by videoconference to discuss the sweeping strikes.
In numbers comparable to the size of Putin's 300,000-strong mobilization, Russian men are fleeing military call-up. Not everyone welcomes them.
Ukrainians had been braced for punishing attacks since Saturday's explosion that damaged the bridge linking annexed Crimea and Russia. Ukraine did not directly claim responsibility for that attack, but it was celebrated by Ukrainian officials and ordinary citizens as a slap in the face of Putin, who personally inaugurated the 12-mile-long span in 2018, four years after Russia's seizure of Crimea, and it had been a crucial supply link for Moscow's forces in southern Ukraine.
As battlefield defeats have mounted over the last month, Putin's senior military leadership has come under sustained criticism, much of it from war hawks on state television and on social media channels dedicated to chronicling the war effort. While few have dared to directly fault Putin, furious demands have arisen for an even more brutal prosecution of the nearly eight-month-old war.
Apparently in response, the Russian president on Saturday appointed Gen. Sergei Surovikin as overall military commander in Ukraine — an officer notorious for using indiscriminate bombing of civilian areas as a prime tactic in Syria and elsewhere.
Russian state-run media outlets that typically enthuse about Moscow's war in Ukraine sang a different tune after the loss of a key Ukrainian city.
Other recent efforts to turn the tide on the battlefield in Russia's favor have so far foundered, including a mass mobilization of 300,000 men for the Ukraine fight — which prompted a mass exodus of fighting-age men from Russia — and Putin's announcement that Russia was annexing four regions that are not under its full military control, a declaration deemed illegal by much of the outside world.
Most Western military analysts have read the Russian leader's moves as a sign of desperation.
"Putin cannot do the one thing his hardline constituency demands — win the war," the Washington-based Institute for the Study of War said in its latest analysis. "Shuffling senior commanders will not fix the systemic problems that have hamstrung Russian operations."
In what was likely a deliberate echo of wartime addresses that began on the day of the invasion, Feb. 24, Zelensky posted a video of himself outdoors in central Kyiv, near the presidential office. Looking somber and drawn, he nonetheless delivered a rousing message in response to what he called "terrorist" attacks by Russia.
"Ukraine existed before this enemy appeared," he said, "and Ukraine will exist after it."
In Kyiv, explosions hit the central Shevchenko district, home to office buildings, some government buildings and a number of diplomatic installations. Germany said the consular section of its embassy was hit, but was empty at the time. The city's mayor, Vitali Klitschko, said 71 buildings in Kyiv were damaged, including educational and cultural institutions and medical facilities.
The park that was struck was a popular area for strolling, named for national poet Taras Shevchenko. Photos of the aftermath showed a missile's smoking remains buried in a large crater, with a children's playground immediately adjacent. Kyiv National University is nearby, as are a number of historic buildings.
A blast also struck near a well-known Kyiv tourist attraction — a pedestrian bridge over a wooded area with thick plexiglass panels underfoot. The structure remained standing, drawing mockery on Ukrainian social media that the Russians had not even been able to destroy a glass bridge.
Sirens sounded for four hours all across the country, except in Russian-occupied Crimea. Cities targeted including the main population centers — Lviv, in the west near the Polish border, Kharkiv and Kyiv, along with regional capitals like Zaporizhzhia, one of the four areas that Putin claimed Russia was annexing.
The award to human rights advocates in Russia, Ukraine and Belarus comes as Russia's war in Ukraine is well into its eighth month.
Get breaking news, investigations, analysis and more signature journalism from the Los Angeles Times in your inbox.
You may occasionally receive promotional content from the Los Angeles Times.
The Russian attacks came from land and sea, with some missiles launched from Russian ships in the Black Sea. Neighboring Moldova complained that three missiles passed through its airspace.
There were also signs that Belarus, whose leader Alexander Lukashenko is considered to be under Putin's thumb, might join in the conflict, which it has so far refrained from doing. Lukashenko said Monday, without providing details, that his government, together with the Kremlin, had agreed to deploy a joint troop grouping.
Special correspondent Adler reported from Dnipro, Ukraine, and staff writer King from Washington.
Sign up for Essential California for the L.A. Times biggest news, features and recommendations in your inbox six days a week.
You may occasionally receive promotional content from the Los Angeles Times.