Art professor sues after being fired over showing image of prophet Muhammad in class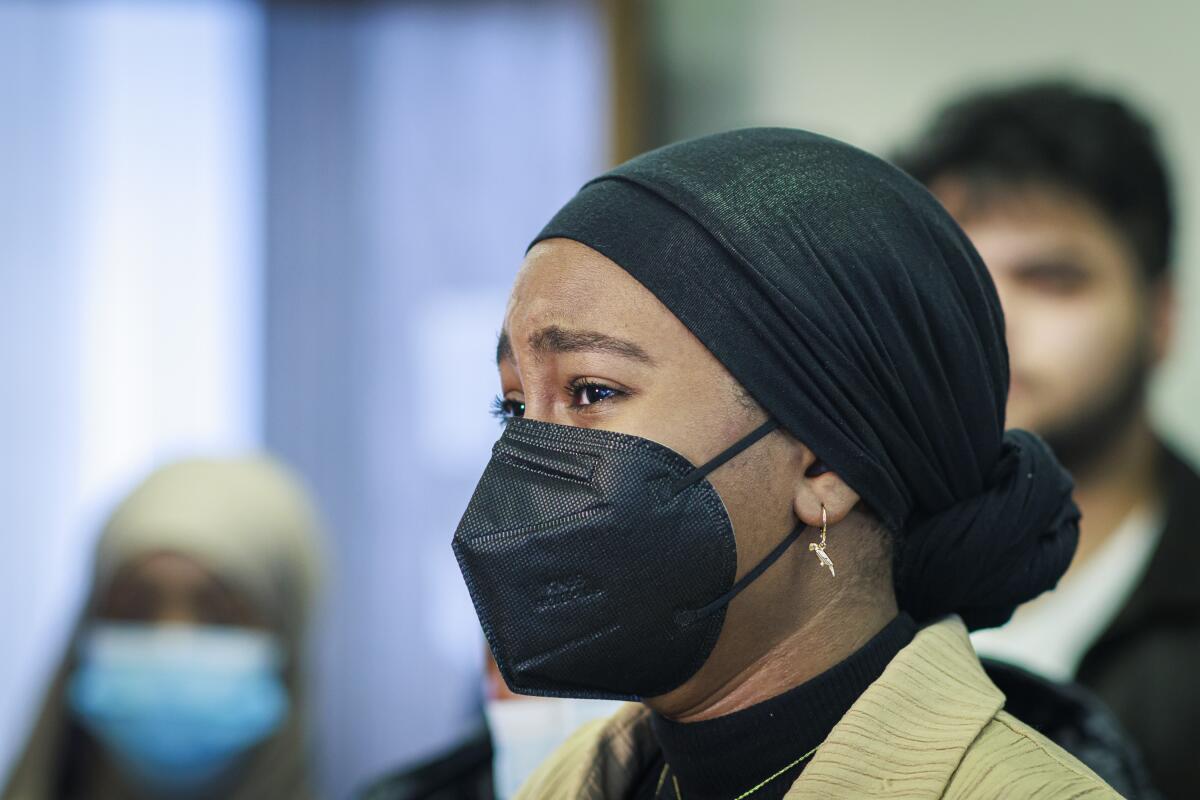 ST. PAUL, Minn. —
Attorneys for an adjunct art professor said Tuesday she is suing the Minnesota university that dismissed her after a Muslim student objected to depictions of the prophet Muhammad in a global art course. The university admitted to a "misstep" and plans to hold public conversations about academic freedom.
In her lawsuit, Erika López Prater alleges that Hamline University — a small private school in St. Paul — subjected her to religious discrimination and defamation, and damaged her professional and personal reputation.
"Among other things, Hamline, through its administration, has referred to Dr. López Prater's actions as 'undeniably Islamophobic,' '' her attorneys said in a statement. "Comments like these, which have now been published in news stories around the globe, will follow Dr. López Prater throughout her career, potentially resulting in her inability to obtain a tenure track position at any institution of higher education."
In Minnesota, a lawsuit can be started by serving a summons and a complaint to the party being sued. Attorneys for López Prater said the lawsuit was served to Hamline University on Tuesday and will soon be filed in court.
Hamline President Fayneese Miller and Ellen Watters, the board of trustees chair, released a joint statement Tuesday saying recent "communications, articles and opinion pieces" have led the school to "review and re-examine our actions."
"Like all organizations, sometimes we misstep," the statement said. "In the interest of hearing from and supporting our Muslim students, language was used that does not reflect our sentiments on academic freedom. Based on all that we have learned, we have determined that our usage of the term 'Islamophobic' was therefore flawed."
Muslim students took offense and an art history class was labeled Islamophobic. But many Muslims and scholars consider the artworks Islamophilic instead.
The statement did not address the lawsuit, but said the university strongly supports academic freedom, which should coexist with support for students. The university plans to hold two public conversations in coming months, one on academic freedom and student care and another on academic freedom and religion.
In October, López Prater showed a 14th century painting depicting the prophet Muhammad in a lesson on Islamic art. For many Muslims, visual depictions of Muhammad violate their faith, which López Prater knew.
According to the lawsuit, López Prater's course syllabus included a note that students would view images of religious figures, including Muhammad. The syllabus also included an offer to work with students uncomfortable with viewing those images.
She also warned the class immediately before showing the depiction of Muhammad. She said in media interviews last week that her goal was to teach students about the "rich diversity" of attitudes toward such imagery.
Can a university force out a professor for failing to follow emerging norms on race, identity and harm?
López Prater has said she and the department chair were discussing her teaching a new course, but after the student's complaint she was told "her services were no longer needed."
Miller, Hamline's president, previously said the professor's contract was not renewed following the fall semester.
The lawsuit alleges that, instead of recognizing that López Prater showed the images with a proper academic purpose, the university chose to impose on all students and employees the objecting student's religious view that no one should ever view images of the prophet.
On Friday, the Council on American-Islamic Relations, a national civil rights organization for Muslims, disputed the assertion that López Prater's behavior was Islamophobic. The group said professors who analyze images of the prophet Muhammad for academic purposes are not the same as "Islamophobes who show such images to cause offense."
The new government-appointed boss disparages his research center as neoliberal. Students and faculty take offense.
At a news conference last week organized by supporters of López Prater's firing, the student who filed the complaint said she had never seen a depiction of the prophet Muhammad until the October class.
"It just breaks my heart that I have to stand here to tell people that something is Islamophobic and something actually hurts all of us, not only me," said Aram Wedatalla, president of Hamline's Muslim Student Assn.
The university said Tuesday that it has learned much about the complexity of displaying images of the prophet Muhammad and understands that different opinions on the issue exist within the Muslim community.
"Higher education is about learning and growing. We have certainly learned and continue to grow as we generate new knowledge to share with all of our Hamline community," the statement said.
Sign up for Essential California for news, features and recommendations from the L.A. Times and beyond in your inbox six days a week.
You may occasionally receive promotional content from the Los Angeles Times.