Protests move into Peru's capital, met by tear gas and smoke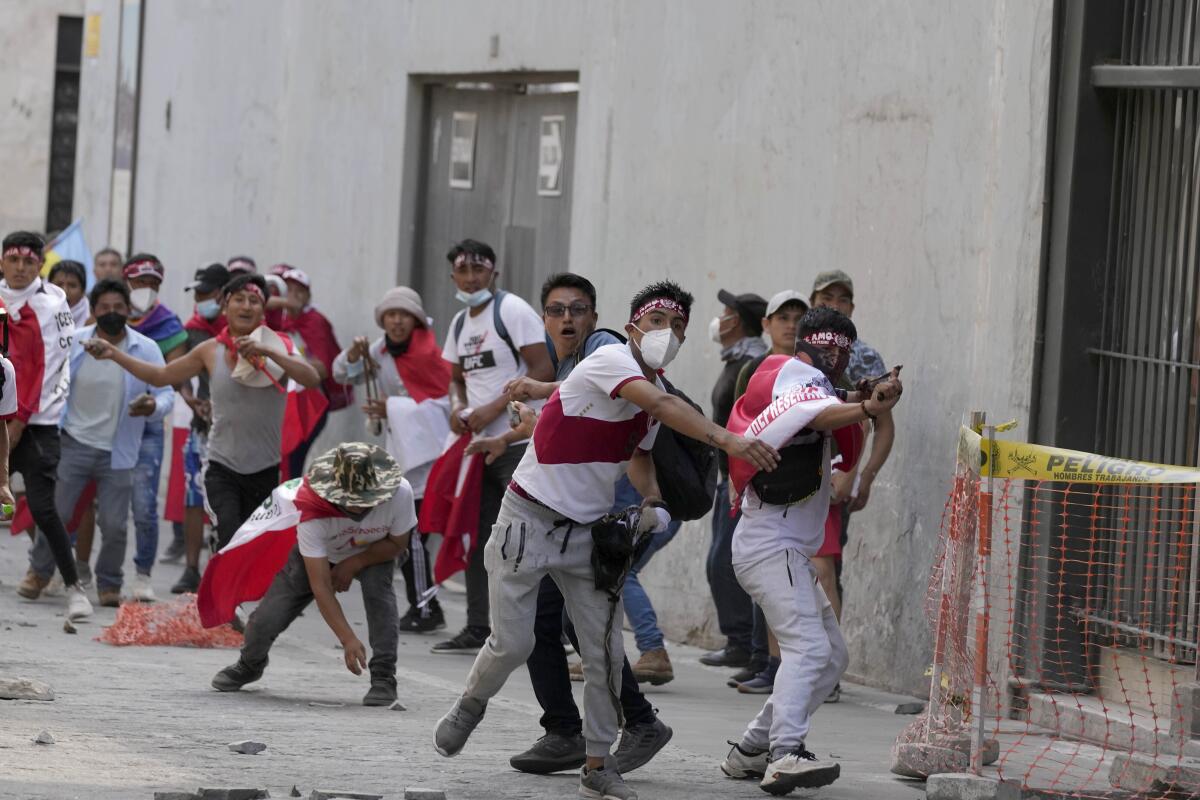 LIMA, Peru —
Thousands of protesters demanding the ouster of President Dina Boluarte poured into Peru's capital, clashing with police who fired tear gas. Many came from remote regions, where dozens have died in unrest that has gripped the country since Peru's first leader from a rural Andean background was removed from office last month.
The protests have been marked by Peru's worst political violence in more than two decades and highlighted deep divisions between the country's urban elite, largely concentrated in Lima, and poor rural areas. Former President Pedro Castillo has been in detention and is expected to be tried for rebellion since he was impeached after a failed attempt to dissolve Congress.
Protesters were expected to take to the streets of downtown Lima again Friday, although the city was quiet in the morning, with less movement than is normal for a weekday.
Thursday was mostly quiet but punctuated by scuffles and tear gas. After sundown, clashes escalated, and late that night, a major fire broke out at a building near the historic Plaza San Martin, although no connection to the protests was immediately clear.
Firefighters managed to put out the blaze early Friday morning, authorities said, noting the cause of the fire was still unknown.
Anger at Boluarte was the common thread Thursday as protesters chanted calls for her resignation and street sellers hawked T-shirts saying, "Out, Dina Boluarte," "Dina murderer, Peru repudiates you," and "New elections, let them all leave."
People are pouring into Peru's capital to protest against President Dina Boluarte and show their support for her ousted predecessor, Pedro Castillo.
Peru's ombudsman said at least 13 civilians and four police officers were injured in the Lima protests Thursday. A total of 22 police officers and 16 civilians were injured Thursday throughout the country, Interior Minister Vicente Romero Fernández said.
Protesters blamed Boluarte for the violence. "Our God says thou shalt not kill your neighbor. Dina Boluarte is killing, she's making brothers fight," Paulina Consac said as she carried a large Bible while marching in downtown Lima with more than 2,000 protesters from Cuzco.
Many Lima residents also joined the protests, with strong presences from students and union members.
"We're at a breaking point between dictatorship and democracy," said Pedro Mamani, a student at the National University of San Marcos, where demonstrators who traveled for the protest were being housed.
The university was surrounded by police officers, who also deployed at key points of Lima's historic downtown district — 11,800 officers in all, according to Victor Zanabria, the head of the Lima police force.
Boluarte was defiant Thursday night in a televised speech in which she thanked police for controlling the "violent protests" and vowed to prosecute those responsible for violence. Boluarte has said she supports a plan to hold elections for president and Congress in 2024, two years before originally scheduled.
The president also criticized the protesters for "not having any kind of social agenda that the country needs," accused them of "wanting to break the rule of law" and raised questions about their financing.
For much of the day, the protests played out as a cat-and-mouse game, with demonstrators, some of whom threw rocks at law enforcement, trying to get through police lines and officers responding with volleys of tear gas that sent protesters fleeing.
By early afternoon, protests had turned key roads into large pedestrian areas in downtown Lima.
There was visible frustration among the protesters, who had hoped to march to the Miraflores district, an emblematic neighborhood of the economic elite five miles from downtown.
"We're surrounded," said Sofia López, 42, as she sat on a bench outside the country's Supreme Court. "We've tried going through numerous places and we end up going around in circles." Lopez came from Carabayllo, about 20 miles north of the capital.
By bringing the protest to Lima, demonstrators hoped to give fresh weight to the movement that began when Boluarte was sworn into office on Dec. 7 to replace Castillo.
While democratic elections are held regularly in Peru, critics say that the results often have more to do with settling scores and politicians getting rich than installing effective governments.
"When there are tragedies, bloodbaths outside the capital, it doesn't have the same political relevance in the public agenda than if it took place in the capital," said Alonso Cárdenas, a public policy professor at the Antonio Ruiz de Montoya University in Lima.
As the sun set, fires smoldered in the streets of downtown Lima as protesters threw rocks at police officers who fired so much tear gas it was difficult to see.
"I'm feeling furious," said Verónica Paucar, 56, coughing from the tear gas. "We're going to return peacefully."
Activists have dubbed Thursday's demonstration in Lima as the Cuatro Suyos March, a reference to the four cardinal points of the Inca Empire. It's also the name given to a massive 2000 mobilization, when thousands of Peruvians took to the streets against the autocratic government of Alberto Fujimori, who resigned months later and was later imprisoned.
But there are key differences between those protests and this week's.
"In 2000, the people protested against a regime that was already consolidated in power," Cárdenas said. "In this case, they're standing up to a government that has only been in power for a month and is incredibly fragile."
The 2000 protests also had a centralized leadership and were led by political parties. The latest protests have largely been grassroots efforts without a clear leadership, a dynamic that was clear Thursday as protesters often seemed lost and didn't know where to head next as their path was continually blocked by law enforcement.
The protests have grown to such a degree that demonstrators are unlikely to be satisfied with Boluarte's resignation and are now demanding more fundamental structural reform.
"This isn't ending today, it won't end tomorrow, but only once we achieve our goals," said 61-year-old David Lozada as he looked on at a line of police officers blocking protesters from leaving downtown Lima. "I don't know what they're thinking. Do they want to spark a civil war?"
Sign up for Essential California for news, features and recommendations from the L.A. Times and beyond in your inbox six days a week.
You may occasionally receive promotional content from the Los Angeles Times.