Israeli fundraising group for Jewish extremists collects tax-exempt donations in U.S.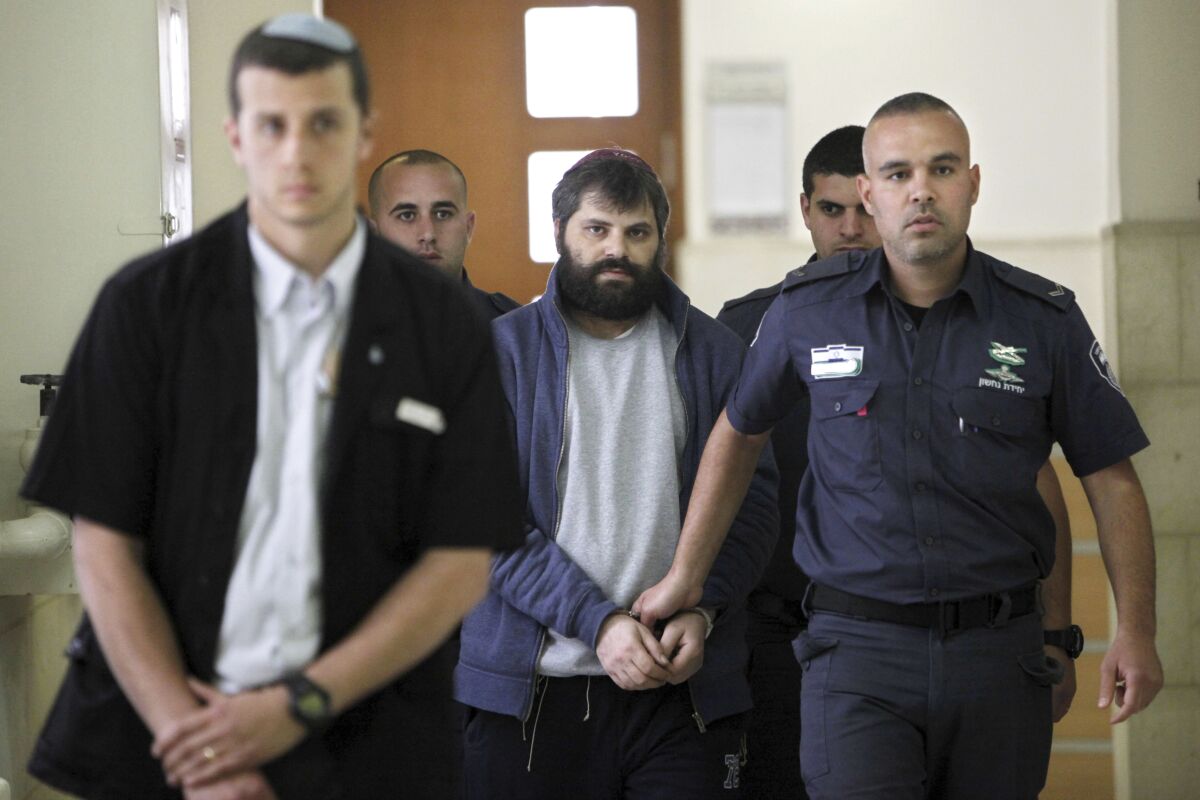 JERUSALEM —
An Israeli group raising funds for Jewish extremists convicted of some of the country's most notorious hate crimes is collecting tax-exempt donations from Americans, according to findings by the Associated Press and the Israeli investigative platform Shomrim.
The records in the case suggest that Israel's far right is gaining a new foothold in the United States.
The amount of money raised through a U.S. nonprofit is not known. But the AP and Shomrim have documented the money trail from New Jersey to imprisoned Israeli radicals who include Prime Minister Yitzhak Rabin's assassin and people convicted in deadly attacks on Palestinians.
This overseas fundraising arrangement has made it easier for the Israeli group, Shlom Asiraich, to collect money from Americans, who can make their contributions through the U.S. nonprofit with a credit card and claim a tax deduction.
Many Israeli causes and groups, including hospitals, universities and charities, raise money through U.S.-based arms. But having the strategy adopted by a group assisting Jewish radicals raises legal and moral questions.
It also comes against the backdrop of a new, far-right government in Israel led by Prime Minister Benjamin Netanyahu, in which ultranationalists and extremist lawmakers have gained unprecedented power.
The hilltop site, sacred to both Jews and Muslims, has been the scene of frequent clashes between Palestinian protesters and Israeli security forces.
According to Shlom Asiraich's promotional pamphlets, its beneficiaries include Yigal Amir, who assassinated Rabin in 1995; Amiram Ben-Uliel, convicted in the 2015 murder of a Palestinian baby and his parents in an arson attack; and Yosef Haim Ben-David, convicted of abducting and killing a 16-year-old Palestinian boy in Jerusalem in 2014. The group also assists an extremist ultra-Orthodox man who fatally stabbed a 16-year-old Israeli girl at Jerusalem's gay pride parade in 2015.
Shlom Asiraich, or "The Well-Being of Your Prisoners," has been raising money in Israel since at least 2018, and was officially registered as a nonprofit in 2020 by a group mostly consisting of Israelis from hard-line settlements in the West Bank. At least five of the group's seven founders have been questioned by Israeli authorities for crimes related to their activities against Palestinians. Some have been arrested and charged.
Recipients of its largesse have hailed the group for coming through in difficult times.
"You have no idea how much you help us," the family of Ben-Uliel, who is serving three life sentences, wrote in a handwritten letter posted on the group's Facebook page.
Israel's new Netanyahu-led government, including figures known for extreme anti-Arab views, will pose major challenges for Biden administration.
Being a relatively new organization, Shlom Asiraich provides little data in its official filing to Israel's nonprofit registry and does not indicate how much money it has raised. But in its promotional fliers, as reported recently by Israeli Channel 13 news, the organization indicated that it has raised 150,000 shekels (about $43,000).
Israeli nonprofits have long sought funding abroad, with the U.S. a major source. Figures published by Noga Zivan, a consultant for nonprofits in Israel, indicate that between 2018 and 2020, Jewish American organizations donated $2 billion to Israel annually.
Israeli right-wing groups have long raised funds in the U.S. But Dvir Kariv, a former official with Shin Bet, Israel's domestic security agency, which deals with Jewish violence, said it was unusual for extremist Jews such as the ones who run Shlom Asiraich to do so.
He said the group appears to have taken a cue from other far-right Israeli groups, particularly Kach, an anti-Arab racist group that was once banned as a terrorist organization in the U.S. but that Kariv said was adept at raising money there decades ago.
Israeli Prime Minister Benjamin Netanyahu fired Aryeh Deri following a Supreme Court order because of Deri's conviction over tax offenses.
Itamar Ben-Gvir, a senior Cabinet minister in Israel's new far-right government, is a disciple of Kach's founder, Rabbi Meir Kahane, who was once barred from Israeli politics.
It is unclear when Shlom Asiraich began working with the New Jersey-based World of Tzedaka, a nonprofit that says it works "to enable any individual or organization to raise money for their specific cause."
Donors in the U.S. can enter the Shlom Asiraich site and click on a link that takes them to a donation page hosted by World of Tzedaka.
According to the World of Tzedaka site, fundraisers must list a rabbi as a reference and receive approval from a Lakewood, N.J., religious committee. There is a monthly charge and a fee for transferring funds to an Israeli bank account, the site says.
Residents and activists say the Israeli military has demolished homes, water tanks and olive orchards in two Palestinian villages in the occupied West Bank.
World of Tzedaka supports other charitable ventures, most of them focused on assisting Jewish families in distress, according to its website.
Ellen Aprill, an expert on tax and charities at Loyola Law School in Los Angeles, said convicted criminals and their families could be considered in need and qualify as a permissible charitable purpose.
While supporting someone convicted of acts of terrorism could be seen as encouraging criminal activity, that would need to be proved, she said.
Marcus Owens, a lawyer who ran the Internal Revenue Service's nonprofit unit in the 1990s, took a tougher stance.
Get breaking news, investigations, analysis and more signature journalism from the Los Angeles Times in your inbox.
You may occasionally receive promotional content from the Los Angeles Times.
"The U.S. Department of Justice views assistance to the families of terrorists as a form of material support for terrorism," he said.
In order to become a tax-exempt group recognized by the IRS, an organization must operate exclusively for charitable, religious or educational purposes.
Repeated attempts to reach representatives of Shlom Asiraich were unsuccessful. A person who answered at the group's phone number hung up on an AP reporter. Moshe Orbach, whose address in the hard-line West Bank settlement of Yitzhar is listed as the group's headquarters, declined through a lawyer to be interviewed.
A World of Tzedaka representative hung up when asked for comment.
Coalition agreements, released a day before Netanyahu's government is sworn in, also include language endorsing discrimination against LGBTQ people.
The IRS refused to answer questions about the group, saying: "Federal law prohibits the IRS from commenting."
According to documents obtained by the AP, Shlom Asiraich was registered as a nonprofit with Israeli authorities by Chanamel Dorfman, an attorney and a top aide to Ben-Gvir, Israel's new national security minister.
Dorfman is also listed as the group's "lawyer/legal advisor" on Guidestar, the official nonprofit registry's site.
In a text message, Dorfman denied ever having been the group's legal advisor and did not respond to additional questions. Dorfman recently told the conservative daily Israel Hayom that he was simply acting as a lawyer and that "if I knew that this is what this organization does, I wouldn't have registered it."
In October, on the eve of the Jewish New Year, Shlom Asiraich tweeted a photo of snacks it provided to Jewish suspects under house arrest and to families of Israelis convicted or charged with crimes against Palestinians. A note accompanying the wine and other goods that the nonprofit provided called the men "beloved heroes."
"Stay strong and remain loyal to the people of Israel and to the holy Torah and don't stop being happy!" the note read.
This article was published in partnership with Shomrim, the Center for Media and Democracy in Israel.
---
Must-read stories from the L.A. Times
Get the day's top news with our Today's Headlines newsletter, sent every weekday morning.
You may occasionally receive promotional content from the Los Angeles Times.