As Blinken visits, Palestinians say Israeli troops kill a man in the West Bank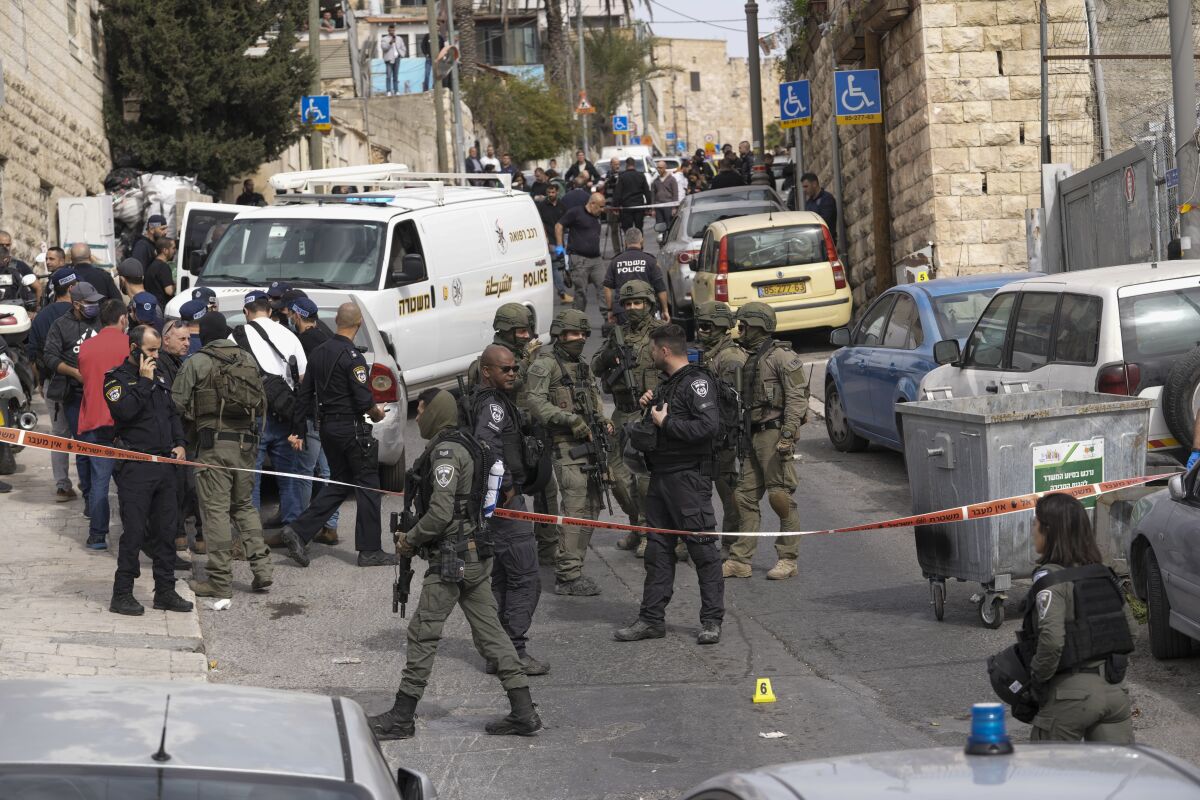 TEL AVIV —
Israeli forces killed a Palestinian man in a flashpoint city in the occupied West Bank on Monday, the Palestinian Health Ministry said, the latest bloodshed in a spiral of violence on the eve of a visit to the region by U.S. Secretary of State Antony J. Blinken.
The Palestinian Health Ministry said the man, Nassim Abu Fouda, 26, was shot in the head in Hebron, often a center of clashes between the Israeli military and Palestinians.
The Israeli military said forces asked a car driving suspiciously to pull over, but it then drove into a soldier, prompting soldiers to open fire. The car sped away and crashed, the military said. It added that the driver was taken away by Palestinian rescue services and that the incident was under review.
Israeli-Palestinian violence has spiked in recent days, with an Israeli military raid on a militant stronghold in the West Bank city of Jenin last week killing 10, most of them militants, and a Palestinian shooting attack in an East Jerusalem Jewish settlement outside a synagogue that killed seven Israelis. A separate East Jerusalem shooting over the weekend by a 13-year-old Palestinian wounded two Israelis.
Following the unrest, Israel approved a series of punitive steps against the Palestinians and ratcheting up tensions just as Blinken begins meetings with leaders later in the day.
"We will be encouraging the parties to take steps to calm things down," Blinken told reporters at a joint news conference in Cairo with Egyptian Foreign Minister Sameh Shoukry. "There is no question that this is a very difficult moment."
Tens of thousands of Israelis have poured into the streets each weekend to protest changes Netanyahu and his coalition are planning that opponents believe will curtail civil liberties.
The violence comes after months of Israeli arrest raids in the West Bank, which were launched after a wave of Palestinian attacks against Israelis last spring that killed 19 people. Nearly 150 Palestinians were killed in the West Bank and East Jerusalem last year, making it the deadliest year in those territories since 2004, according to figures from the Israeli rights group B'Tselem. Another 10 Israelis were killed later last year, raising the 2022 Israeli death toll to 29.
Israel says that most of the Palestinians killed have been militants, but others — including youths protesting the incursions and other people not involved in confrontations — have also been killed. Israel says the military raids are meant to dismantle militant networks and thwart future attacks, whereas the Palestinians view them as further entrenchment of Israel's open-ended, 55-year occupation.
The bloodshed has spiked during the first weeks of Israel's new far-right government, which has promised to take a tough stance against the Palestinians and ramp up settlement construction. Monday's death brings the toll of Palestinians killed this month to 35.
Blinken's visit, which was planned before the flare-up, was expected to be fraught with tension over differences between the Biden administration and Israeli Prime Minister Benjamin Netanyahu's new government, which is made up of settlement supporters. He will now need to contend with an additional challenge during his trip: trying to help restore calm.
The latest wave of Israeli-Palestinian violence has been centered on Jenin, a refugee camp in the occupied West Bank.
After the Jenin raid, the Palestinians said they would cancel security coordination with Israel, and after attacks against Israelis intensified, Israel said it would beef up Jewish settlements in the West Bank, among other steps.
Israeli Army Radio reported late Sunday that the government was also set to approve a rogue outpost deep inside the West Bank, and speed up approval for other such small settlements.
Israel also arrested 42 Palestinians, some relatives of the Jerusalem attacker, in its investigation into the shooting attack. And the firebrand National Security Minister Itamar Ben-Gvir said he has ordered authorities to demolish illegally built Palestinian homes in East Jerusalem in response to the attack.
Ben-Gvir called it "one step among a series of important steps for governance and for the war on terror, and we need more steps in this war."
Must-read stories from the L.A. Times
Get the day's top news with our Today's Headlines newsletter, sent every weekday morning.
You may occasionally receive promotional content from the Los Angeles Times.
Palestinian residents of the city's eastern sector say systemic housing discrimination means they are rarely granted building permits, prompting them to build illegally.
Israel captured the West Bank, East Jerusalem and the Gaza Strip in the 1967 Mideast War, territories the Palestinians claim for their hoped-for independent state. Some 500,000 Israelis now live in the West Bank in dozens of settlements and outposts, some made up of just a few mobile homes and others sprawling cities with malls and public transit. The Palestinians and much of the international community view the settlements as illegal and an obstacle to peace.
Must-read stories from the L.A. Times
Get the day's top news with our Today's Headlines newsletter, sent every weekday morning.
You may occasionally receive promotional content from the Los Angeles Times.