U.S. winter storm causes third day of dangerous, icy conditions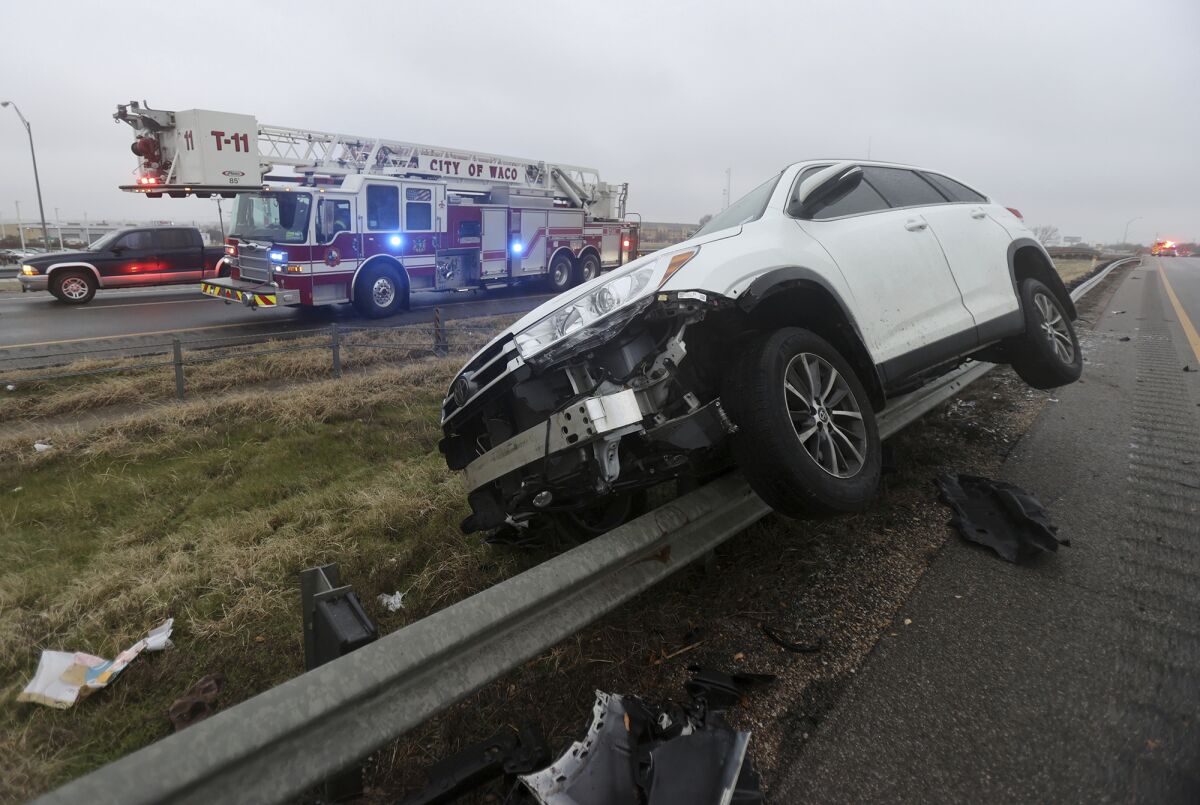 OKLAHOMA CITY —
A deadly storm system lashed a large swath of the southern U.S. with bands of sleet and snow for a third day on Wednesday, grounding an additional 2,300 flights, leaving hundreds of thousands without power, forcing school closures and making already treacherous driving conditions worse.
Watches and warnings about wintry conditions were issued for an area stretching West Texas' border with Mexico through Oklahoma, Arkansas and Louisiana, and into western Tennessee and northern Mississippi. Several rounds of mixed precipitation, including freezing rain and sleet, were in store for many areas throughout the day, meaning some places could get hit multiple times, forecasters said.
"It actually looks like it's going to be getting worse again across Texas, it is already a pretty big area of freezing rain across western and southwestern Texas," said Bob Oravec, a lead National Weather Service forecaster based in Camp Springs, Md.
Oravec said the icy weather is expected to move across parts of Oklahoma and Arkansas into western Tennessee and northern Mississippi before it starts to dissipate.
Can Southwest repair its flight network and reputation after it canceled nearly 17,000 December flights? Are other airlines vulnerable?
"By later in the day on Thursday it should be pretty much done, and all the … precipitation will be well downstream across parts of the South and where it will be mostly heavy rain," Oravec said.
By late Wednesday morning, 2,300 U.S. flights had been canceled, including three-quarters of the flights at Dallas-Fort Worth International Airport and more than two-thirds at Dallas Love Field, according to the flight tracking website FlightAware. Dallas-Fort Worth International is American Airlines' biggest hub, and Love Field is a major base for Southwest Airlines.
Many flights were also canceled at other airports, including in San Antonio, the Texas capital of Austin, and Nashville, compounding frustrations caused by the nearly 2,000 cancellations on Tuesday and roughly 1,100 on Monday.
Because of the storm, the Detroit Pistons were unable to fly home following their game Monday against the Dallas Mavericks, and the NBA postponed the Pistons' Wednesday night home game against the Washington Wizards.
Many schools throughout Arkansas have announced they would be closed Thursday. School systems in Dallas, Austin, Texas, and Memphis, Tenn., also canceled classes for Thursday.
Toward a more sustainable California
Get Boiling Point, our newsletter exploring climate change, energy and the environment, and become part of the conversation — and the solution.
You may occasionally receive promotional content from the Los Angeles Times.
In Texas, more than 350,000 customers were without power Wednesday afternoon as trees — heavy with ice — buckled onto power lines, according to PowerOutage, a website that tracks utility reports.
More than half of those outages were in Austin, where the city's utility warned residents who had been without electricity for 10 hours or longer that lights and heat may not come back on until Thursday. Overnight low temperatures were expected to fall to 33 degrees in Austin, with more chances for freezing rain, according to the National Weather Service. Austin Energy asked customers to prepare emergency plans and relocate before dusk if needed.
Pablo Vegas, who heads the Electric Reliability Council of Texas, vowed that the state's electrical grid and natural gas supply would be reliable and that there wouldn't be a repeat of the February 2021 blackouts, when the grid was on the brink of total failure.
As the ice and sleet enveloped Memphis, Memphis-Shelby County Schools canceled classes Wednesday. The school system serves about 100,000 students. The National Civil Rights Museum in Memphis also closed due to the weather.
States dependent on Colorado River supplies have missed yet another deadline for agreeing to water cuts. Will the federal government step in?
Also in Memphis, the icy weather delayed the funeral service for Tyre Nichols, who died following a brutal beating by police during a traffic stop. The service was pushed back a few hours to Wednesday afternoon.
"The third and FINAL round of freezing rain and/or sleet will start this afternoon," the National Weather Service's Memphis office posted on social media Wednesday morning. The leading edge of a wintry mix of precipitation was about 25 miles south of Memphis late Wednesday morning, radar showed.
The Dallas school district, which serves about 145,000 students, also canceled classes Wednesday.
Emergency responders rushed to hundreds of auto collisions across Texas on Tuesday and Republican Gov. Greg Abbott urged people not to drive. At least six people have died on slick Texas roads since Monday, including a triple fatality crash Tuesday near Brownfield, about 40 miles southwest of Lubbock.
Two Texas law officers, including a state trooper who was struck by a vehicle while investigating a crash on Interstate 45 southeast of Dallas, were seriously injured, authorities said.
In Arkansas, Republican Gov. Sarah Huckabee Sanders declared a state of emergency Tuesday because of icy conditions. Her declaration cited the "likelihood of numerous downed power lines" and said road conditions have created a backlog of deliveries by commercial drivers.
Martin reported from Atlanta. Associated Press journalists David Koenig in Dallas; Paul J. Weber in Austin, Texas; and Donna Warder in Washington, D.C., contributed to this report.
Must-read stories from the L.A. Times
Get the day's top news with our Today's Headlines newsletter, sent every weekday morning.
You may occasionally receive promotional content from the Los Angeles Times.