Blinken postpones Beijing visit over suspected spy balloon in U.S.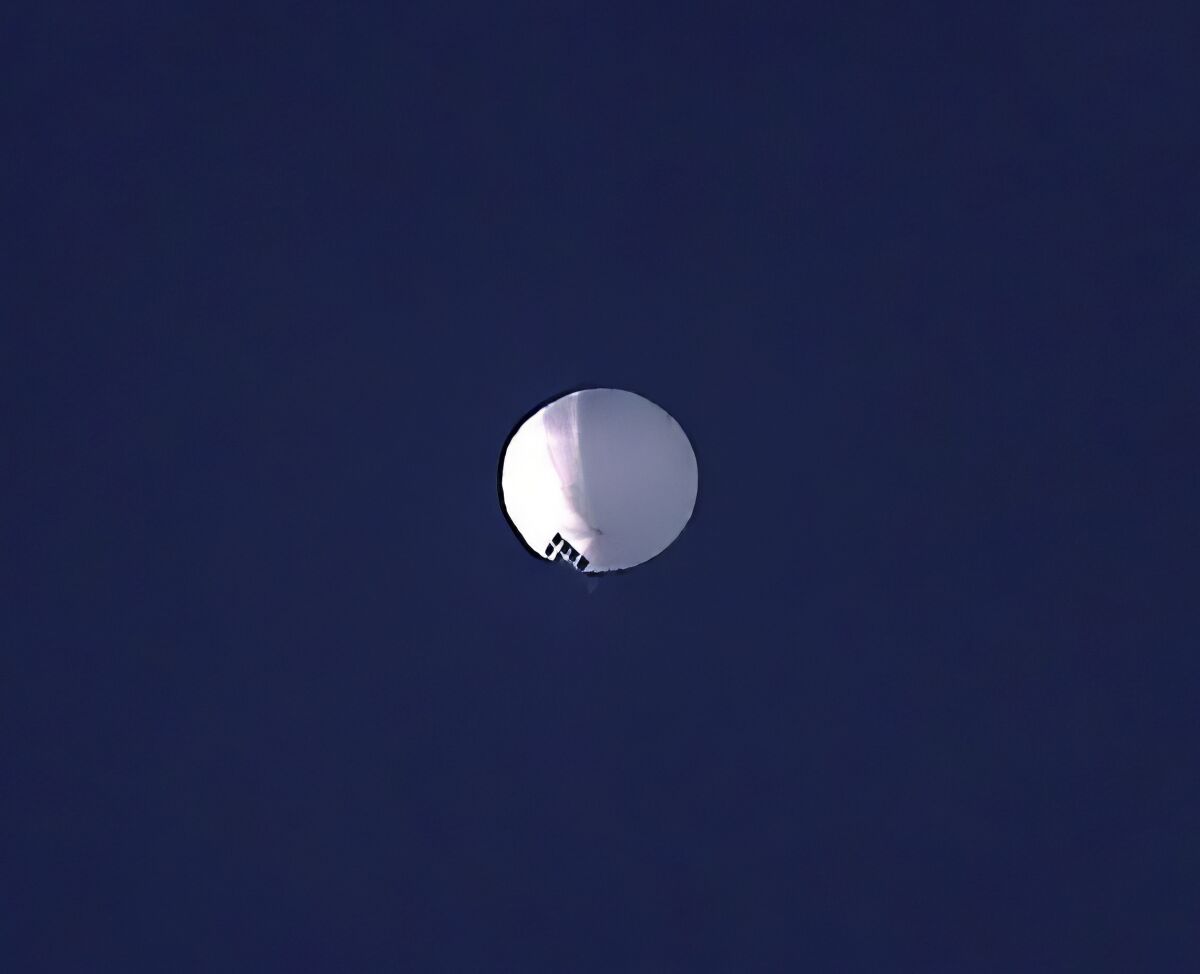 WASHINGTON —
U.S. Secretary of State Antony J. Blinken abruptly canceled a high-stakes diplomatic trip to China on Friday in response to what U.S. officials described as a Chinese spy balloon flying over parts of the U.S., an "unacceptable" violation of national territory.
Blinken had been scheduled to depart Friday night for Beijing as a meticulously planned follow-up to President Biden's opening rapprochement with Chinese President Xi Jinping late last year.
The U.S. and the Philippines have agreed on expanded American access to Philippine military camps, aiding the U.S. effort to counter a rising China.
But the massive balloon's presence in U.S. airspace, first revealed Thursday night by the Pentagon, changed his plans.
"We concluded that conditions were not conducive for a constructive visit at this time," Blinken said during a news conference Friday afternoon with South Korea's foreign minister, Park Jin. China's "decision to take this action on the eve of my planned visit is detrimental to the substantive discussions that we were preparing to have."
He said the aircraft was a Chinese surveillance balloon operating as "a clear violation of our sovereignty, a clear violation of international law, and clearly unacceptable."
The Pentagon initially scrambled fighter jets with the possible aim of shooting down the balloon but held off.
At 60,000 feet, the balloon does not pose a hazard to people on the ground, Pentagon spokesman Brig. Gen. Pat Ryder said in a briefing when asked whether the object contained radioactive weapons or other potentially toxic material.
Shooting down the balloon "was an option," Ryder said. But for now, as the balloon travels over possibly populated parts of the country, the Pentagon has decided to refrain from bringing it down.
"We will continue to monitor it and continue to review our options," Ryder said. Late Friday, he confirmed that the Pentagon had "assessed" an object detected transiting over Latin America to be another Chinese surveillance balloon.
The incident comes at a time relations between Washington and Beijing are at a low point, and Blinken's trip was intended to establish what he called a "ground floor" of possible areas of cooperation.
The secretary said it was too soon to determine if the airspace violation would lead to other consequences, although there seemed to be little appetite in the Biden administration for further eroding of the relationship.
He said that the "lines of communication" remained open with Xi's government and that his trip would be rescheduled.
"I can only imagine what the reaction would be in China if they were on the other end," Blinken said, adding that "job one" now was to remove the aircraft from U.S. airspace.
"The United States will continue to act in a way that reflects that responsibility" of advancing global relations, Blinken said. "We look to our [Chinese government] counterparts to do the same."
The balloon is enormous — reportedly the size of three buses — and equipped with surveillance machinery and other equipment that would potentially create a large debris field if shot down, officials said.
U.S. officials said it was probably collecting data as it passed over sensitive U.S. military installations.
But they said the information it could gather was no more detailed than what normal Chinese satellites already collect. Moreover, Blinken said, officials took steps immediately upon detection of the airship to block collection of sensitive information.
The balloon passed over a military base in Montana as recently as Thursday, Ryder said, then moved eastward. Montana is home to one of America's three nuclear missile silo fields, at Malmstrom Air Force Base.
Initially, U.S. officials said the balloon did not seem to be piloted, but Ryder said it now appears Chinese authorities are directing its flight path.
The Chinese government said the balloon was merely a weather instrument that accidentally strayed into U.S. airspace. The Chinese Foreign Ministry said the vehicle had limited "self-steering" capabilities and "deviated far from its planned course" because of winds.
"The Chinese side regrets the unintended entry of the airship into U.S. airspace due to force majeure," the ministry said in a statement.
State Department officials scoffed at that explanation — although it was unusual for Beijing to issue a statement that so approached an apology.
"We are confident in our assessment," a senior State Department official said, briefing reporters on condition of anonymity in keeping with government protocols.
As the U.S. expands military operations in Australia's Darwin Port, both countries are uneasy over the fact that a Chinese company controls it.
Another State Department official said going to Beijing at this time would be counterproductive because it would be overshadowed by the balloon incident.
The meeting had been aimed at easing fraught tensions between Beijing and Washington as they seek to find agreement on climate change and a handful of other issues amid wide disagreement on numerous policies, including Taiwan, human rights and China's aggressive, land-seizing actions in the South China Seas.
Blinken returned from the Middle East on Wednesday. That trip, to Israel, the West Bank and Egypt, went ahead despite the killing of seven Israeli Jews by a Palestinian gunman at a synagogue on the eve of Blinken's arrival, and Israel's killing of nine Palestinians in a raid on militants the day before.
Some Republicans were already finding fault with the administration for "allowing" the balloon to enter U.S. airspace — it apparently traveled from China, across the Pacific Ocean, into Alaska and over Canada before reaching mainland U.S. — and said it should have been shot down upon detection.
Biden declined to comment on the matter when questioned Friday while at an economic event. White House spokeswoman Karine Jean-Pierre told reporters that the president was briefed about the balloon Tuesday, but she did not explain why the public did not learn of it until Thursday.
She said Biden heeded the "strong" recommendation of Defense Secretary Lloyd J. Austin III and senior military leaders "not to take kinetic action because of the risk to safety and security of the people" on the ground.
Still, that did not sit well with some critics.
"The idea that Communist China has a spy balloon headed toward Whiteman Air Force Base in Missouri right now — the home of the Stealth bomber — is absolutely unbelievable," Sen. Eric Schmitt (R-Mo.) said. "No American should accept this. I don't."
In its latest move to counter China's push into the Pacific, the United States has reopened an embassy in the Solomon Islands after a 30-year absence.
Must-read stories from the L.A. Times
Get the day's top news with our Today's Headlines newsletter, sent every weekday morning.
You may occasionally receive promotional content from the Los Angeles Times.