Kyiv clamors for fighter jets as war nears 'critical' phase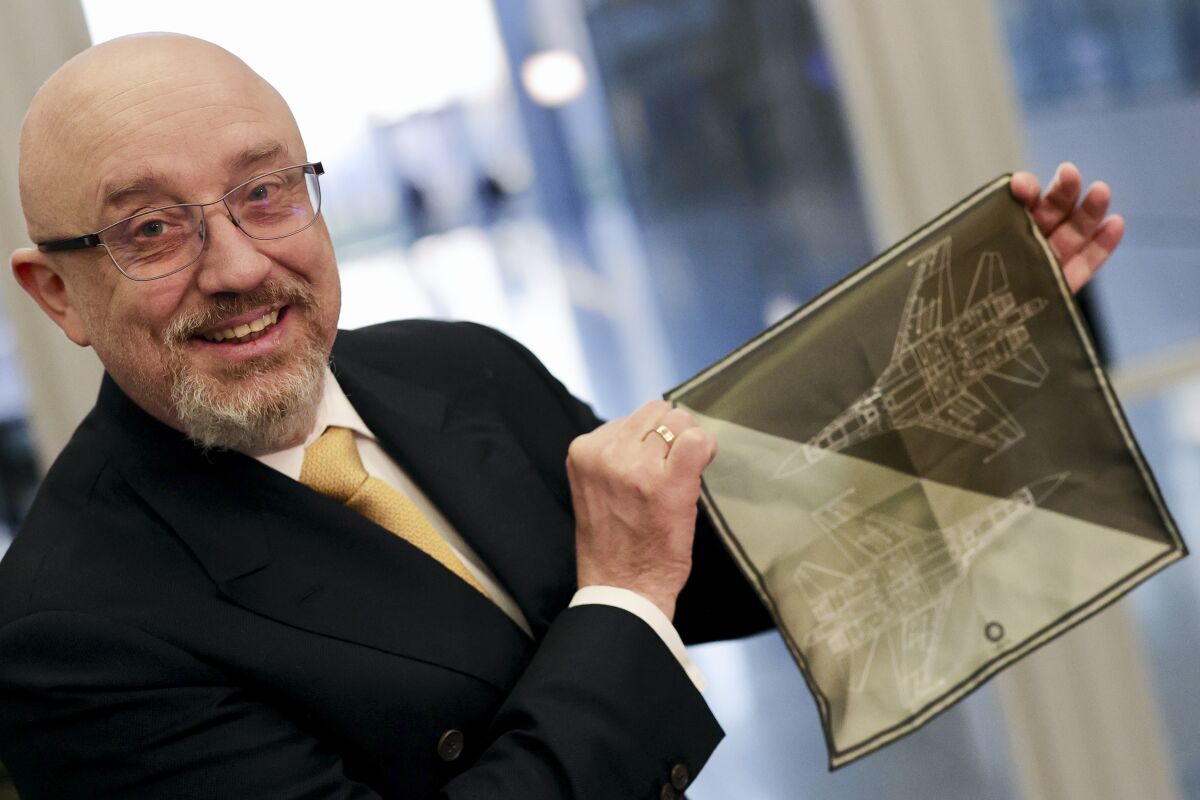 BRUSSELS —
Ukraine on Tuesday renewed its appeal to Western countries for fighter jets to help frustrate Moscow's almost yearlong invasion, but won no assurances at a high-level defense meeting in Brussels that it would receive any combat aircraft.
"I don't have any announcements on aircraft to make today," U.S. Defense Secretary Lloyd J. Austin III told reporters after leading a meeting of the Ukraine Defense Contact Group at NATO headquarters, where 54 countries were represented.
Even so, Ukraine's allies pledged more weapons, ammunition and tanks as senior defense officials at the meeting said the war with Russia is approaching a critical stage.
Moldova's president has outlined what she says is Moscow's plot to overthrow the Moldovan government and 'put our country at the disposal of Russia.'
"This isn't about one single capability," Austin said at a news conference, referring to the warplanes. "It's about delivering all the capabilities that we promised. It's about integrating these systems together."
The first challenge, he said, is to make sure all the military aid is used effectively.
"It's a monumental task to bring all those systems together and get the troops trained on those platforms," he said.
As Moscow musters its forces for a potential push in eastern Ukraine, Austin said, Kyiv could launch its own offensive in the spring.
On the Belarusian border, Ukrainian drones monitor a long expanse of marsh and woodland for a possible Russian offensive from the north.
With the war set to enter its second year at the end of next week, Ukrainian Defense Minister Oleksii Reznikov was in Brussels to press his country's case for fighter jets, holding up an image of a warplane when asked what military aid his country is seeking.
Ukrainian President Volodymyr Zelensky pushed hard for combat planes last week when he visited London, Paris and Brussels on just his second foreign trip since Russia invaded on Feb. 24, 2022. His plea came days after Western allies pledged to provide Kyiv with tanks.
Moscow's forces have been pressing in the east of Ukraine while bolstering their defensive lines in the south. The war has been largely static during the winter months, though both sides are expected to launch offensives when the weather improves.
Ukraine's dogged resistance and Western weapons and intelligence have helped thwart the Kremlin's ambitions of securing the entire eastern region of Donbas. But the risk remains that in some areas Kyiv's forces could be overwhelmed by the sheer weight of Russian troop numbers.
After months of agonizing, the U.S. has agreed to send longer-range bombs to Ukraine as it prepares to launch a spring offensive.
Army Gen. Mark A. Milley, chairman of the Joint Chiefs of Staff, said Russian forces are "struggling mightily" and making only slow progress in the Donbas. "However, they do have numbers" to keep fighting, Milley said.
Putin was hoping Western support for Kyiv would fizzle out, Austin said.
"Today's meeting comes at a critical time," Austin said. "The Kremlin is still betting that it can wait us out."
NATO Secretary General Jens Stoltenberg, asked when he expects Russia's so-called spring offensive to begin, said, "The reality is that we have seen the start already.
"For me, this just highlights the importance of timing. It's urgent to provide Ukraine with more weapons," he told reporters in Brussels.
Get breaking news, investigations, analysis and more signature journalism from the Los Angeles Times in your inbox.
You may occasionally receive promotional content from the Los Angeles Times.
Another issue occupying the minds of allies in the North Atlantic Treaty Organization is how to keep up a steady supply of ammunition to Ukraine without depleting their own stockpiles.
According to some estimates, Ukraine is firing 6,000 to 7,000 artillery shells each day, around a third of the daily amount that Russia is using.
Stoltenberg warned Monday that Ukraine is using up ammunition much faster than its allies can supply it.
However, the Russians appear short on resources for any major offensive at the moment, the U.K. Ministry of Defense said.
The longest battle of the war in Ukraine has turned Bakhmut into a ghost city fought over by Ukrainian troops and by Russian forces eager for a win.
"Overall, the current operational picture suggests that Russian forces are being given orders to advance in most sectors, but that they have not massed sufficient offensive combat power on any one axis to achieve a decisive effect," it tweeted.
In Ukraine, the country's presidential office said Tuesday that Russian shelling killed at least three civilians and wounded eight more over the previous 24 hours as fighting continued in the south and east.
Russian forces shelled 17 towns and villages in the Donetsk region. Gov. Pavlo Kyrylenko said. "The Russians are destroying everything in their path," he said.
Ukrainian officials also reported intense shelling and airstrikes in Luhansk province, while in the south Russian forces shelled the city of Kherson 13 times over 24 hours, destroying a railway and residential buildings.
Associated Press writer Tara Copp contributed to this report.
Must-read stories from the L.A. Times
Get the day's top news with our Today's Headlines newsletter, sent every weekday morning.
You may occasionally receive promotional content from the Los Angeles Times.