Moldova's president outlines alleged Russian plot to topple government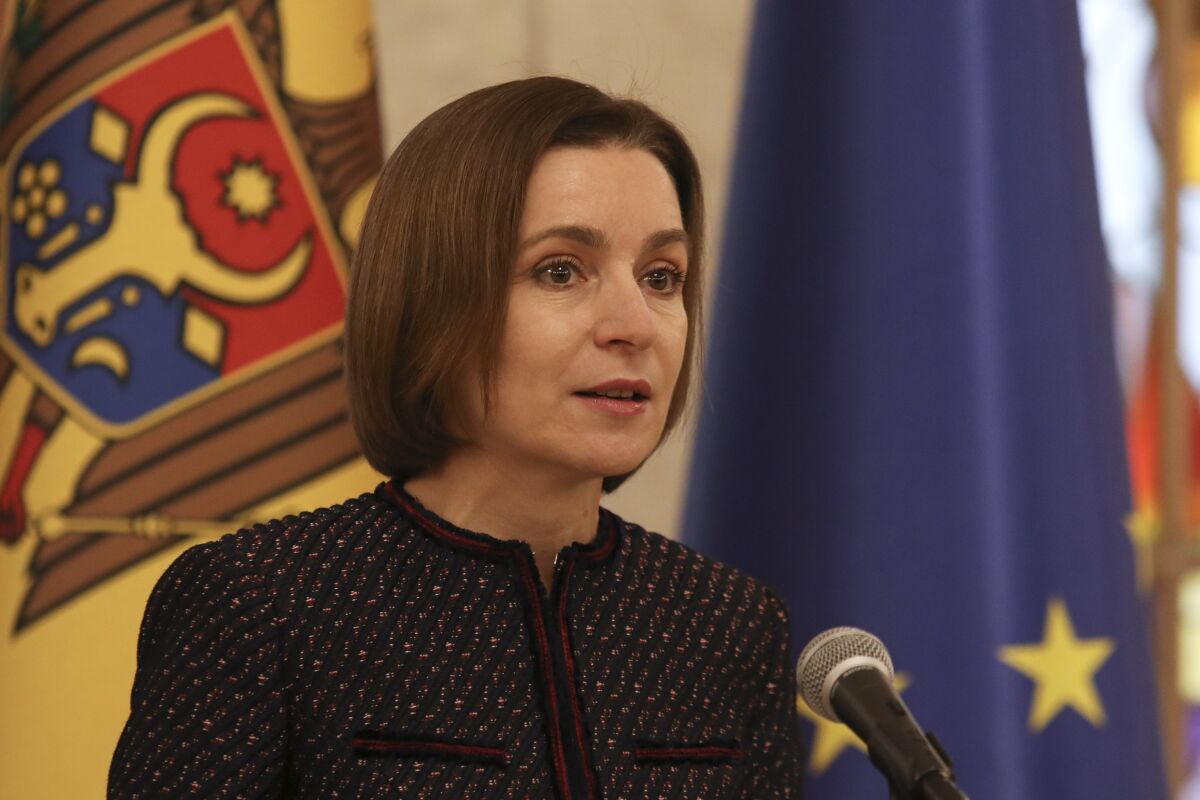 CHISINAU, Moldova —
Moldova's president outlined Monday what she described as a plot by Moscow to use external saboteurs to overthrow her country's government, put the nation "at the disposal of Russia" and derail its aspirations to one day join the European Union.
President Maia Sandu's briefing came a week after Ukrainian President Volodymyr Zelensky said his country had intercepted plans by Russian secret services to destroy Moldova, claims that were later confirmed by Moldovan intelligence officials.
"The plan for the next period involves actions with the involvement of diversionists with military training, camouflaged in civilian clothes, who will undertake violent actions, attack some state buildings and even take hostages," Sandu told reporters at a briefing.
"The purpose of these actions is to overthrow the constitutional order, to change the legitimate power from Chisinau to an illegitimate one," Sandu said, "which would put our country at the disposal of Russia, in order to stop the European integration process."
She vowed that "the Kremlin's attempts to bring violence to our country will not succeed."
There was no immediate reaction from Russian officials to Sandu's claims.
Explosions in the past two days have raised concerns that Russia's war in Ukraine could extend to Transnistria, a separatist region of Moldova.
Since Russia invaded Ukraine nearly a year ago, Moldova, a former Soviet republic of about 2.6 million people, has sought closer ties with its Western partners. Last June, it was granted European Union candidate status, the same day as Ukraine.
Sandu said that, between October and December, Moldovan police and its Intelligence and Security Service, or SIS, have intervened in "several cases of organized criminal elements and stopped attempts at violence."
Over the last year, non-NATO member Moldova has faced a string of problems. These include a severe energy crisis after Moscow dramatically reduced gas supplies, skyrocketing inflation and several incidents in recent months involving missiles that have traversed its skies and debris that has fell on its territory.
Moldovan authorities confirmed that another missile from the war in Ukraine had entered its airspace Friday.
The projectionist sits in a ruined theater.
Without providing more details, Sandu said that Russia wanted to use Moldova in the war against Ukraine and that information obtained by intelligence services contained what she described as instructions on rules of entry to Moldova for citizens from Russia, Belarus, Serbia and Montenegro.
"I assure you that the state institutions are working to prevent these challenges and keep the situation under control," Sandu said.
She said that Moldova's Parliament must adopt laws to equip its Intelligence and Security Service and the prosecutor's office "with the necessary tools to combat more effectively the risks to the country's security."
Sandu added that the plan would "rely on several internal forces but especially on criminal groups," and went on to name two Moldovan oligarchs, Ilan Shor and Vladimir Plahotniuc, both of whom are currently in exile. Both men last year were sanctioned by the U.S. and Britain.
Must-read stories from the L.A. Times
Get the day's top news with our Today's Headlines newsletter, sent every weekday morning.
You may occasionally receive promotional content from the Los Angeles Times.
Last fall, a series of mass anti-government protests organized by Shor's populist, Russia-friendly Shor Party rocked Moldova amid the energy crunch.
Sandu's news briefing Monday came after the resignation Friday of Prime Minister Natalia Gavrilita. The same day, Sandu appointed her defense and security advisor, pro-Western economist Dorin Recean, to succeed Gavrilita.
On Friday, after Moldovan authorities confirmed the missile incident, U.S. State Department deputy spokesman Vedant Patel told reporters in Washington that "Russia has for years supported influence and destabilization campaigns in Moldova, which often involve weaponizing corruption to further its goals."
Must-read stories from the L.A. Times
Get the day's top news with our Today's Headlines newsletter, sent every weekday morning.
You may occasionally receive promotional content from the Los Angeles Times.