Toxic chemicals were burned after an Ohio train derailed. How worried should people be?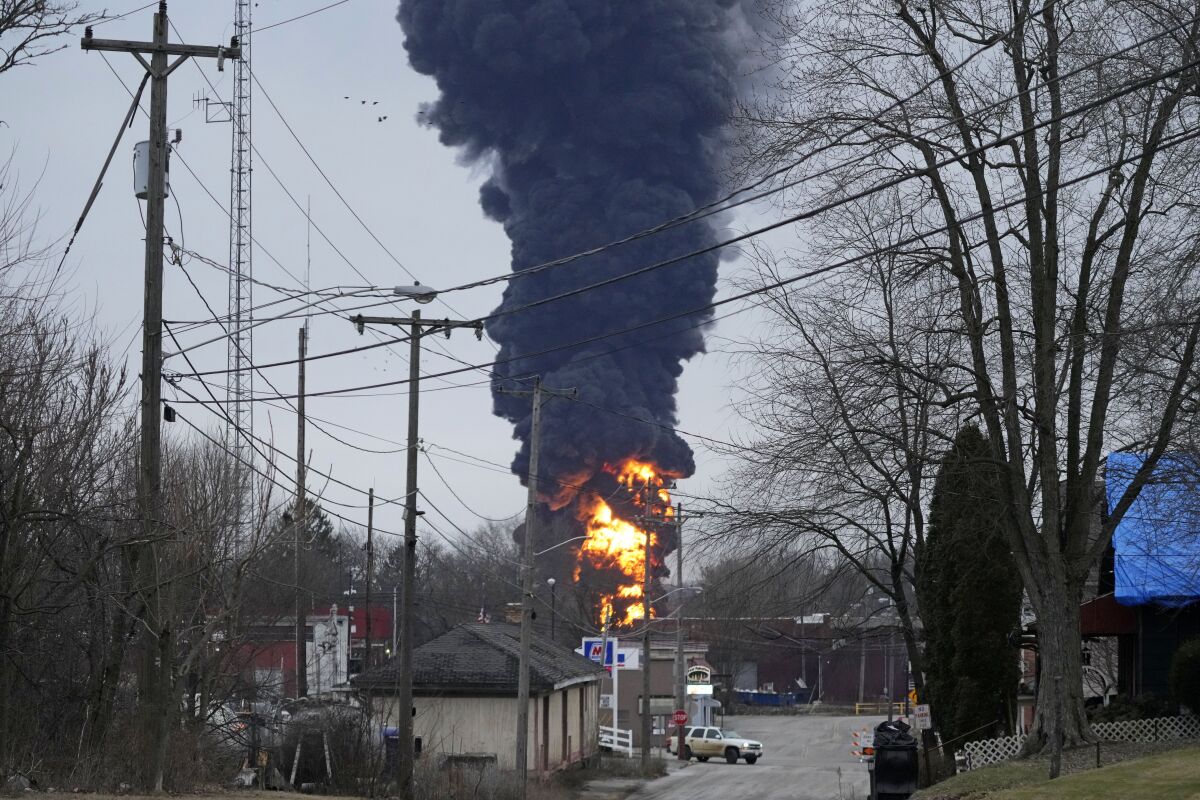 EAST PALESTINE, Ohio —
Plumes of smoke, questions about dead animals, worries about the drinking water. A train derailment in Ohio, followed by the burning of some of the hazardous chemicals on board, has people asking: How worried should they be?
It's been nearly two weeks since about 50 cars of a freight train derailed in a fiery, mangled mess on the outskirts of East Palestine near the Pennsylvania state line, apparently because of a mechanical issue with a rail car axle. No one was injured in the Feb. 3 wreck, but concerns about air quality and the hazardous chemicals on the train prompted some residents to leave, and officials later ordered the evacuation of the immediate area as fears grew about a potential explosion of smoldering wreckage.
Officials seeking to avoid the danger of an uncontrolled blast chose to intentionally release and burn toxic vinyl chloride from five rail cars, sending flames and black smoke again billowing high into the sky. The jarring scene left people questioning the potential health effects on residents in the area and beyond, even as authorities maintained that they were doing their best to protect the public.
In the days since, residents' concerns and questions have only grown — amplified, in part, by misinformation spreading online.
Here's what we know:
Was the controlled burn safe?
Vinyl chloride is associated with increased risk of certain cancers, and officials warned that burning it would release two concerning gases: hydrogen chloride and phosgene, the latter of which was used as a weapon in World War I.
Environmental officials say that monitors detected toxins in the air at the site during the controlled burn and that officials kept people away until that dissipated. They say that continued air monitoring by the railroad and by government agencies — including testing inside nearly 400 homes — hasn't detected dangerous levels in the area since residents were allowed to return. The U.S. Environmental Protection Agency has shared air-monitoring results online.
Officials are asking about railroad safety after a fiery derailment in Ohio forced evacuations over concerns about the toxic chemicals on the train.
What are the ongoing concerns?
Even in communities beyond East Palestine, some residents say they worry about long-term effects of even low-grade exposure to contaminants from the site. The village has scheduled a town hall at the local high school Wednesday evening to hear questions from residents, whose concerns have included lingering smells, how to ensure accountability for the cleanup and what to make of pets and livestock that have appeared ill or died since the derailment.
The risk to animals is low, according to the Ohio Department of Agriculture, which recommended that people contact a local veterinarian for any concerns about their livestock or pets. The department hasn't received any official reports about livestock or pet illnesses or deaths directly related to the incident, though making such a determination would require a necropsy and lab work, the ODA said.
Ohio Health Department Director Bruce Vanderhoff cautioned at a news conference Tuesday that residents who were worried about lingering odors or headaches since the derailment should know that those can be triggered by contaminant levels in the air that are well below what's unsafe.
The derailment also highlighted questions about railroad safety, though federal data show accidents involving hazardous materials at this scale are very rare. Trains were rolling past East Palestine again soon after the evacuation order was lifted.
What about the ground and water?
Contaminants from derailed cars spilled into some waterways and were toxic to fish, but officials have said drinking water in the area has remained protected.
In addition to vinyl chloride, at least three other substances — butyl acrylate, ethylhexyl acrylate, and ethylene glycol monobutyl ether — were released into the air, soil or water, according to an EPA letter putting rail operator Norfolk Southern on notice about its potential liability for cleanup costs.
Authorities were still asking the public to avoid the area near Harvill and Oleander avenues in Perris, where a railroad tank car carrying styrene overheated.
Norfolk Southern's response has included efforts to remove spilled contaminants from the ground surface and nearby streams, as well as air-quality monitoring, soil sampling and residential water well surveys, according to its preliminary remediation plan.
The Ohio Department of Natural Resources estimates that the spill affected more than seven miles of streams and killed some 3,500 fish, mostly small ones such as minnows and darters.
A plume of contaminants that includes butyl acrylate formed in the Ohio River in the first days after the derailment and on Tuesday was flowing slowly, nearing Huntington, W.Va., Ohio Environmental Protection Agency officials said.
The contaminant amounts found so far don't pose a risk for cities that rely on the river for drinking water, and the plume is continuing to be diluted as it moves farther along, the state EPA said.
In response, some water companies have shut off their intakes or increased treatment processes as a precaution.
Are social media claims about this situation accurate?
As with any developing situation, misinformation and hyperbole have spread online about the derailment in recent days.
Some social media users falsely claimed that drinking water was contaminated throughout the entire Ohio River basin, although many areas in the multi-state region are not affected by the chemical release.
Numerous homes that underwent remediation have been left with lead concentrations in excess of state health standards, according to USC researchers.
Video of dark, ominous clouds has spread with false claims that it shows East Palestine after the derailment, when in fact the images appeared online as early as November.
As information continues to develop, disinformation experts emphasize that people should exercise caution before sharing unverified claims.
What may have caused the derailment?
Investigators examined the rail car that initiated the derailment and have surveillance video from a home showing "what appears to be a wheel bearing in the final stage of overheat failure moments before the derailment," the National Transportation Safety Board said Tuesday. Its preliminary report is expected in two weeks.
Norfolk Southern and the NTSB haven't publicly answered one of the big questions about the derailment, however: Exactly when was the crew alerted to a mechanical issue with a rail car axle — the suspected cause — and did they respond appropriately?
A wayside defect detector alerted the crew to a mechanical issue "shortly before the derailment," and emergency braking was initiated, an NTSB member said.
Security video from two businesses in Salem, Ohio, shows the underside of one rail car glowing brightly from an apparent fiery axle, indicating the train might have traveled more than 20 miles with that malfunction before the derailment, the Pittsburgh Post-Gazette reported. The NTSB says it's reviewing that video, too.
Pennsylvania Gov. Josh Shapiro said Tuesday that Norfolk Southern had mismanaged the disaster from the outset and that its actions hampered the response from local and state agencies. He also said the company had been unwilling to look at alternatives to intentionally releasing and burning the five rail cars filled with vinyl chloride.
"Prioritizing an accelerated and arbitrary timeline to reopen the rail line injected unnecessary risk and created confusion," Shapiro said in a letter to Norfolk Southern CEO Alan Shaw. A message seeking comment was left with the company.
Must-read stories from the L.A. Times
Get the day's top news with our Today's Headlines newsletter, sent every weekday morning.
You may occasionally receive promotional content from the Los Angeles Times.