On the stand, Alex Murdaugh denies killing wife and son, but admits to lying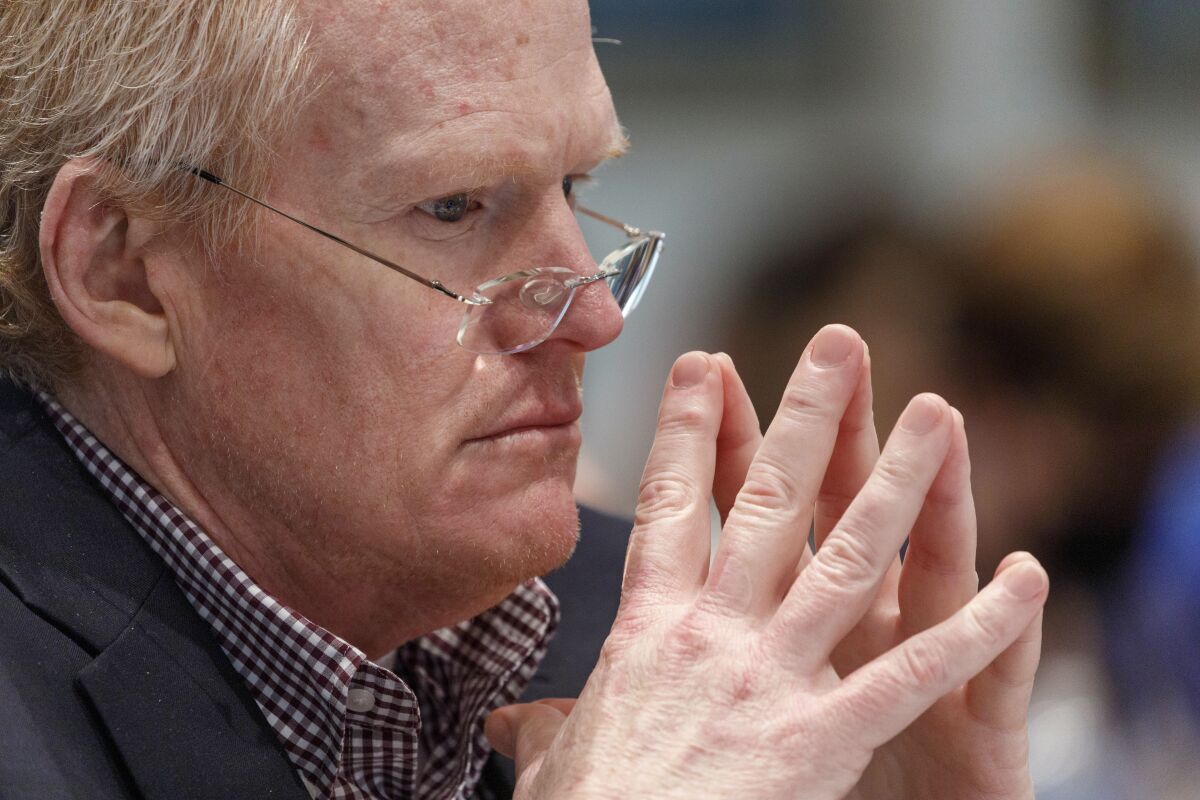 Disgraced South Carolina attorney Alex Murdaugh denied killing his wife and son but admitted to lying to investigators about when he last saw them alive as he took the witness stand in his own defense Thursday.
Murdaugh, 54, is charged with fatally shooting his wife, Maggie, 52, and their 22-year-old son, Paul, who were killed near dog kennels on their property on June 7, 2021. In his testimony, Murdaugh continued to staunchly deny any role in the killings.
"I would never intentionally do anything to hurt either one of them," Murdaugh said, tears running down his cheeks.
Prosecutors spent four weeks of testimony painting Murdaugh as a liar who stole money from clients and decided to kill his wife and son because he wanted sympathy to buy time to cover up his financial crimes that were about to be discovered. They have detailed what they called lie after lie, saying Murdaugh reacted violently when the truth was about to emerge, including trying to arrange his own death after his law firm fired him three months after the killings.
Murdaugh lied about being at the kennels with his wife and son shortly before their killings for 20 months before taking the stand Thursday, Day 23 of the trial. Murdaugh blamed the lie — first told to a state law enforcement agent hours after the killings — on his addiction to opioids, which he said clouded his thinking and created a distrust of police.
"As my addiction evolved over time, I would get in these situations, these circumstances where I would get paranoid thinking," Murdaugh said.
Disbarred South Carolina attorney Alex Murdaugh has been charged with murder in connection with the mysterious slayings of his wife and son.
The once-prominent attorney had told police that he was visiting his ailing mother in another town and not near his Colleton County home in the hours before the killings. But several witnesses testified that they believed they heard Murdaugh's voice along with his son's and wife's on cellphone video taken at the kennels about five minutes before the shootings. It took investigators more than a year to hack into Paul Murdaugh's iPhone and find the video.
Alex Murdaugh testified that once he started lying, he felt he had to continue: "Oh, what a tangled web we weave. Once I told a lie — I told my family — I had to keep lying."
For prosecutors that lie underpins a case in which investigators haven't presented the weapons used to kill the victims, a confession, surveillance video or clothes covered in blood. Murdaugh faces 30 years to life in prison if convicted.
Murdaugh testified that his wife asked him to go to the kennels the evening of the killings, so he rode down from their home in a golf cart and wrestled a chicken away from a dog before returning to the house and deciding to visit his ailing mother.
He said that, after returning home from visiting his mother, neither his wife nor son was in the house. After several minutes, Murdaugh said, he drove his SUV to the kennels where he said he had last seen them.
Murdaugh described arriving to find the grisly scene of the killings, pausing his testimony for several seconds as he cried. "It was so bad," he said.
A bill that would make South Carolina the 49th state with a hate crime law is making its way through the House.
After his dramatic opening questions about whether Murdaugh killed his son and wife, defense attorney Jim Griffin led his client though several key points of the case.
Murdaugh said he never saw a blue rain jacket that prosecutors found at his mother's home with gunshot residue on the lining. He said his mother's caretaker was mistaken when she said he came by unexpectedly at 6:30 a.m. acting oddly.
He told Griffin several times that he urged investigators to get GPS data from his SUV or his wife's phone that would exonerate him. Earlier defense testimony suggested state agents waited too long to get that information from Maggie Murdaugh's device and it was overwritten for the night of the killings.
Throughout his testimony, Alex Murdaugh called his son "Paul Paul" and his wife "Mags," though he didn't use those nicknames in three interviews with police.
Defense attorneys told the judge that Murdaugh might not have testified at all if prosecutors hadn't been allowed to introduce evidence of financial crimes.
Murdaugh admitted in court that he stole money from clients and blamed an addiction to painkillers from the lingering effects of a college football injury that got worse nearly two decades ago.
R&B singer R. Kelly has been sentenced to 20 years for child-sex crimes in Chicago, but 19 of those years will run concurrent with his existing term.
"I'm not quite sure how I let myself get where I got. I battled that addiction for so many years. I was spending so much money on pills," Murdaugh said.
Murdaugh is charged with about 100 other crimes, ranging from stealing from clients to tax evasion. He is being held without bail on those charges, so even if he is found not guilty of the killings, he will not walk out of court a free man.
If convicted of most or all of those financial crimes, Murdaugh would probably spend decades in prison.
Prosecutor Creighton Waters didn't question Murdaugh about the murders at the start of his cross-examination, focusing instead on clients Murdaugh stole money from.
"We heard about it in a very academic, paperwork manner. But in every one of these, you had to sit down and look somebody in the eye and convince them you were on their side when you were not," Waters said.
Murdaugh said he couldn't remember all the details of the thefts that took place over at least 13 years and offered a blanket statement that he was wrong, which Waters rejected before hammering on the personal nature of the thefts.
"There were plenty of conversations where I looked people in the eye and lied to them," Murdaugh eventually conceded.
Must-read stories from the L.A. Times
Get the day's top news with our Today's Headlines newsletter, sent every weekday morning.
You may occasionally receive promotional content from the Los Angeles Times.