Prosecutor grills Alex Murdaugh on inconsistencies in his 'new story'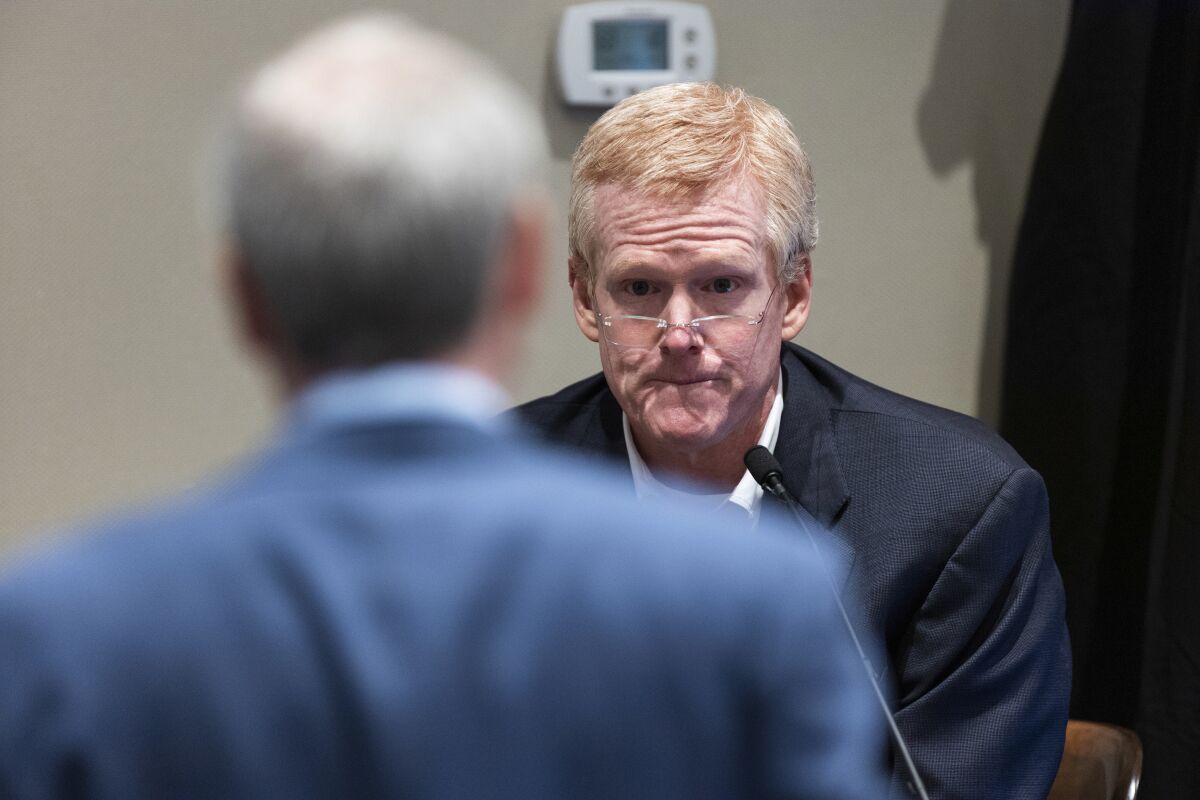 Disgraced South Carolina attorney Alex Murdaugh faced intense questioning Friday as the prosecutor in his double murder trial challenged inconsistencies in his accounts of his movements the night his wife and son were killed.
A day after he revealed for the first time that he was at the dog kennels at the family hunting lodge shortly before his wife and son were shot and killed there, Murdaugh returned to the stand in his own defense. During cross-examination, prosecutor Creighton Waters grilled Murdaugh about what he repeatedly called the once-prominent lawyer's "new story" about what happened at the kennels on the evening of June 7, 2021.
Waters asked Murdaugh whether he meant what he told the jury Thursday — that he had tried to help police find the killers.
"Other than lying to them about going to the kennels, I was cooperative in every aspect of this investigation," Murdaugh said.
"Very cooperative except maybe the most important fact of all: that you were at the murder scene with the victims just minutes before they died," Waters replied.
For over 20 months, Murdaugh has insisted that he was not at the kennels. But state agents who hacked his son's iPhone found a video with Alex Murdaugh's voice, taken less than five minutes before the victims stopped using their cellphones and prosecutors think they were shot.
Disgraced South Carolina attorney Alex Murdaugh took the stand in his own defense at his double murder trial.
Murdaugh, 54, is charged with murder in the deaths of his wife, Maggie, 52, and their 22-year-old son, Paul, but has steadfastly denied any involvement. He faces 30 years to life in prison if convicted.
Waters ended his cross-examination by rattling off the names of about four dozen people — starting with Maggie and Paul Murdaugh and running through the defendant's family, friends, law partners, clients and police. He asked Alex Murdaugh whether he had lied to each one, and Murdaugh said yes to most.
"And you want this jury to believe a story manufactured to fit the evidence that you brought forth just yesterday after hearing a trial's worth of testimony?" Waters asked.
The prosecutor then showed body camera video of the first officer to respond to the shooting. In the video, with the bodies of his wife and son visible, Murdaugh says he hadn't seen them for 45 minutes before he left his home.
Waters also pushed the defendant for more details about what happened during his visit to the kennels, noting that the information was all new to investigators since Murdaugh hadn't admitted it before Thursday.
The timing, including cellphone and car-tracking data, is a key component. The iPhone video ended just before 8:46 p.m., and both Paul and Maggie Murdaugh stopped using their cellphones about three minutes later.
Murdaugh testified that he couldn't remember how long he was at the kennels, whether he got blood on his hands when he pulled a dead chicken from a dog's mouth, or the last words he had said to his wife and son.
"There would have been some exchange," he said.
The Alex Murdaugh murder trial has fueled a cottage industry, including a beneficial relationship between live trial coverage and feuding docuseries.
Waters said it appeared that Murdaugh remembered a lot of specifics when the details were crucial, but not when they might get him in trouble.
"You disagree with my characterization that you have a photographic memory about the details that have to fit now that you know these facts, but you're fuzzy about the other stuff that complicates that?" Waters asked.
For the first time, Murdaugh blamed the killings on anger aimed at his son over social media. Paul Murdaugh had been charged with boating under the influence for his involvement in a boat wreck that killed a teenager. Alex Murdaugh mentioned the boat crash when the first investigators asked if he could think of any suspects.
Murdaugh said his son was the subject of vile "half-truths, half-reports, half-statements, partial information" online.
"I believed then and I believe today that the wrong person saw and read that, because I can tell you for a fact: The person or people who did what I saw on June 7 — they hated Paul ... and they had anger in their heart," Murdaugh said.
Waters said that explanation defied logic, and asked whether Murdaugh was telling the jury that his wife and son were killed by random vigilantes who knew "they would be at the kennels alone on June 7, knew that you would not be there, but only between the times of 8:49 and 9:02."
"You've got a lot of factors in there, Mr. Waters, all of which I do not agree with, but some of which I do," Murdaugh said.
Murdaugh said Friday that after his brief kennel visit, he returned on a golf cart to the family's house about 1,150 feet away, lay down for a few minutes and then got up to get ready to visit his ailing mother around 9:02 p.m., a time verified by step data on his cellphone, which he didn't take to the kennels.
Waters asked Murdaugh whether his flurry of steps and a series of unanswered phone calls he started making to his wife and son at 9:02 p.m., after no activity was detected on his phone for nearly an hour, were intended to help the lawyer and former volunteer prosecutor craft a story to show he couldn't be the killer.
"I never manufactured any alibi in any way, shape or form, because I did not and would not hurt my wife and my child," Murdaugh answered.
Prosecutors have said Murdaugh killed his wife and son to gain sympathy and buy time because his financial misdeeds were about to be discovered. He has admitted he stole from clients, and is charged with about 100 crimes besides murder, including stealing from clients and tax evasion.
He is being held without bail on those charges, so even if he is found not guilty of murder, Murdaugh will not walk away a free man. If convicted of most or all of the financial crimes, he will probably spend decades in prison.
Must-read stories from the L.A. Times
Get the day's top news with our Today's Headlines newsletter, sent every weekday morning.
You may occasionally receive promotional content from the Los Angeles Times.