Israel says motorist killed in West Bank held U.S. citizenship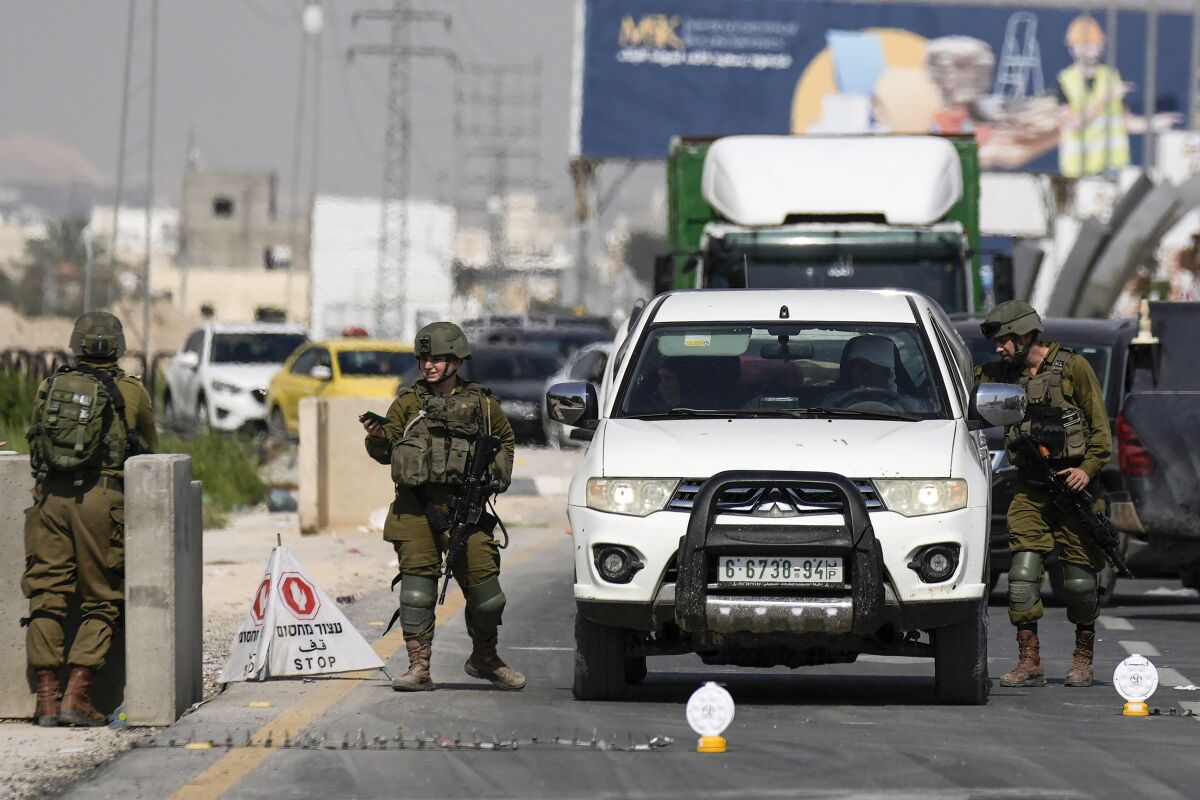 JERUSALEM —
Israeli authorities said Tuesday that a motorist shot to death by a suspected Palestinian gunman in the occupied West Bank held both American and Israeli citizenship. It was the latest in a string of violent attacks roiling the region.
The government identified the slain man as Elan Ganeles, 27, of West Hartford, Conn. A friend told local media that Ganeles had been visiting Israel for a wedding and driving on a highway near the Dead Sea when he was shot. The attackers remained at large Tuesday.
Ganeles was the sole fatality of what the army said was a multisite shooting rampage a day earlier. The army said the attackers opened fire at an Israeli car near the Palestinian city of Jericho, hitting Ganeles. The assailants, traveling in one vehicle, then drove farther and fired again, the army said. The attackers set their own vehicle afire and fled, setting off a manhunt.
Ganeles died later at Hadassah Medical Center, the hospital said. He is to be buried Wednesday in the central Israeli city of Raanana. Israeli President Isaac Herzog extended condolences to Ganeles' family.
The U.S. is so far empty-handed in dealing with Israel's radical government and dysfunctional Palestinian leadership.
Ganeles grew up in West Hartford, the son of doctors Andrew and Carolyn Ganeles. He served in the Israel Defense Forces from 2016 to 2018, then returned to the U.S. to attend Columbia University, graduating last year with a bachelor's degree in sustainable development and neuroscience, according to his LinkedIn page.
Friends and Jewish organizations took to social media to express their grief and remember Ganeles.
"I can't comprehend that you were killed in an act of terror. You were the kindest, sweetest, most caring friend," Stanley Block, a fellow Connecticut native who lives in Israel, wrote in a Facebook posting. "There are no words to describe the unique friendship you created with every person you met. You found only the good in everyone and everything."
Relatives, friends and Rabbi Tuvia Brander of the Ganeles family's synagogue, Young Israel of West Hartford, said Tuesday that they were traveling to Israel to attend Ganeles' funeral. Young Israel said the family was expected to return to West Hartford to begin sitting shiva on Thursday.
The Jewish Federations of North America said it was devastated. "A recent college graduate, Elan had a bright future ahead of him. Our hearts go out to his family and to the West Hartford community and we cry together with them. May Elan's memory be for a blessing," it said in a statement.
Visiting the Mideast, Secretary of State Antony J. Blinken reiterates support for the two-state solution, even as its prospects seem to be vanishing.
David Waren, president of the Jewish Federation of Greater Hartford, said: "We extend our deepest condolences to the Ganeles family and affirm our solidarity with the people of Israel at this time of escalating violence. May Elan's memory be a blessing for his family and our entire community."
Columbia/Barnard Hillel said Ganeles was active in the Jewish group while attending the university, taking part in a leadership fellowship, a weekly night learning program and Shabbat dinners.
"We will miss his wry humor and thoughtful manner of discussing challenging or controversial topics," the group said in a statement.
Ganeles' killing came a day after two Israelis were slain by a Palestinian gunman in the northern West Bank, triggering a rampage in which Israeli settlers torched dozens of cars and homes in a Palestinian town and one Palestinian was killed. It was the worst such violence in decades.
So far this year, 62 Palestinians, about half of them affiliated with armed groups, have been killed by Israeli troops and civilians. In the same period, 14 Israelis, all but one of them civilians, have been killed in Palestinian attacks.
Must-read stories from the L.A. Times
Get the day's top news with our Today's Headlines newsletter, sent every weekday morning.
You may occasionally receive promotional content from the Los Angeles Times.