Ugandan lawmaker introduces new anti-LGBTQ legislation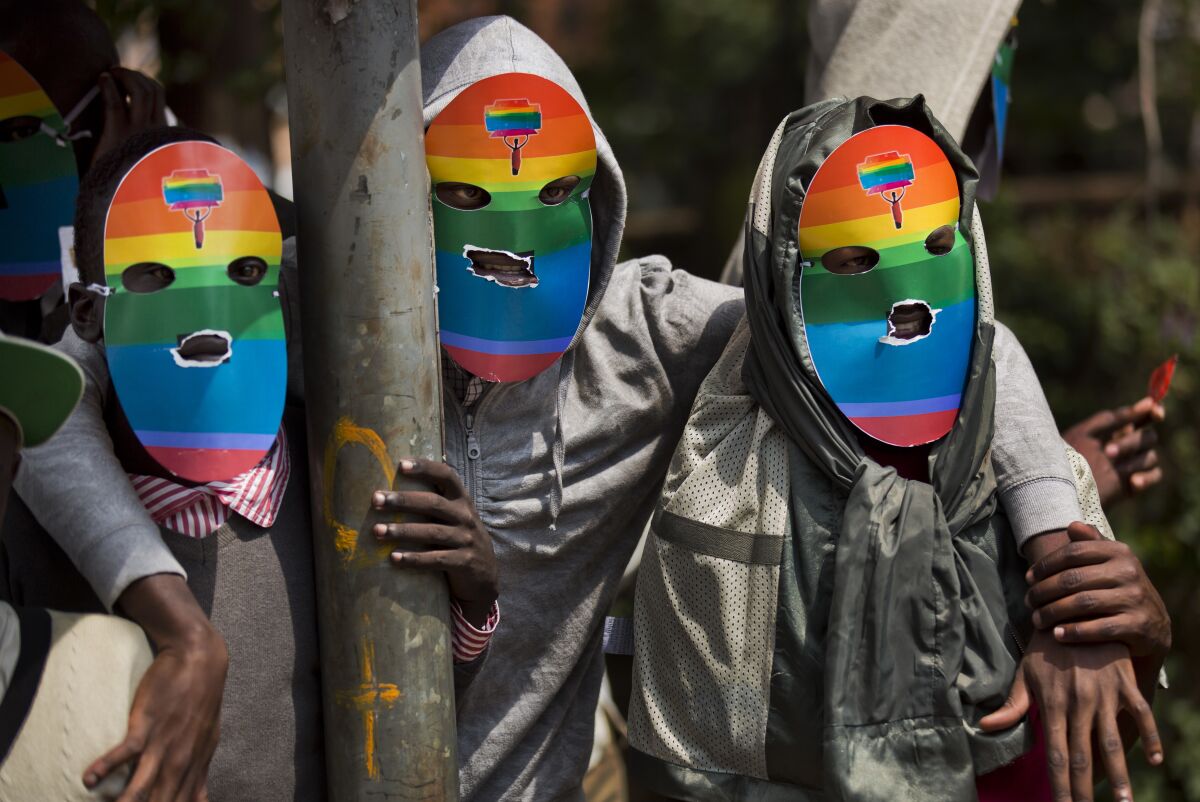 KAMPALA, Uganda —
A Ugandan lawmaker on Tuesday introduced draft legislation that he said seeks to prohibit homosexuality in the East African country, voicing widespread anti-gay sentiment that has peaked in recent days.
The legislator, Asuman Basalirwa, said his bill would punish "promotion, recruitment and funding" related to LGBTQ activities. Most lawmakers in the parliamentary chamber in Uganda's capital, Kampala, stood up to show support for the bill.
"You are either with us or you're with the Western world," Speaker Anita Among said, announcing that legislators would show support by raising their hands when the bill eventually is put to a vote. "We should be counted, and we are going to vote by show of hands on this matter," she said.
Same-sex relations in Uganda are already criminalized under a colonial-era penal code. Harsh anti-gay legislation enacted in 2014 later was annulled by a panel of judges amid international condemnation. That bill in its original draft had called for the death penalty for some homosexual acts.
Drag queens are more mainstream than ever, as are LGBTQ rights. Yet, story hours, where drag queens read to kids, have become a point of controversy and even violence.
The new bill will be assessed by a parliamentary committee before it is debated in a plenary session. Details of its specific provisions were not yet immediately available. Basalirwa spoke of homosexuality as "a cancer," saying his bill is an opportunity to pass a strong law.
"In this country, or in this world, we talk about human rights. But it is also true that there are human wrongs. I want to submit ... that homosexuality is a human wrong," he said.
Anti-gay sentiment has grown in recent days amid alleged reports of sodomy in boarding schools. The recent decision of the Church of England to bless civil marriages of same-sex couples also has inflamed many, including some who see homosexuality as imported from abroad.
"The Church of England has departed from the Anglican faith and are now false teachers," Ugandan Archbishop Stephen Kaziimba said in a statement earlier this month that described "a crisis at hand."
Homosexuality is criminalized in more than 30 of Africa's 54 countries.
Must-read stories from the L.A. Times
Get the day's top news with our Today's Headlines newsletter, sent every weekday morning.
You may occasionally receive promotional content from the Los Angeles Times.