What the Alex Murdaugh murder trial says about the human psyche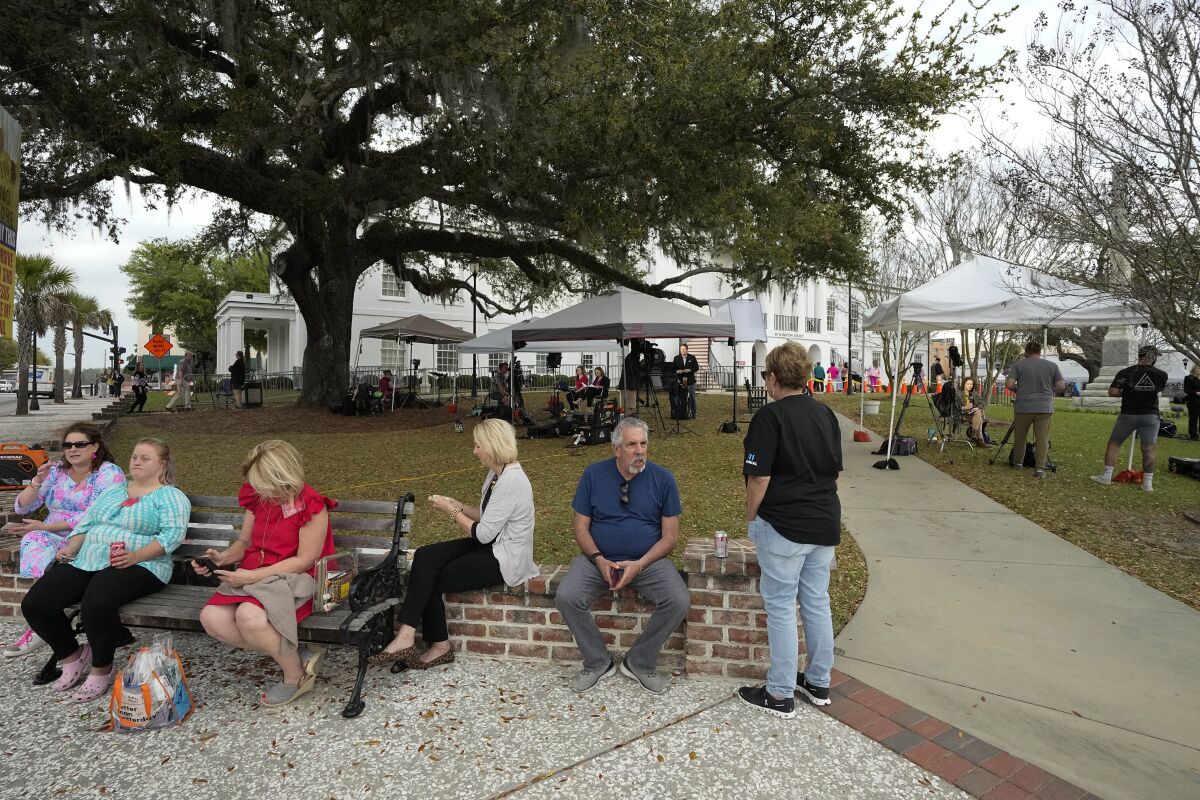 WALTERBORO, S.C. —
Leading up to Alex Murdaugh's conviction Thursday on two counts of murder, public attention on the case had intensified.
Investigations stemming from the June 7, 2021, shooting deaths of Murdaugh's wife and son revealed that the prominent South Carolina lawyer had stolen millions of dollars from largely poor clients' settlements and staged an attempt on his life to secure his surviving son a $12-million life insurance payout, according to authorities.
In the process, true crime enthusiasts, concerned onlookers and many others found the latest subject of their fascination in the years-long unraveling of the mystery that jurors weighed in the six-week trial.
Experts say the small town saga's transformation into an international point of intrigue highlights insights into the human psyche: People are drawn to events that inform their perceptions of threat. And amid the commotion of the trial, some legal observers have found an important opportunity for education.
Coltan Scrivner, a researcher at the Recreational Fear Lab at Aarhus University in Denmark, said the human desire to avoid being duped has developed into a natural curiosity about signs of danger. Those cues, he said, are especially strong when the schemes involve the rich and powerful, like the Murdaugh family.
The South Carolina jury quickly found Alex Murdaugh guilty of two murder counts after a six-week trial that detailed the once-prominent lawyer's fall from grace.
All about the murder case against lawyer Alex Murdaugh, who was found guilty Thursday after a six-week trial for the shooting deaths of his wife and son.
"We put it in our Rolodex of possible simulations of what could happen in a bad situation," Scrivner said.
Amanda Vicary, a psychology professor at Illinois Wesleyan University, said the obsession with true crime is largely driven by women interested in its self-protective lessons. Many followers might subconsciously ask themselves what they need to look for in their own lives, she said.
Plus, the Murdaugh case's many aspects — mystery, forensics, family, finances — appeal to a variety of interests.
"Most popular true crime stories might only have one or two of those elements," Vicary said, whereas the Murdaugh case "has a little something for everything going on right now."
Stephanie Truesdale, an upstate South Carolina teacher whose crocheted dolls of prominent figures in the case went viral on social media, said the combination of a wealthy family's fall from grace and the case's many unexpected developments piqued her attention from the start. She said she was particularly interested to see how the state's legal system would treat "one of their own."
A prosecutor says that Alex Murdaugh's theft of millions of dollars was about to be revealed, and that he killed his wife and son to buy time to figure a way out.
Although the dolls garnered praise, some other displays of public interest in the case have been less well-received. Several trespassers were found last weekend taking selfies outside the feed room where Paul Murdaugh died, according to defense attorney Dick Harpootlian. He described it as the "most distasteful thing" he had ever seen.
"If people are really paying attention, they could really learn a lot from what's going on right now, instead of just the more gruesome aspect of things," Truesdale said.
Sarah Ford, legal director for the South Carolina Victim Assistance Network, said she had found that people want to better understand legal processes in connection to the case. She and former state lawmaker Mandy Powers Norrell hosted Twitter spaces to answer questions about the daily proceedings, and recently drew 600 people for an hourlong YouTube Live conversation.
For Ford, the trial spurred conversations that could change common misconceptions about crime. The case has raised awareness of issues such as the prevalence of domestic violence, she said.
Although Ford recognized the importance of community engagement, she also had a word of caution: "You don't want this to be something that takes over someone's life as entertainment. Because it's not. These are real people. These are real crimes. These have true, chilling, tragic effects for real people."
Disgraced South Carolina attorney Alex Murdaugh took the stand in his own defense at his double murder trial.
It's not the first time a double murder trial in the state has reverberated so widely. Susan Smith was sentenced to life in prison for the 1994 drowning deaths of her two young children.
South Carolina state Rep. Tommy Pope, who was the lead prosecutor in the Smith case, said he thinks people are drawn to the Murdaugh saga because of its "truth is stranger than fiction" aspects.
"It's like a soap opera, but it's really happening with real people," said Pope, adding, "This is not entertainment. It is a tragedy and lives were lost."
Pope said the Murdaugh case offered an opportunity to educate the public about the justice system. As an analyst on Court TV during the trial, Pope said the gavel-to-gavel coverage probably helped viewers reach their own conclusions and understand the legal system's "positives" as well as its "warts."
Streaming services have certainly taken notice. Discovery released a three-part series a year after Maggie and Paul Murdaugh were killed; HBO Max launched a three-part documentary on the case in November; and Netflix released "Murdaugh Murders: A Southern Scandal" for U.S. audiences last week. The latter's creators told Vanity Fair they had unearthed additional crimes in the process of making it.
A bevy of 100 other charges, including financial crimes — for which lead prosecutor Creighton Waters drew many admissions of guilt last week — have yet to go to trial.
For many South Carolinians, the interest comes from a strong desire to see justice served to a well-connected man who has only recently acknowledged lies and abuses of power that long went unchecked.
In addition to the intense online and media attention the case has received, it has attracted crowds outside the courthouse since it began on Jan. 25, including several dozen people who gathered there Thursday morning. Among them was the Rev. Raymond Johnson, a civil rights activist who led others in a prayer and carried a sign reading, "Justice coming soon."
A jury took fewer than three hours to find Alex Murdaugh guilty on Thursday. He was sentenced Friday to spend the rest of his life in prison.
Must-read stories from the L.A. Times
Get the day's top news with our Today's Headlines newsletter, sent every weekday morning.
You may occasionally receive promotional content from the Los Angeles Times.