Masks stay put in Japan as 3-year request to wear them ends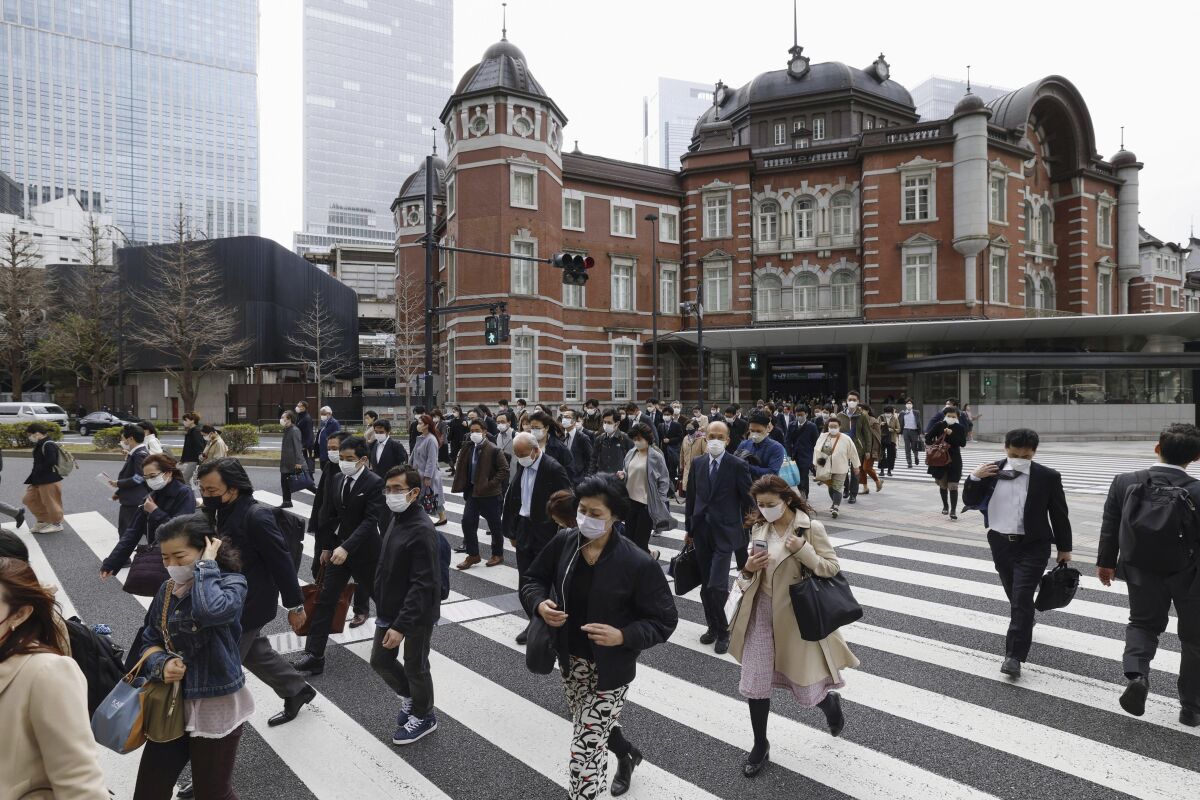 TOKYO —
Japan on Monday dropped its request for people to wear masks after three years, but hardly anything changed in the country that has had an extremely high regard for their effectiveness at anti-virus protection.
Most commuters exiting Tokyo's main train station in the morning were wearing masks as they headed to work. So were people on the streets. During a televised budget committee meeting at parliament, some lawmakers still wore masks, though Prime Minister Fumio Kishida wasn't wearing one when he arrived at his office Monday.
Fans who gathered outside the Tokyo Dome hours before Monday's World Baseball Classic games between Australia and Czech Republic and between China and South Korea also had on masks. They'll also be able to cheer without their masks as that ban was lifted, too.
Dropping the mask-wearing request is one of the last steps Japan's government is taking in easing COVID-19 rules in public places as it tries to expand business and other activity.
"From today, mask wearing is left up to individual judgment. We are not forcing anyone to wear it or take it off," Prime Minister Fumio Kishida told reporters as he arrived at his office. "I think there will be more occasions when I will take my mask off."
Kishida, however, asked people to use masks around vulnerable people to protect them from risks of infection.
The move to treat COVID-19 more like influenza would further relax mask wearing and other preventive measures as the country seeks to return to normality.
In a country where the pressure for conformity is extremely strong, many people were expected to keep wearing them for now. The mask request was dropped for outdoors last summer, yet many have kept wearing them.
Restaurants, stores and airlines removed signs asking customers to wear masks. But many of their employees are keeping their masks on to show consideration for customers and others who need protection.
A popular chain, Ramen Jiro, tweeted Monday that mask-wearing is up to customers but that employees would continue wearing them for the time being. It also asked customers to cooperate in hygiene measures, such as not talking loudly.
Spectators at baseball and soccer games will be no longer be asked to wear masks and will be allowed to cheer without masks. Fukuoka Softbank Hawks announced that visitors and employees at their stadium can use their own judgment on masks beginning Monday.
Japan last fall stopped requiring COVID-19 tests for entrants who had at least three shots — part of the country's careful easing of measures after virtually closing its borders to foreign tourists for about two years.

Must-read stories from the L.A. Times
Get the day's top news with our Today's Headlines newsletter, sent every weekday morning.
You may occasionally receive promotional content from the Los Angeles Times.