South Korea to lift quarantine mandate and COVID test recommendation for travelers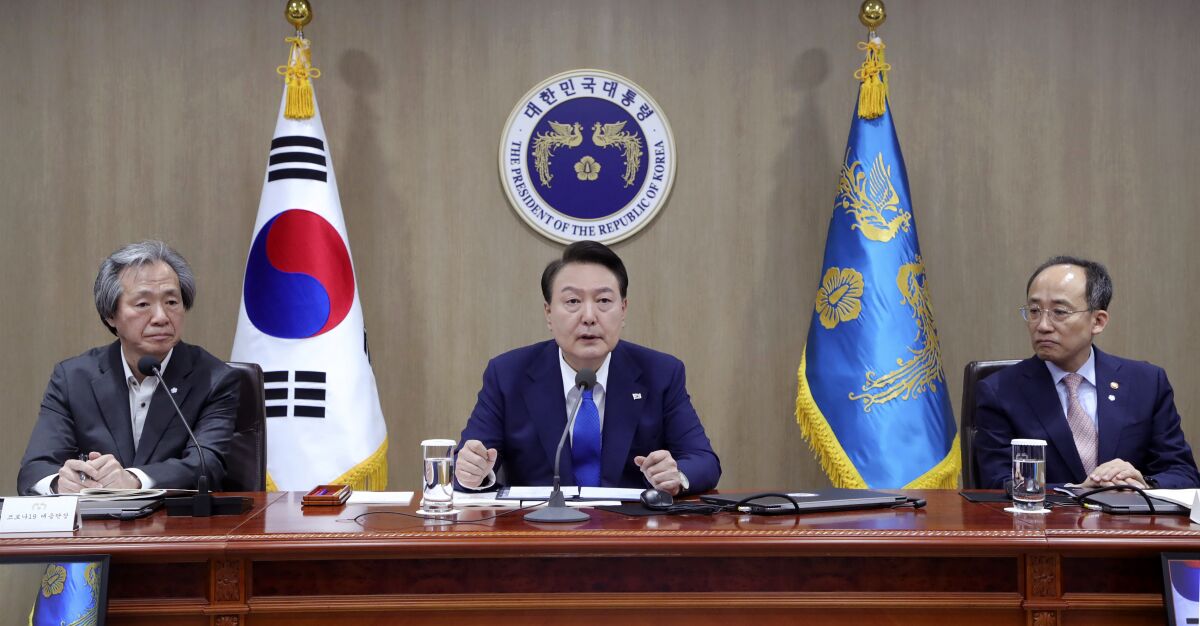 SEOUL —
South Korea will drop its COVID-19 quarantine requirements and end coronavirus testing recommendations for international arrivals starting next month after the World Health Organization declared the end of the global health emergency.
In lowering the coronavirus alert level from "critical" to just "alert" starting June 1, health authorities will also lift mask mandates in pharmacies and small clinics but will continue require mask-wearing in large hospitals, long-term care facilities and other medical venues with high infection risks.
The decision was announced during a meeting attended by President Yoon Suk-yeol, at which he thanked the country's medical workers and said it was "delightful that people are getting their normal lives back after 3½ years."
He said his government would take steps to improve the country's capacity to deal with future pandemics, including providing stronger support for vaccine development and expanding international cooperation.
South Korea has been requiring seven-day quarantines for coronavirus carriers. While the mandate will be lifted starting June 1, health officials will continue to recommend that people isolate for five days if they test positive for the virus, the Korea Disease Control and Prevention Agency said. Travelers had been advised to take PCR tests within three days after arriving in the country, but that recommendation will also be lifted.
Youngmee Jee, the Korea Disease Control and Prevention Agency's commissioner, downplayed worries that virus measures were being loosened too quickly, saying that the country's COVID-19 situation was stabilizing, partially because of high vaccination rates and immunity gained through infections during previous waves of the virus.
It's appropriate for the government to move out of the emergency response phase. But we must continue to be vigilant because the coronavirus that has killed millions over the last three years is still with us.
The fatality rate of COVID-19, after a steady decline, is now at a similar level with influenza, and there are enough medical resources to deal with a modest rise in infections, with about half of the country's 700 hospital beds designated to treat serious cases currently vacant, Jee said.
She said officials would maintain preventive measures to protect vulnerable groups, including older people and people with medical conditions, and continue financial support to lower the costs of tests and hospitalizations for virus carriers.
"The risk of COVID-19 is not yet over, but considering the decline in cases, improved medical response capacities and high levels of immunity, we have reached a point where we need to step out of an international emergency state and transition toward a long-term management phase," Jee said during a briefing.
The announcement came as health workers reported 20,574 new COVID-19 cases in South Korea on Thursday, which represented a slight increase from last week's level. Lee Sang-won, the Korea Disease Control and Prevention Agency's chief of epidemiological investigations, said the pace of the country's coronavirus infections has moderately increased in recent weeks because of the spread of XBB, a new Omicron variant. He said it was unlikely that the spread would develop into another huge wave of the virus.
The elimination of proof of vaccination for entry to indoor spaces comes as South Korea sets a new one-day record for COVID-19 deaths.
There are concerns that the lifting of the quarantine mandate will result in people showing up to work when sick, considering the country's notoriously harsh work culture.
Lim Sook-young, another the Korea Disease Control and Prevention Agency official, said the government, for the time being, would continue to provide subsidies to COVID-19 patients in low-income brackets and to small companies when they offer paid leave to sick employees, so that infected people can be encouraged to isolate and recover.
She said government agencies were debating further plans to "institutionalize a culture of resting when sick," including pushing employers to establish consistent guidelines over paid and sick leave and provide employees expanded options for working at home.
South Korea had maintained a stringent COVID-19 response based on aggressive testing, contact-tracing and quarantines during the earlier part of the pandemic, but has eased most of its virus controls since last year as the Omicron variant's surge rendered those containment strategies irrelevant.
The WHO declared an end to the COVID-19 emergency last week, though Director-General Tedros Adhanom Ghebreyesus noted that the viral disease remained a global health threat.
Must-read stories from the L.A. Times
Get the day's top news with our Today's Headlines newsletter, sent every weekday morning.
You may occasionally receive promotional content from the Los Angeles Times.