Russia strikes Kyiv during daylight hours after first launching a nighttime barrage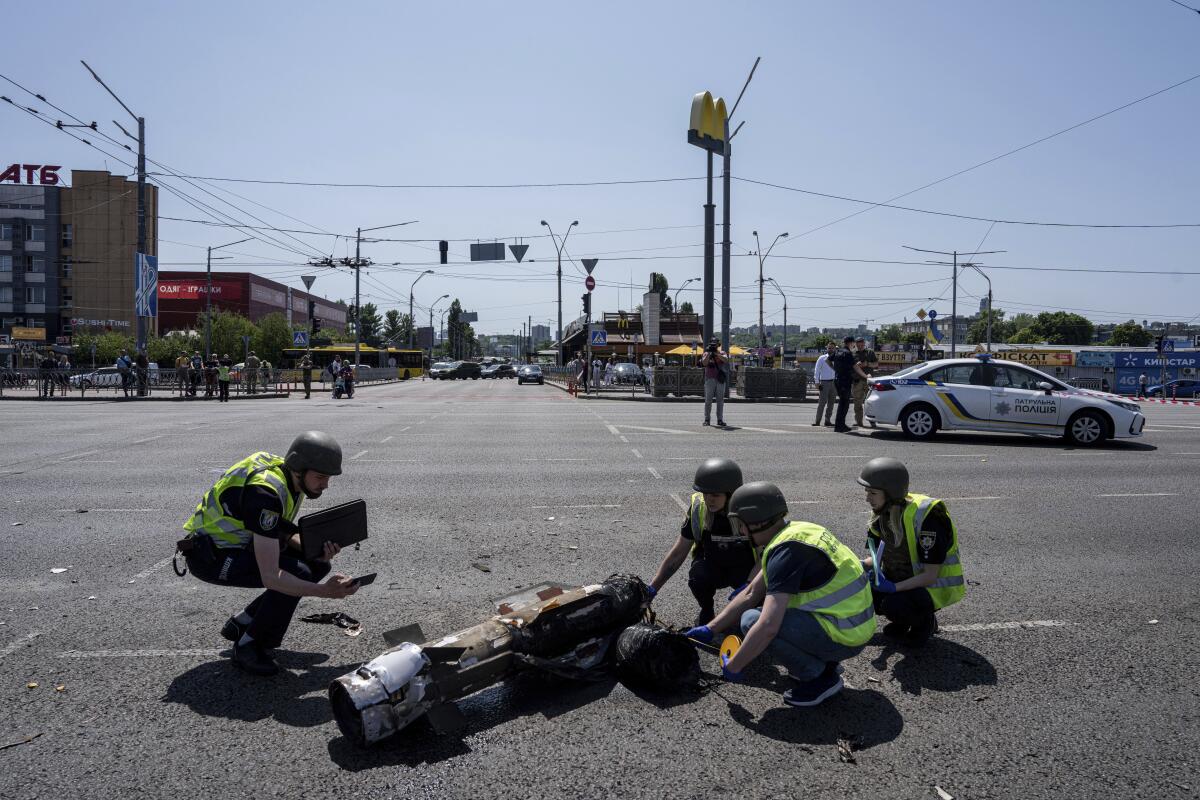 KYIV, Ukraine —
Explosions rattled Kyiv during daylight Monday as Russian ballistic missiles took aim at the Ukrainian capital, hours after a more common nighttime barrage of the city by drones and cruise missiles.
Russian forces fired 11 ballistic and cruise missiles at Kyiv about 11:30 a.m., according to Ukraine's chief of staff, Valerii Zaluzhnyi. All of them were shot down, he said, and puffs of white smoke could be seen in the blue sky over the city from street level.
Debris from the intercepted missiles fell in Kyiv's central and northern districts during the morning, landing in the middle of traffic on a city road and also starting a fire on a building's roof, the Kyiv military administration said. At least one civilian was reported hurt.
The blasts unnerved some locals, already under strain after being awakened by the night attack.
"After what happened last night, I react sharply to every siren now. I was terrified, and I'm still trembling," said Alina Ksenofontova, a 50-year-old woman who took refuge in the Kyiv subway with her dog Bublik.
The central station, Tetatralna, was crowded with sheltering locals.
Many residents of Ukraine's capital are sleepless as a new Russian air campaign terrorizes them with a barrage of drones and other aerial weapons.
Artem Zhyla, a 24-year-old who provides legal services abroad, took his laptop with him and kept working underground.
"I heard two or three explosions, went to the bathroom, and then I heard five or seven more explosions. That's when I realized something terrible was happening," he said.
Like many others in the capital, he feels exhausted and stressed. However, he has no intentions of giving up and plans to attend his yoga class to recharge.
"This is certainly not enough to break us," he said.
Russia attacks Kyiv with dozens of drones as the city prepared to mark the anniversary of its founding Sunday. At least one person was killed.
Ukraine President Volodymyr Zelensky and first lady Olena Zelenska both posted a video of what they said were frightened schoolchildren running and screaming down a Kyiv street toward a bomb shelter as sirens wailed.
"This is what an ordinary weekday looks like," the president wrote on Telegram.
Russia used Iskander short-range missiles in the morning attack, the spokesman for Ukraine's air force said on local television.
The missiles were fired from north of Kyiv, Yurii Ihnat said, without clarifying whether he meant from Russian territory. Kyiv lies around 236 miles from the Russian border.
The Russian Defense Ministry said that early Monday it launched a series of strikes targeting Ukrainian air bases with precision long-range air-launched missiles. The strikes destroyed command posts, radars, aircraft and ammunition stockpiles, the ministry claimed. It didn't say anything about hitting cities or other civilian areas.
Ukrainian Foreign Minister Dmytro Kuleba warned against indifference, saying the repeated strikes on civilian areas amounted to "war crimes."
Russia's Interior Ministry has issued an arrest warrant for U.S. Sen. Lindsey Graham following comments he made in relation to the war in Ukraine.
"Russia's drone and missile attacks on peaceful Ukrainian cities cannot be seen as usual, no matter how frequent they grow," he tweeted in English.
During the previous night, Ukrainian air defenses brought down more than 40 targets as Russian forces bombarded Kyiv with a combination of drones and cruise missiles in their 15th nighttime attack on the capital so far this month, said Serhii Popko, the head of Kyiv's military administration.
On Saturday night, Kyiv was subjected to the largest drone attack since the start of Russia's war. At least one person was killed, local officials said.
The Kremlin's strategy of long-range bombardment has brought many sleepless nights for Ukrainians.
Sign up for Essential California for the L.A. Times biggest news, features and recommendations in your inbox six days a week.
You may occasionally receive promotional content from the Los Angeles Times.
Over the winter, Russian forces aimed their missiles and drones at power plants and other infrastructure. The apparent goal was to weaken Ukraine's resolve and compel the Ukrainian government to negotiate peace on Moscow's terms, but Ukrainians swiftly and defiantly repaired the damage.
In recent months, Ukraine has been receiving advanced air defense systems from its Western allies, improving its ability to fend off bombardments by the Kremlin's forces.
The head of the International Atomic Energy Agency is to speak Tuesday at the United Nations Security Council about safety at the Zaporizhzhia nuclear power plant, which is under Russian control and endangered by the fighting.
Mikhail Ulyanov, Russia's ambassador to international organizations in Vienna, said IAEA head Rafael Grossi was expected to "set out specific ideas" about how to strengthen security at the plant, which is Europe's largest nuclear power station.
Ukraine has stepped up attacks on Russian border regions, including Belgorod and an area next to occupied Crimea, where a blast was heard.
Across the country, the Ukrainian air force said that over Sunday night it shot down 37 out of 40 cruise missiles and 29 out of 35 drones launched by the Kremlin's forces.
Four civilians were killed and about two dozen others were injured, including three children and a pregnant woman, in Russian shelling elsewhere across the country, authorities said.
Russian warplanes dropped bombs on the town of Toretsk on Monday afternoon, killing three civilians, Donetsk regional Gov. Pavlo Kyrylenko said.
Strikes on the eastern Dnipropetrovsk region killed two people, officials said.
Meanwhile, in the Belgorod region of Russia on the border with Ukraine, one person was killed by Ukrainian shelling of the village of Grafovka, according to Gov. Vyacheslav Gladkov.
Russian missiles also slammed into a military airport in the western Khmelnytskyi region of Ukraine, destroying five aircraft and damaging the runway, local Gov. Serhyi Hamaliy said on television.
The strike sparked fires at nearby warehouses storing fuel and military equipment, he added.
Sign up for Essential California for the L.A. Times biggest news, features and recommendations in your inbox six days a week.
You may occasionally receive promotional content from the Los Angeles Times.