Pope Francis has scar tissue removed, hernia repaired during 3-hour abdominal surgery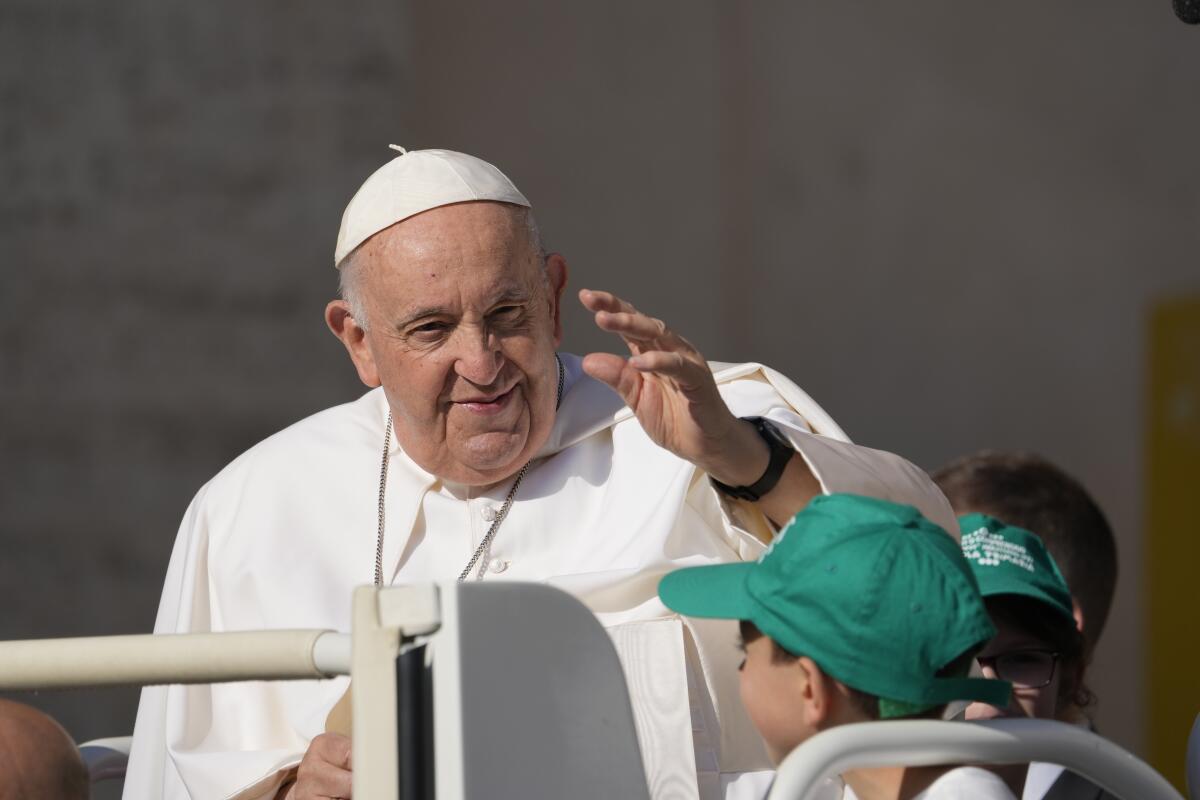 ROME —
Pope Francis underwent successful surgery Wednesday to remove intestinal scar tissue and repair a hernia in his abdominal wall, the latest maladies to befall the 86-year-old pontiff who had part of his colon removed two years ago.
The Vatican said there were no complications during the three-hour surgery, which required Francis to be under general anesthesia. The pontiff was expected to remain at Rome's Gemelli hospital for several days, and all papal audiences were canceled through June 18.
Dr. Sergio Alfieri, director of abdominal and endocrine sciences at Gemelli, who also performed Francis' 2021 colon surgery, said the operation was successful, and the pope was awake, alert and even joking.
"When will we do the third one?" he quoted Francis as saying.
During the operation, doctors removed adhesions, or internal scarring, on the intestine that had caused a partial blockage, as well as pain in recent months. Alfieri revealed that Francis had undergone previous undisclosed abdominal surgeries sometime before 2013 in Argentina, which had also caused scarring.
The pontiff says he wrote the letter shortly after his 2013 election in case medical problems eventually impeded him from carrying out his duties.
To repair the hernia that had formed over the previous scar, a prosthetic mesh was placed in the abdominal wall, Alfieri said.
He added that the pope was suffering from no other pathologies, that the tissue removed was benign and that after he recovers he should be fine.
Hernia operations are rarely performed on an emergency basis, and Alfieri said the surgery had been planned. Although unannounced publicly, it appeared timed so Francis would have ample time for recovery, ahead of a busy travel schedule later this summer.
At three hours, the pope's procedure was considerably longer than the standard 60 to 90 minutes doctors say a hernia operation usually takes, but Alfieri noted that the scar tissue from the previous surgeries was completely removed.
Spending more time under anesthesia, coupled with being on a ventilator for so long — for someone who has lost part of one lung as a young man — could put the pontiff at risk of breathing complications or a longer-than-expected recovery time.
Francis remained in charge of the Vatican and the 1.3-billion strong Catholic Church, even while unconscious and in the hospital, according to canon law.
In July 2021, Francis spent 10 days at Gemelli to remove 13 inches of his large intestine. In an interview in January, Francis said the diverticulosis, or bulges in his intestinal wall, that had prompted the 2021 surgery had returned.
After that surgery, Francis lamented that he hadn't responded well to the general anesthetic used in the longer-than-expected procedure.
That reaction in part explained his refusal to have surgery to repair strained knee ligaments that have forced him to use a wheelchair and walker for more than a year.
However, Alfieri said Francis had no adverse reactions to the anesthesia in 2021 or Wednesday.
"Clearly no one likes to be operated on and put to sleep because the moment we're put under, we lose consciousness," he told an evening news conference at the hospital with the Vatican spokesman by his side. "But there was no physiological problem two years ago or today."
Pope Francis says he can no longer travel like he used to because of his strained knee ligaments.
Dr. Manish Chand, a professor of surgery at University College London who specializes in colorectal surgery, said the surgery itself is usually straightforward — but it does require general anesthesia. He said the greatest issue afterward would be pain management and making sure the wound heals properly.
"In the first six weeks after this type of surgery, you're at risk of getting a recurrence again," he said. To avoid that, patients are advised not to do anything strenuous.
Dr. Robin Phillips, an emeritus professor of colorectal surgery at Imperial College London, noted that abdominal surgery can also compromise lung function.
The Argentine pope had part of one lung removed when he was a young man. In late March, Francis spent three days at Gemelli for bronchitis and was treated with intravenous antibiotics. He emerged April 1 saying: "Still alive!"
"I suspect they are doing it now because they are worried it might become more complicated and result in an emergency operation, which would carry an even bigger risk than leaving it alone or operating now," Phillips said.
After celebrating his weekly general audience Wednesday, the pope was driven in his Fiat 500 out of the Vatican shortly after 11 a.m. and arrived at Gemelli some 20 minutes later, escorted by police.
"The stay at the health facility will last several days to allow for the normal post-operative course and full functional recovery," the Vatican said in a statement.
The pontiff had appeared in good form Wednesday morning at his audience in St. Peter's Square, zipping around the square in his popemobile greeting the faithful. He also had two meetings beforehand, the Vatican said.
Francis has had a packed schedule of late, with multiple audiences each day. The Vatican has recently confirmed a travel-filled August, when the Holy See and Italy are usually on vacation, with a four-day visit to Portugal the first week of August and a similarly long trip to Mongolia starting Aug. 31.
In a sign that the trips remain on track, the Vatican on Tuesday released the planned itinerary for Francis' visit to Portugal for World Youth Day events from Aug. 2 to 6.
Sign up for Essential California for the L.A. Times biggest news, features and recommendations in your inbox six days a week.
You may occasionally receive promotional content from the Los Angeles Times.