Atlantic storm Lee lashes New England and Canada with wind, heavy rain, pounding surf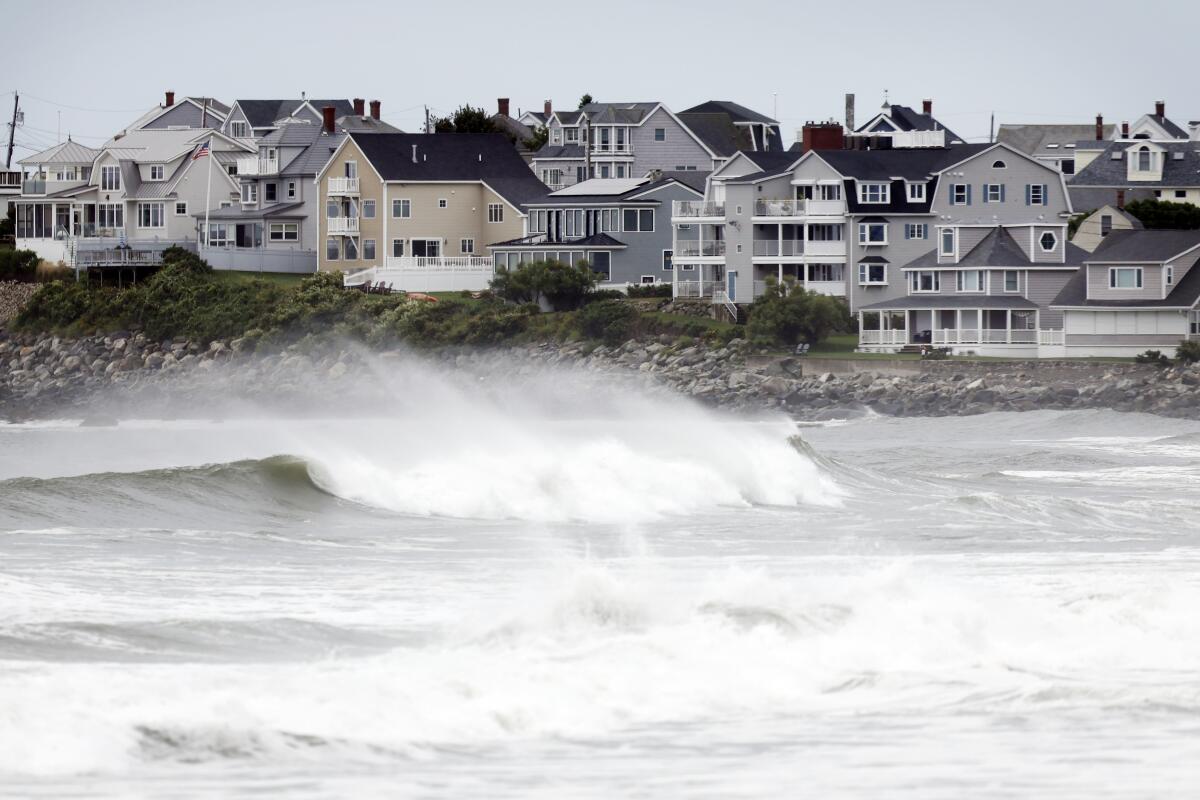 BAR HARBOR, Maine —
Atlantic storm Lee toppled trees, swamped boats and streets, and cut power to tens of thousands Saturday as it lashed an enormous swath of New England and eastern Canada with high winds, storm surge and torrential rains even while its center was offshore.
Lee made landfall late Saturday afternoon in Nova Scotia, Canada, at near-hurricane strength.
With sustained winds of 70 mph, the center of the post-tropical cyclone came ashore about 135 miles west of Halifax, the capital of Nova Scotia, according to the U.S. National Hurricane Center. That's about 50 miles southeast of Eastport, Maine, U.S. weather officials said.
In the United States, a tropical storm warning remained in effect from Cape Elizabeth, Maine, to the Canadian border. That included Bar Harbor, the touristy gateway to Acadia National Park, where a whale watch vessel broke free of its mooring and crashed ashore in front of the College of the Atlantic.
Authorities said the Maine Department of Environmental Protection and the U.S. Coast Guard were working to offload 1,800 gallons of diesel fuel to prevent it from spilling into the ocean.
Hurricane-force winds extended as far as 140 miles from Lee's center, with tropical-storm-force winds extending as far as 390 miles — enough to cover all of Maine and much of Maritime Canada.
The storm was so big that it caused power outages several hundred miles from its center. At midday Saturday, 11% of electricity customers in Maine lacked power, along with 27% of Nova Scotia, 8% of New Brunswick and 3% of Prince Edward Island.
California's bone hunters, forensic experts who are veterans of disaster, sift through Maui's burn fields for the missing dead. 'We owe it to the families.'
Storm surge of 1 to 3 feet was predicted for the Maine coast, and the U.S. hurricane center warned it would be accompanied by large and destructive waves. The storm could drop as much as 4 inches of rain on parts of Maine, Massachusetts, Nova Scotia and New Brunswick through Saturday night, with the potential for local flooding, forecasters said.
A 51-year-old motorist in Searsport, Maine, died after a large tree limb fell on his vehicle Saturday on U.S. Highway 1 during a period of high winds, the first fatality attributed to the storm.
The tree limb brought down live power lines, and utility workers had to cut power before the man could be removed, said Police Chief Brian Lunt. The unidentified man died later at a hospital, Lunt said.
In eastern Maine, winds died down enough by late afternoon for utility workers to begin using their bucket trucks to make repairs. Both Central Maine Power and Versant Power had hundreds of workers, including out-of-state crews, to assist in the effort.
In Massachusetts, the storm skirted some of the most waterlogged areas that experienced severe flash flooding days earlier, when fast water washed out roads, caused sinkholes, damaged homes and flooded vehicles.
"At this point, the storm is resembling a Nor'easter," said Sarah Thunberg, a National Weather Service meteorologist, referring to the fierce fall and winter storms that often plague the region and are so named because their winds blow from the northeast. They typically have a much wider wind field than tropical systems, whose winds stay closer to a storm's center.
But the entire region has experienced an especially wet summer, and Lee's high winds toppled trees stressed by the rain-soaked ground in Maine, the nation's most heavily wooded state.
Floods, fires, extreme heat, awful air quality, warming seas: As extreme weather engulfs the nation, the United States resembles a disaster movie set.
Cruise ships found refuge at berths in Portland, while lobstermen in Bar Harbor and elsewhere pulled their costly traps from the water and hauled their boats inland, leaving some harbors looking like ghost towns Friday.
Two lobstermen — one of them Billy Bob Faulkingham, House Republican leader of the Maine Legislature — survived after their boat overturned while hauling traps Friday ahead of the storm, officials said.
The boat's emergency locator beacon alerted authorities, and the two fishermen clung to the hull of the overturned boat until help arrived, said Winter Harbor Police Chief Danny Mitchell. The 42-foot boat sank.
"They're very lucky to be alive," Mitchell said.
Lee lashed the U.S. Virgin Islands, the Bahamas and Bermuda before turning northward, and heavy swells were likely to cause "life-threatening surf and rip current conditions" in the U.S. and Canada, according to the hurricane center.
Forecasters urged residents to stay home. "Nothing good can come from checking out the big waves and how strong the wind truly is," said Kyle Leavitt, director of the New Brunswick Emergency Measures Organization in Canada.
But many ventured out anyway. Betsy Follansbee and her husband, Fred, jogged to Higgins Beach in Scarborough, Maine, to watch surfers — some wearing helmets — paddling out to catch waves reaching 12 feet or more. They were the biggest waves Follansbee has seen in her 10 years living there, she said.
"We're impressed that they're bold enough to try," Follansbee said.
On Maine's Bailey Island, a slender spit jutting into the Gulf of Maine, Ren Renton watched the ocean.
"The ocean is always dynamic no matter what storm you get," she said. "It comes and goes and takes what it wants, but hopefully not too much."
Lee shares some characteristics with 2012's destructive Superstorm Sandy — both were once strong hurricanes that became post-tropical cyclones before landfall. But Lee is expected to produce far less rain than Sandy, which caused billions of dollars in damage and was blamed for dozens of deaths in New York and New Jersey.
Destructive hurricanes are relatively rare so far north. The Great New England Hurricane of 1938 brought gusts as high as 186 mph and sustained winds of 121 mph at Massachusetts' Blue Hill Observatory. But there have been no storms that powerful in recent years.
Sign up for Essential California for the L.A. Times biggest news, features and recommendations in your inbox six days a week.
You may occasionally receive promotional content from the Los Angeles Times.