Congo says 3 new Ebola cases confirmed in large city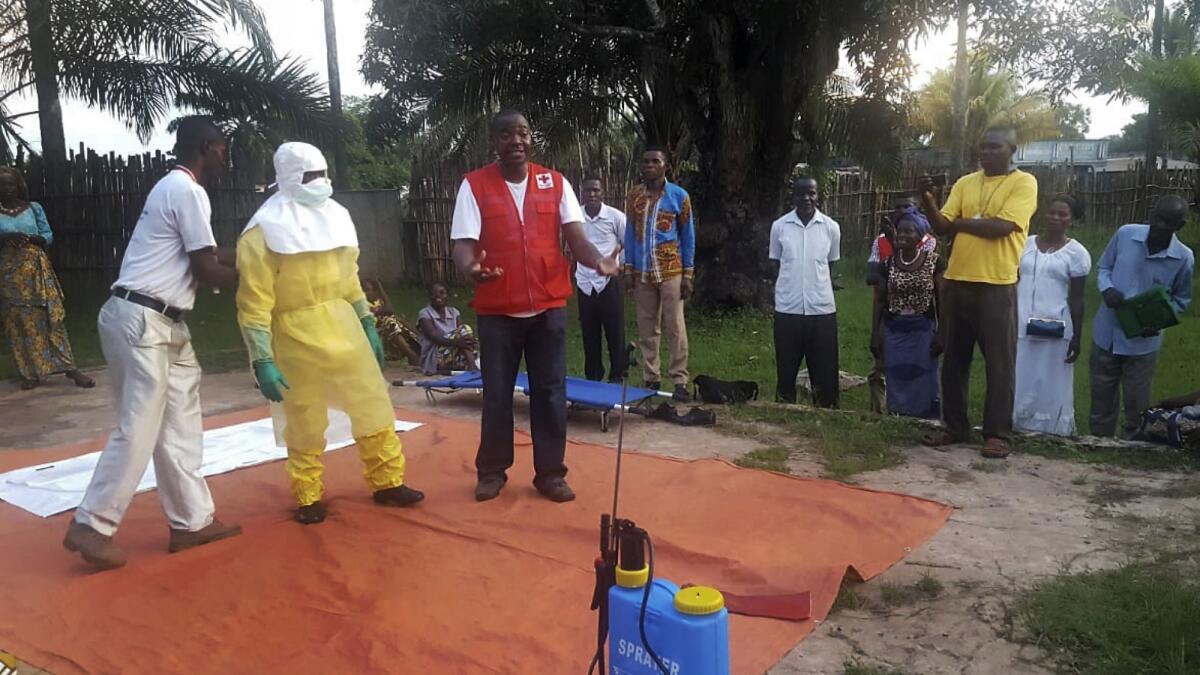 Reporting from KINSHASA, Congo —
Three new cases of the often lethal Ebola virus have been confirmed in a city of more than 1 million people, Congo's health minister announced late Friday, as the spread of the hemorrhagic fever in an urban area raised alarm.
The minister's statement said the confirmed cases are in Mbandaka city, where a single case was confirmed earlier in the week.
There are now 17 confirmed Ebola cases in this outbreak, including one death, plus 21 probable cases and five suspected ones.
The World Health Organization on Friday decided not to declare the outbreak a global health emergency, but it called the risk of spread within the Democratic Republic of Congo "very high" and warned nine neighboring countries that the risk to them was high. The WHO said there should be no international travel or trade restrictions.
The outbreak is a test of a new experimental Ebola vaccine that proved effective in the West Africa outbreak a few years ago. Vaccinations are expected to start early in the week, with more than 4,000 doses already in Congo and more on the way.
A major challenge will be keeping the vaccines cold in the vast, impoverished country where infrastructure is poor.
Though Congo has contained several Ebola outbreaks in the past, all of them were based in remote rural areas. The virus has twice made it to Kinshasa, Congo's capital of 10 million people, but was rapidly stopped.
Health officials are trying to track down more than 500 people who have been in contact with those feared infected, a task that became more urgent with the spread to Mbandaka, which lies on the Congo River, a busy traffic corridor, and is an hour's flight from the capital.
The outbreak was declared more than a week ago in Congo's remote northwest. Its spread has some Congolese worried.
"Even if it's not happening here yet, I have to reduce contact with people. May God protect us in any case," Grace Ekofo, a 23-year-old student in Kinshasa, told the Associated Press.
A teacher in Mbandaka, 53-year-old Jean Mopono, said school staff members were trying to implement preventative measures by teaching students not to greet each other by shaking hands or kissing.
"We pray that this epidemic does not take place here," Mopono said.
The WHO, which was accused of bungling its response to the West Africa outbreak —the biggest Ebola outbreak in history, with more than 11,000 deaths— appears to be moving swiftly to contain this latest epidemic, experts said.
There is "strong reason to believe this situation can be brought under control," said Dr. Robert Steffen, who chaired Friday's WHO meeting of experts. But without a vigorous response, "the situation is likely to deteriorate significantly."
This is the ninth Ebola outbreak in Congo since 1976, when the disease was first identified. The virus is initially transmitted to people from wild animals, including bats and monkeys. It is spread via contact with bodily fluids of those infected.
There is no specific treatment for Ebola. Symptoms include fever, vomiting, diarrhea, muscle pain and at times internal and external bleeding. The virus can be fatal in up to 90% of cases, depending on the strain.
Sign up for Essential California for the L.A. Times biggest news, features and recommendations in your inbox six days a week.
You may occasionally receive promotional content from the Los Angeles Times.