Two years after West Africa was declared Ebola-free, health and financial burdens persist
Bev Kauffeldt's voice quivered as she described the plight of a young well technician employed in Liberia by the international humanitarian aid organization Samaritan's Purse.
The man lost 18 family members to Ebola when the virus ravaged several countries in West Africa almost two years ago, Kauffeldt said. He and his wife care for more than 16 orphaned children — the offspring of dead relatives.
"Economically, it's really hard for them not just to put food on the table, but to send them all to school and to pay for access to healthcare, if they have any medical needs," said Kauffeldt, who is the Christian aid group's assistant senior programs manager based in Liberia's capital, Monrovia.
Many survivors are suffering from post-Ebola syndrome, enduring symptoms such as joint and muscle pain, fatigue, neurological problems and blindness that make it impossible to work. Others can't find work, or their meager income from piecemeal work is barely enough to survive.
It's been almost two years since West Africa was declared Ebola-free following the deadliest-ever outbreak of the disease, which killed more than 11,300 people and spread terror and tension across the region.
The sickness, which can cause severe bleeding and organ failure, may be spread through the bodily fluids of an infected person or someone who has died while infected, according to the U.S. Centers for Disease Control and Prevention.
Liberia, Guinea and Sierra Leone, the nations hit the hardest by the outbreak, have not had a reported Ebola case since at least March 2016, well beyond the official measure for being declared free of the virus, which is 42 consecutive days.
But the countries remain vulnerable to flare-ups, their health systems are dogged by a shortage of medical staff and subpar facilities, and survivors of the disease continue to struggle to piece their lives back together.
"The huge scale of the epidemic has affected all aspects of life," said Mit Philips, a health policy advisor for Doctors Without Borders who responded to the Ebola crisis in the hard-hit countries.
A few Ebola deaths were also reported in Nigeria, Senegal and Mali during the epidemic, which broke out in West Africa in March 2014, and at its height infected at least 28,500 people. But these countries were largely successful at quickly containing the spread of the disease.
The fallout of the epidemic in West Africa has been particularly challenging for Ebola survivors, health experts and humanitarian workers said.
"We are seeing a lot of people … who are doing great and are making a way," Kauffeldt said. "But there are still a lot of people that are falling through the cracks."
At the height of the epidemic, Ebola infected more than 10,600 people in Liberia and killed 4,800 of them.
The extent to which survivors are coping depends on where they live, humanitarian workers said. Urban dwellers tend to have better access to public health services than those in rural settings, where "in some areas there are just no services available," Kauffeldt said.
And "there's no safety net [in Liberia], like social services, that can pick up a vulnerable group that maybe has had a traumatic situation and now just needs help to get back on their feet," she said.
In neighboring Sierra Leone, where the disease killed more than 3,000 people, the issue has not been the absence of medical facilities, but rather "that the services are poor," said Zynab Kamara, senior emergencies response manager for the international humanitarian group ActionAid.
Patients often have problems getting medicines, doctors are lacking, and the nearest medical facility is often miles away and difficult to access on poor roads, humanitarian workers said.
Some Ebola survivors in Sierra Leone say the local authorities have failed them. Officials promised survivors free healthcare, help with food and shelter, psycho-social support and some financial compensation, according to local news reports. Surviving health workers reportedly were promised they would receive up $5,000 in compensation from the government.
That has not happened. So "now our members are dying because they don't have any of those things," Yusuf Kabbah, president of the Sierra Leone Assn. for Ebola Survivors, was quoted as saying in December by Reuters news agency.
Two Ebola survivors in Sierra Leone have reportedly filed a lawsuit with the regional court of the Economic Community of West African States in Nigeria. They accuse their government of mismanaging millions of dollars in international aid money intended to help stop the Ebola crisis, according to media reports.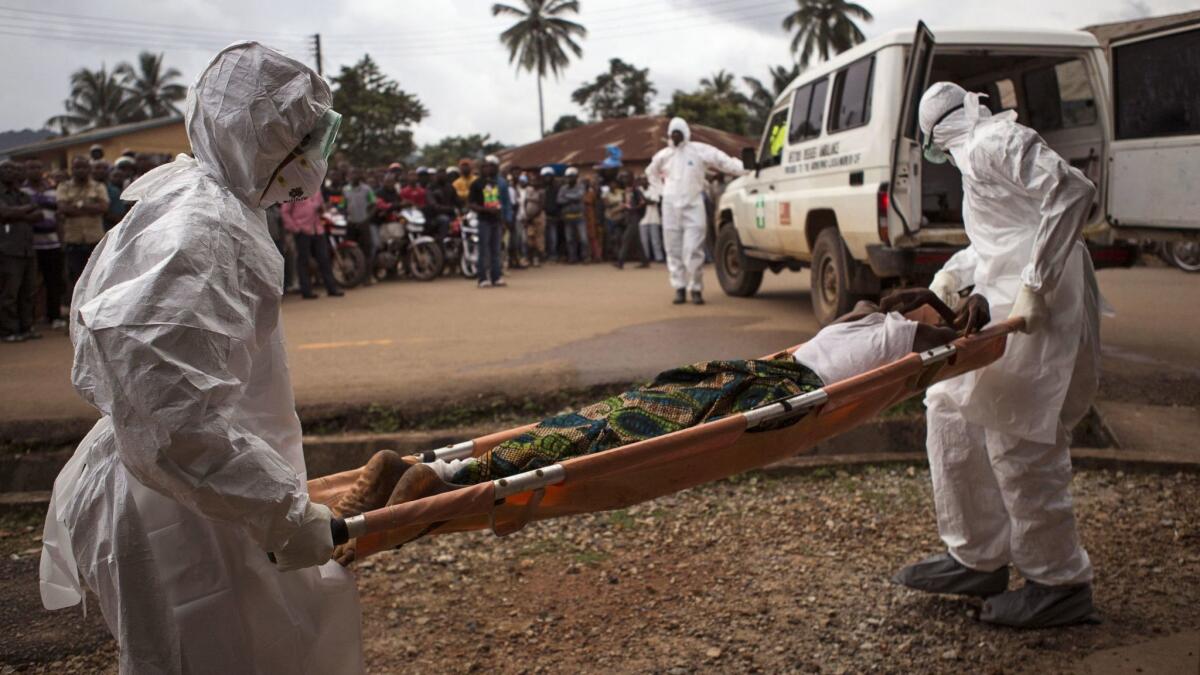 In October, the International Federation of Red Cross and Red Crescent Societies acknowledged that more than $5 million in funds to battle the deadly virus in Sierra Leone, Guinea and Liberia had been stolen through fraud.
The organization said the deceit included suspected collusion between former IFRC staff and employees of a bank in Sierra Leone that led to financial losses, overbilling and fake billing by a customs clearance service provider in Guinea, and fraud related to inflated prices of relief items, payroll and other billing in Liberia.
Kamara, the ActionAid official, said the lawsuit did not reflect the sentiment of most Ebola survivors in Sierra Leone.
"There's still a lot of unanswered questions surrounding this court case," she said. "I wouldn't say that Ebola survivors are satisfied 100%, but if there was widespread dissatisfaction I think more people would have joined the lawsuit."
Aside from the medical and physical ordeals, the biggest challenge for Ebola survivors is financial, Kauffeldt said.
"There are whole family units that were absolutely decimated," she said. "You might have an uncle who's taking care of 15 to 20 kids of his sister, his brother, his aunt, because everyone else has died and he's the last adult that survived."
Many new guardians are struggling to put food on the table, cover school fees for extra children and pay for medical care, humanitarian officials said.
"The emergency of Ebola may be over, but for many of these people in these situations trying to get back on their feet, the urgency is very real for them every day," Kauffeldt said.
Samaritan's Purse and ActionAid are among several international humanitarian groups that are continuing to assist Ebola survivors in making a living by teaching them skills such as beekeeping and soap-making, and hosting literacy classes to help them navigate the health systems.
The epidemic has worsened the vulnerability of already weakened and ill-functioning health systems in the countries worst affected by the disease, said Philips of Doctors Without Borders, which continues to run support clinics for Ebola survivors in Liberia, Sierra Leone and Guinea.
Health facilities that had Ebola cases often burned mattresses, bedding and furniture to limit the virus' spread, gutting the institutions of basic supplies. Many health centers closed down.
Before Ebola, there was a big shortage of public-sector health workers in Sierra Leone and Liberia. Hundreds of health workers, including an estimated 250 in Sierra Leone, died during the course of the epidemic. Others left the profession "because of the risk of contamination," Philips said.
The push to contain Ebola and prevent another epidemic is driving the global health community, dominated by wealthy nations, to focus on the virus sometimes at the expense of other diseases that have less of a threat of transmission to other countries, Philips said.
"For diseases that have little risk to spread to other countries, like cholera or measles, there is much less interest by the international community, although those epidemic outbreaks are causing a lot of mortality and morbidity" among populations that were most affected by Ebola, Philips said.
In December 2016, the World Health Organization announced that an experimental Ebola vaccine, tested in Guinea, had proved to be "highly protective" against the deadly virus.
GAVI, the Vaccine Alliance, a public-private global health partnership, provided $5 million to the pharmaceutical company Merck & Co. toward future procurement of the vaccine. The company must be approved by regulatory bodies, such as the U.S. Food and Drug Administration, and receive the required prequalification and recommendation from the World Health Organization.
In the meantime, Merck has made an emergency stockpile of 300,000 doses of the Ebola drug available in case of an outbreak, the WHO said.
For more on global development news, see our Global Development Watch page, and follow me @AMSimmons1 on Twitter
Sign up for Essential California for the L.A. Times biggest news, features and recommendations in your inbox six days a week.
You may occasionally receive promotional content from the Los Angeles Times.