Renowned conservation investigator Esmond Bradley Martin killed at home in Kenya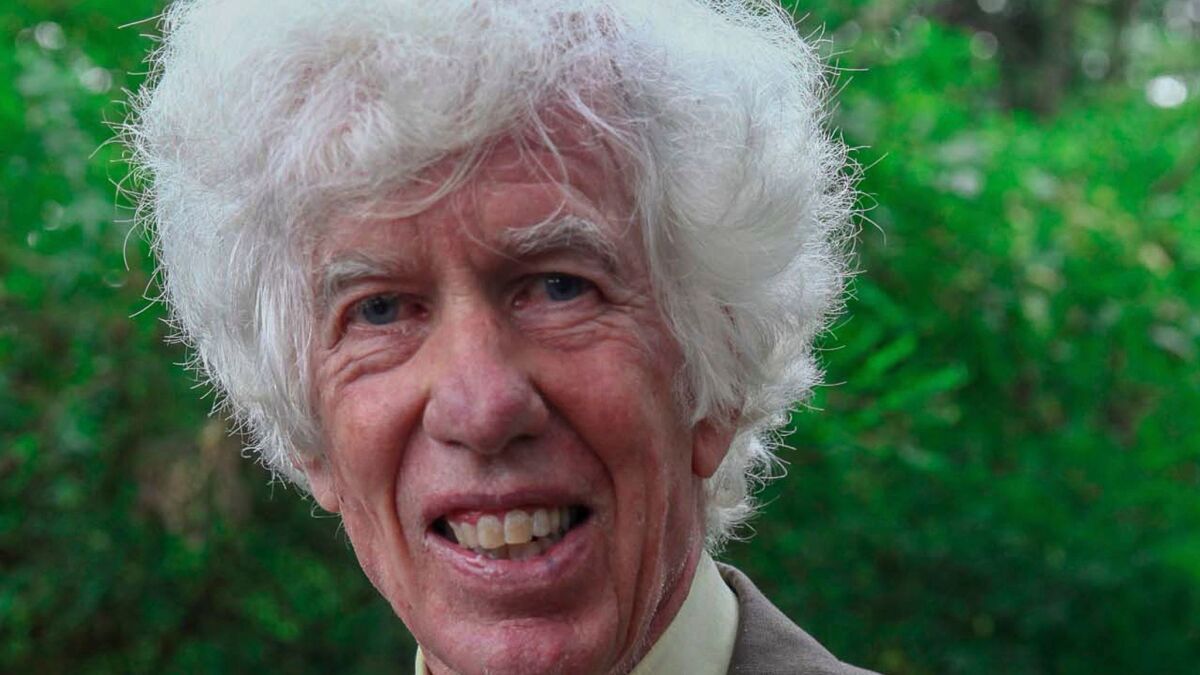 Reporting from Johannesburg, South Africa —
Renowned American conservation investigator Esmond Bradley Martin, famed for his dangerous work uncovering illegal global trafficking of ivory and rhino horn, was stabbed to death over the weekend at his home in Kenya, the latest in a series of killings of high-profile environmental activists around the world.
Police told local media the case was believed to be a robbery, though they did not make any arrests or identify any suspects. Authorities said a lock on the back gate of his house had been broken.
Bradley Martin, 75, was known for his work infiltrating clandestine ivory and rhino horn markets, analyzing demand and prices for a product that has threatened elephants and rhinoceros with extinction.
"He was probably the single most knowledgeable person about both the ivory and rhino horn trade. He developed the methodology that many people use now," said Kenya-based American Dan Stiles, a wildlife trade expert and friend who had worked with Bradley Martin on reports quantifying the illegal wildlife trade. "He cared about facts. He didn't care about opinions."
ENVIRONMENTAL WARRIORS: Defending the environment has become a suicide mission in many parts of the world »
His death comes amid an increase in killings of wildlife activists, rangers and conservationists. Last year, 197 people were killed standing up to governments and companies that confiscate land or harm the environment, according to a report last week from Global Witness. The group has documented a substantial increase in such killings — total attacks last year had doubled from what they were five years ago.
Attacks in 2017 leveled off for the first time in four consecutive years, their report said.
Africa has been the scene of much of the violence. Of the 105 wildlife park rangers around the world killed over the 12 months that ended in July, most were in Africa, according to the nonprofit International Ranger Federation.
In August, renowned South African elephant conservationist Wayne Lotter was killed in Dar es Salaam, Tanzania. Lotter's work using intelligence to track poaching gangs helped bring about the arrests of several top poachers, and he faced a constant stream of death threats. Police have called Lotter's killing a robbery.
While Bradley Martin's killing — on the face of it — resembles a home invasion robbery, friends and colleagues said it was too early to judge the motive for the crime.
"I don't think we'll ever know unless the perpetrators are caught," said Stiles. "You never know. That might be framed up to look like a robbery and it was a hit."
Bradley Martin's work involved entering wildlife trafficking dens in such places as Yemen, Sudan and Asia, painstakingly counting the numbers of ivory and rhino horn items on sale, studying the prices, analyzing the buyers and the reason for demand. He sought out ivory and rhino horn traders, posing as a buyer, learning their secrets.
"The only people who have the information I want are traders. I make a special effort to meet them and to socialize with them. I have been attacked for spending time with people when they are crooks, but where else do I get the information?" he once told a journalist.
He photographed shops with tourists gazing at piles of carved ivory beads, bangles and pendants.
"Esmond has been a towering figure since the 1980s in the first ivory poaching crisis that raged during the '70s and '80s and halved the population of Africa's elephants. His work helped bring about the ivory trade ban," said Frank Pope, CEO of Save the Elephants, which has published a series of reports by Bradley Martin and longtime fellow researcher Lucy Vigne.
Wildlife advocates say a number of recent arrests of top criminals in the global wildlife trafficking industry have made the situation even more dangerous for activists seeking to unmask them — the stakes are now higher for those seeking to stop their work.
Last year, Bradley Martin and Vigne traveled the jungles of northern Laos, where they spotted a gold Mercedes-Benz gliding up to a casino at a sprawling resort called Kings Romans on the banks of the Mekong River — an indication of the spectacular wealth at play in an area known for illegal wildlife trafficking.
Their report, published by Save the Elephants, found that Laos is the fastest-growing illegal ivory market in the world: As China has clamped down on illegal ivory, the trade has shifted there and to neighboring countries including Vietnam, Cambodia and Myanmar.
"In Laos there are these strange no man's lands where Chinese businessmen have bought up sections of the jungle and have turned them into little enclaves that are run on Beijing time, they run on Chinese currency and they are dens of iniquity for the kind of visitors from China who want to indulge in things they're not allowed to do back home. So a lot of drugs, a lot of prostitution, a lot of gambling and a lot of wildlife trade," Pope said.
Bradley Martin and Vigne, the only Westerners in sight, stuck out like sore thumbs, he said.
"That's the only time I've ever heard Esmond say that he felt very threatened. They had people watching them, they had people following them," said Pope.
His last investigation trip was a visit to Myanmar to study the ivory trade. Stiles met him just days ago, when they discussed the research each was doing there. The work was dangerous and intense, according to Stiles, who also visited the area recently.
"He'd found that the ivory was going right to the border of China. These Wild West towns spring up, where all kinds of illegal activity occur," Stiles said.
The U.S. ambassador to Kenya, Robert F. Godec, said Bradley Martin's killing was "a tragedy for Kenya and the world."
"Esmond was a true giant of conservation and a champion for African elephants and rhinos. His extraordinary research had a profound impact and advanced efforts to combat illegal wildlife trafficking across the planet," he said in a statement.
Twitter: @RobynDixon_LAT
Must-read stories from the L.A. Times
Get the day's top news with our Today's Headlines newsletter, sent every weekday morning.
You may occasionally receive promotional content from the Los Angeles Times.