Kenya's electoral commission calls President Kenyatta the winner in disputed repeat vote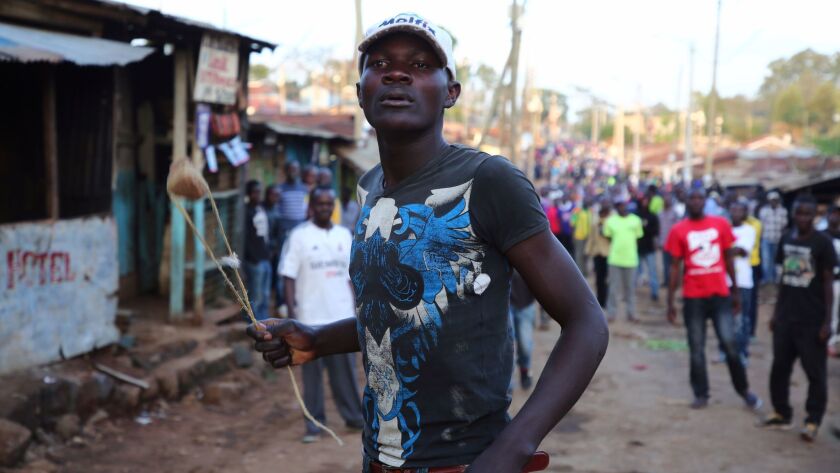 Reporting from JOHANNESBURG, South Africa —
Kenya's electoral commission Monday pronounced President Uhuru Kenyatta the winner of a bitterly disputed presidential election last week that saw low voter turnout amid an opposition boycott and violence.
The announcement of Kenyatta's victory did nothing to resolve Kenya's deepest political crisis in almost a decade, with the opposition rejecting the legitimacy of the result and calling for new elections.
It immediately triggered protests in opposition strongholds, including Nairobi's slum neighborhoods of Kibera and Mathare, sparking fears of more violence.
Officials said fewer than 39% of eligible voters participated in the election Thursday marked by intimidation against Supreme Court judges, death threats against electoral commissioners, divisive rhetoric and dozens of deaths of opposition protesters, many shot by riot police.
After opposition candidate Raila Odinga this month pulled out of the race, saying it would not be free and fair, Kenyatta won around 98% of the vote.
Last week's election was a repeat vote after the Supreme Court nullified the Aug. 8 presidential election on the basis of irregularities. Odinga demanded a series of changes, including the removal of some Independent Electoral and Boundaries Commission staff, and pulled out, saying his concerns had been ignored.
One electoral commissioner, Roselyn Akombe, fled to the United States this month, fearing for her life after receiving death threats. She said the commission was divided on partisan lines and could not deliver a free and fair election. Another commissioner, Chris Msando, was tortured and killed days before the August election.
Commission chief Wafula Chebukati echoed Akombe's concerns at the time, but he told Kenyans on Monday that the result had been free and fair.
The irregularities in the August election, the opposition boycott, Msando's death and Akombe's flight have eroded many Kenyans' confidence in the nation's fragile electoral process.
Elections in the East Africa nation are often fought on ethnic lines, and tend to be winner-takes-all affairs that see government leaders hand out jobs and favors to members of their own ethnic groups.
Odinga's Luo ethnic group feels excluded from jobs and opportunities with the presidency dominated by the Kikuyu and Kalenjin groups since independence.
At least nine people have died in violence since Thursday's election. Between the August and October votes up to 67 people were killed, according to Human Rights Watch, many of whom were shot by riot police. On Friday ethnic violence flared in the Kawangware neighborhood west of Nairobi, where houses were burned and at least one man was killed.
U.S. Ambassador Robert F. Godec on Monday expressed concern over the violence and over reports of excessive use of force by police.
"We appeal for calm in the coming days. We call on all Kenyans to come together at this critical moment to reject the politics of hatred and division. We again urge that there be an immediate, sustained, open, and transparent national dialogue involving all Kenyans to resolve the deep divisions that the electoral process has exacerbated," he said in a statement. "Leaders and politicians should clearly and publicly reject violence and work to keep the peace, and make every effort to ensure their supporters do so as well."
To the opposition, the lowest turnout in a Kenyan election since multiparty democracy in 1992 has tarnished the legitimacy of the vote. Kenyatta received fewer votes in the October election – 7.48 million - than in the August election - 8.2 million.
Kenyatta on Monday rejected commentary that turnout was low, saying many voters went to the polls "despite violent intimidation and witchcraft."
He now has the difficult task of trying to unite a deeply divided nation and to overcome the effect of months of economic paralysis after the disputed vote. The main opposition alliance, NASA, announced last week it would transform into a resistance movement, calling the election a sham.
The hopes of constructive dialogue in coming months appear bleak, with neither side willing to make compromises in recent months during one of the most contentious elections in Kenyan history.
Kenyatta said there was no doubt that he had won overwhelmingly in the August election. Since the election was invalidated, he has made repeated attacks on the Supreme Court, calling the judges "crooks" and vowing to "fix" them.
"Today I as a Kenyan celebrate our resilience as a nation but I also celebrate the resilience of our democracy, the resilience of our people and also the resilience of our constitution," said Kenyatta, 56. "Any other country experiencing the twists and turns of our electoral process would have burst asunder but our Kenyan resilience will not tire. It will not give in to obvious provocation and base invitation to the politics of darkness."
He sharply criticized Odinga for challenging the August election, yet failing to contest the October vote.
"Despite the fact that my major contender went to court demanding that the presidential election be nullified and was actually granted his pleading and an annulment, he chose to ignore the rest of the ruling, which ordered a fresh election in 60 days conducted by none other than the Independent Electoral and Boundaries Commission as constituted. Therefore he ultimately chose to abandon the fresh poll.
"I say this: You cannot choose the opportunity to exercise a right and thereafter abscond from the consequences of that choice."
Kenyatta's deputy, William Ruto, was also triumphant. "Winning twice in two months! Our GOD has given us abundantly above what we asked .To the almighty GOD IN HEAVEN BE THE GLORY & HONOUR," he tweeted.
No election was held in four constituencies in western Kenya, all of them opposition strongholds. After the violence on election day, plans to hold the balloting in those areas Saturday had to be abandoned because of fears of further violence.
Twitter: @RobynDixon_LAT
---