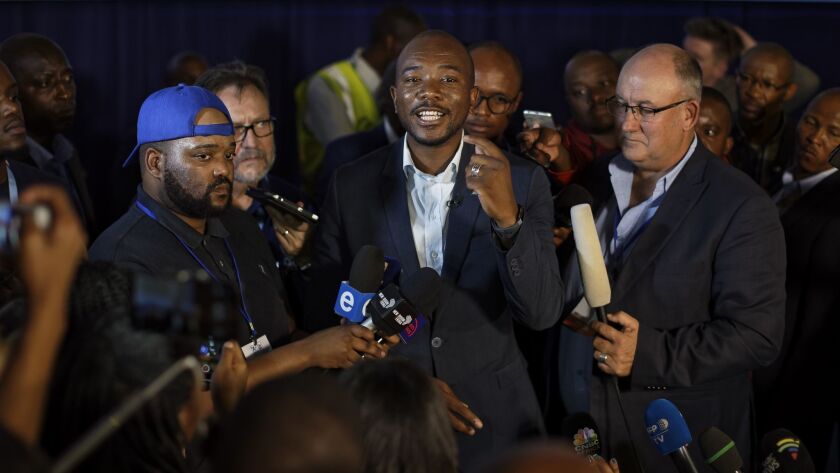 Reporting from JOHANNESBURG, South Africa —
South Africa's ruling African National Congress was on track to maintain its majority in parliamentary elections on Friday, though the vote saw flagging support for Nelson Mandela's legendary liberation party and a boost for smaller parties at more extreme ends of the political spectrum.
With 94% of the ballots counted Friday evening, the ANC had secured 57.7% of the national vote in Wednesday's election, with the opposition Democratic Alliance a distant second with 20.6%.
It was the ruling party's worst electoral performance since it was voted into power in the country's first multiracial elections in 1994, and the first time that the ANC's support has dipped below 60% in a national election. In 2014 polls, the party won 62% of the vote.
It was also the country's lowest-ever voter turnout at just over 65.5%, according to South Africa's Electoral Commission, a stark contrast to elections in the 1990s when people waited in line for hours and more than 85% of registered voters showed up at the polls.
President Cyril Ramaphosa, who stepped in as head of state after the ANC forced scandal-tainted Jacob Zuma to resign in February 2018, has been scrambling to restore voter confidence amid allegations of corruption within the party and widespread frustration over high unemployment and inequality 25 years after the end of apartheid.
Ramaphosa, the 66-year-old who helped negotiate an end to apartheid and went on to become a wealthy businessman, has promised to weed out corruption in the ANC and get the economy back on a higher growth path that would bring jobs and relief to millions of South Africans.
Some ANC leaders said the party's presumptive win was a credit to Ramaphosa's popularity and proof that voters accepted the party's pledge to change.
"We came into the election with the stigma that we are corrupt and only listen to ourselves," ANC head of elections Fikile Mbalula told local news outlet Eyewitness News. "We are self-correcting."
Though Ramaphosa appears to have succeeded in keeping the party in a majority — and out of a potentially volatile coalition — he did not pull off the resounding political recovery he may have needed to smoothly push his agenda through a deeply divided party.
Ramaphosa narrowly secured the party's leadership in December 2017 in a bitter contest with Nkosazana Dlamini-Zuma, the former president's ex-wife and continuing ally. With a weakened majority, Ramaphosa may have to offer key positions in his new government to Zuma loyalists who don't share his vision for reform, observers say.
On voting day in Soweto, a part of Johannesburg where Mandela once lived, ANC voters were confident their party would once again prevail. "Obviously we're going to win!" said Agnes Mashele, 38. She said Ramaphosa was a "humble" man who was promising South Africans "a better life."
But many South Africans said more progress should have been made in the last quarter of a century, complaining bitterly before the vote about joblessness and difficult living conditions as they considered voting for opposition parties or staying away from the polls altogether.
Younger voters, many of whom were born into a democratic South Africa and do not have the same sense of allegiance to the ANC as their parents might, have been particularly frustrated with the party's performance.
"I'm living in a shack!" Cedric Mohlabe, 37, said at the final national rally for the radical-left Economic Freedom Fighters (EFF) on May 5, throwing his arms out in frustration. "Twenty-five years in power and nothing has been done until now. We need change."
The EFF was one of two smaller opposition parties that made some of the most dramatic gains this week — and are at polar opposite ends of the political spectrum.
The EFF, a far-left party that has been courting the youth vote by pushing for job creation, nationalizing banks and mines, and returning land to black South Africans, had won 10.5% of the vote by Friday evening, up from 6.35% in 2014.
The Freedom Front Plus, a right-wing, mainly Afrikaner party, rose to 2.34% by Friday evening from just 0.9% in 2014, likely by drawing new voters who are concerned about the government's pledge to start seizing private land from landowners without payment.
Like the ANC, the country's largest opposition party, the Democratic Alliance, also lost votes, despite the clear advantage it should have had given the sluggish economy and multiple scandals its rival faced during the Zuma years.
Democratic Alliance leader Mmusi Maimane chalked his centrist party's loss up to its refusal to participate in nationalist rhetoric that he said some parties were "rewarded for" in this week's vote.
"We could have succumbed to populist narratives. We could have succumbed to forgetting our values," Maimane said on Friday. "But we [stayed] the course, and we've gone backwards."
Mahr is a special correspondent.
---