'I am their family.' In Tunisia, one man's mission to bury the migrants who die at sea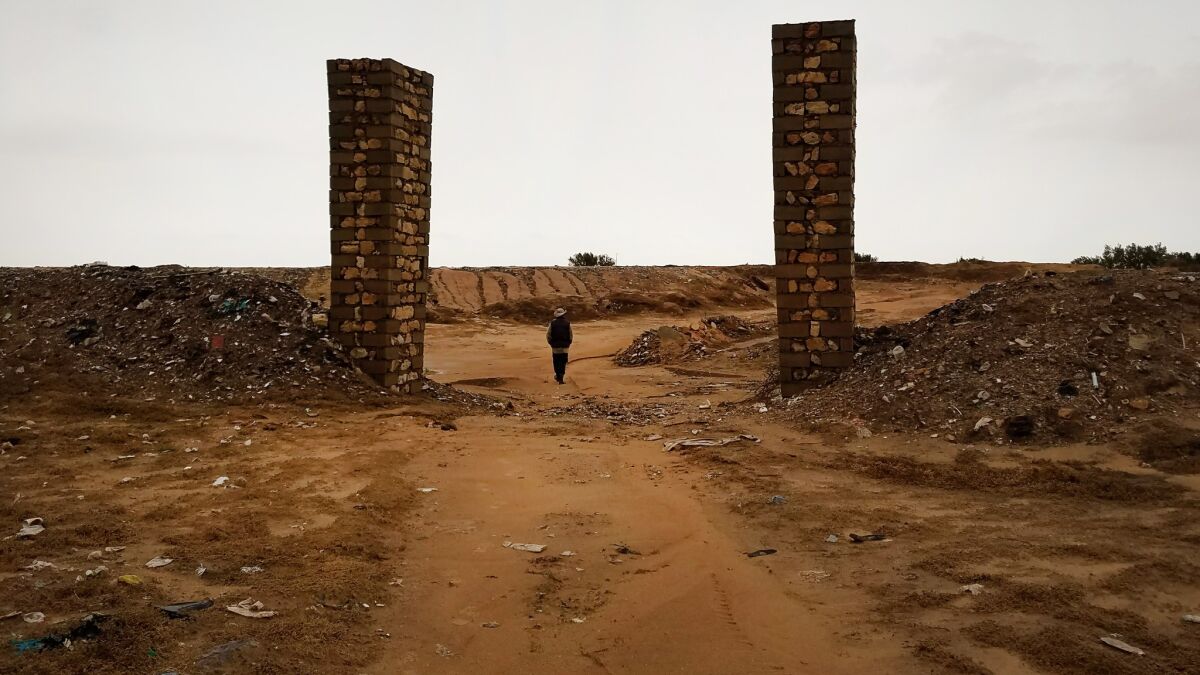 Reporting from Zarzis, Tunisia —
Despite his injured ankle, he ran as best he could in his rubber boots to reach the graves.
Chamseddine Marzoug was in a hurry, taking advantage of a break in torrential rains to check the swelling cemetery he has spent the last dozen years building for hundreds of African migrants who never made it to Europe.

For the record:
10:50 a.m. Nov. 28, 2017This article reported that Doctors Without Borders had stopped sending rescue ships into the central Mediterranean Sea. The group did stop sending one boat, but continues to operate another rescue vessel with the group SOS Mediterranee.
Marzoug, 51, paused to catch his breath this month in a field littered with Berber brand beer cans and reeking of manure. He pointed about a half-mile north, across trash-strewn olive groves bordering the town dump, to two red-brick pillars that marked the entrance to the soccer-field-size cemetery on a finger of land stretching toward Italy.
It's an increasingly crowded plot of mostly unmarked graves. And fall is the season when most bodies wash ashore in southern Tunisia, driven by strong sea winds. Marzoug pointed again, this time to the east. That was the source, he said, of both the storm clouds and the influx of migrants: Libya.
At least 33,761 migrants have died or gone missing in the Mediterranean since 2000, according to a report released Friday by the United Nations' International Organization for Migration. Although fewer migrants have drowned this year than in 2016 — 2,993 compared with 4,720 as of Nov. 24 — in some ways crossing the Mediterranean has become more perilous. The number of migrants reaching Europe also has decreased dramatically, meaning that, proportionally, more of them are dying.
One migrant died for every 54 who reached Europe this year, compared with 1 for every 73 this time last year, according to the IOM. The organization's officials blame the increase, in part, on more crossings in the central Mediterranean, where 93% of migrant deaths were reported this year, and where more migrants are traveling because of enforcement efforts blocking routes through the Aegean Sea and the Balkans.
"Stopping migration and eradicating deaths at sea may [be] conflicting objectives. Shutting the shorter and less dangerous routes can open longer and more dangerous routes, thus increasing the likelihood of dying at sea," said the report's author, professor Philippe Fargues of the European University Institute.
Libyan smugglers have also made the journey increasingly dangerous by using cheap rubber dinghies instead of hardier wooden boats, Marzoug said in a mix of French and Arabic.
Arriving at the cemetery in Zarzis, Marzoug strode past the brick pillars into what appeared to be a hilly dirt lot. As dark rain clouds bore down on him, he headed for the most recent 74 graves, mounds and depressions with metal markers bearing handwritten numbers. Only one had a name scrawled across it: "Rosa Maria, Tunisian."
Rosa Maria was in her 20s, and was identified by some of the 126 survivors of the migrant boat she had boarded, Marzoug said. The bodies usually surface without identification, which smugglers usually confiscate along with the migrants' belongings. One man from Ivory Coast washed up with a vaccination record, but his name was illegible, Marzoug said.
This year, Marzoug started marking the graves with the numbers written on ID bracelets and makeshift body bags. On this day, Marzoug straightened the markers and brushed off caked dirt, careful not to step on the graves. Recent downpours had exposed a bit of the black plastic bag used to bury Rosa Maria in May. Her body was still covered, but only by a few centimeters of orange, sandy dirt.
"I worry if it rains any more, the cadavers will be unearthed," he said.
Other graves were nearly washed away by the rain, including the most recent — that of a man found last month, headless. The shovel used to bury him was still stuck in the dirt next to his grave.
Chemseddine Marzoug has spent years building a cemetery in Tunisia for hundreds of African migrants who never made it to Europe.
As European officials cracked down on migrants this year, they also increased patrols in the Mediterranean. In August, the Italian military trained the Libyan coast guard under an agreement to fight human trafficking. A group of anti-immigrant volunteers called Defend Europe even launched their own ship to deter migrants.
Some Tunisian fishermen, along with Marzoug, tried to run interference by blocking the anti-immigrant boat. But by this fall, many of the major migrant rescue groups — such as SeaWatch, Doctors Without Borders and Save the Children — stopped sending ships into the central Mediterranean to avoid conflicts and help migrants elsewhere. Only a few groups remain.
Since the aid groups pulled back, Marzoug said, more migrants appear to be dying. Just this month, Italian authorities recovered the bodies of 26 adolescent girls from Niger and Nigeria who drowned en route from Libya.
Over a dozen years, Marzoug has buried about 400. Since May, he has buried 74. Of those, 29 were women, two children.
Marzoug, who opened the cemetery on donated land, refuses to quit what has become a personal mission.
Raised in Tunis in the north, he moved to Zarzis, his parents' hometown, with his wife and five children in 1990 to work as a fisherman. He began volunteering with migrants he met, first at a United Nations camp near here, then on rescue boats.
Two years ago, he fell while working on a shipping container of migrant relief supplies and broke his left ankle. That's when he started concentrating on the burials closer to home and volunteering with the Red Crescent, which runs two nearby shelters housing several hundred migrants.
Most of the migrants he buries are from sub-Saharan Africa: Eritrea, Ivory Coast, Niger, Nigeria, Somalia and Sudan. In a Muslim country where blacks have historically been the serving class, many Tunisians consider the migrants foreigners. Not Marzoug. That's racism, he said. "I feel like I am a member of the immigrants' family," he said.
RELATED | An overloaded boat, packed with dreams: Hundreds of migrants plucked from a hazardous journey across the Mediterranean »
He is part of the migrant family in other ways, too.
Last year, his eldest son, Firas, secretly arranged with friends in Europe to flee to Italy on a migrant boat. He was 21. Firas survived, and called his father from Italy — the first Marzoug knew of his son's plan to leave home.
Four months ago, Marzoug's 18-year-old son, Elias, followed his brother on another illegal migrant boat. He also left without telling his father. He settled with his brother in Paris, where the two found work as mechanics.
"My sons are lucky," Marzoug said.
He has two married daughters who stayed in Tunisia, and a 12-year-old daughter at home, Yasmine, who he hopes will one day graduate from college. Marzoug never considered migrating himself. The economy was better when he was young, and as conditions worsened, his beard turned gray and he grew too old to leave. But he understands why his sons sailed on what he calls the "boats of death." "Chomage," he said in French. Unemployment.
He keeps photos of the bodies he recovers on his cellphone, alongside photos of his children, grandchildren and elderly mother, who died this year.
He pulled up the photo of a woman's body found this year on a bed of brown seaweed, white as a statue and decapitated, likely during months in the sea. "Even without heads, they are beautiful to me," he said. "We can't forget them."
Two years ago, after a boat full of Syrian refugees capsized, Marzoug and fishermen recovered 53 bodies. The year before, he found a Syrian woman with a small child strapped to her chest, both dead. He buried them together.
Bodies surface and Marzoug either finds them, or gets a call or a knock on the door about the latest discovery. He alerts local officials and borrows a friend's van to take bodies to the hospital for postmortems by a Red Crescent volunteer doctor, and for washing and burial. The village government has a pickup truck, but Marzoug considers transporting bodies in the bed of a truck inhuman.
As he left the graveyard Nov. 12, hurrying again to avoid the storm, Marzoug said he expected more bodies would wash up as rains eased and smugglers set sail.
He wants to build a new cemetery with headstones, a fence, a transport van, and a building where volunteers can prepare bodies for burial. Someday they may even have a DNA bank and archive, he said. Marzoug estimates it will all cost $35,000. He created a crowdfunding website this year and has raised about $5,000.
One day, he would like to live next to the site. He said his wife has already agreed. She understands why Marzoug wants to be near the dead migrants, to watch over and protect them, if only from the elements.
"I am their family. I belong with them," he said.
molly.hennessy-fiske@latimes.com
Must-read stories from the L.A. Times
Get the day's top news with our Today's Headlines newsletter, sent every weekday morning.
You may occasionally receive promotional content from the Los Angeles Times.