Massive U.S. bomb's death toll rises to 94, Afghan official says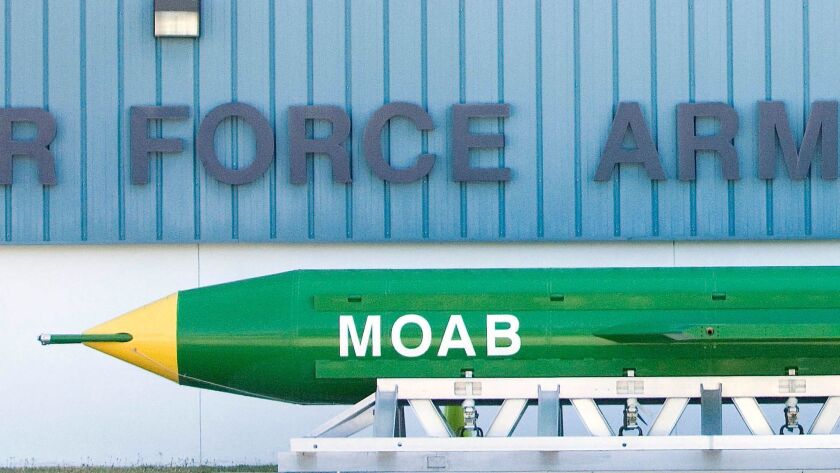 Reporting from Shodal, Afghanistan —
Afghan officials said Saturday that 94 militants were killed in a massive U.S. bomb blast targeting Islamic State's regional affiliate, nearly three times as many as was reported a day earlier.
Ismail Shinwari, governor of Achin district in the eastern Afghan province of Nangarhar, where the 20,000-pound bomb struck Thursday evening, said there were no reports of civilian casualties.
The dead included several leaders of the Islamic State affiliate, which is loosely connected to the main militant organization based in Iraq and Syria, Afghan officials said.
U.S. military officials said the Massive Ordnance Air Blast bomb — dubbed the "mother of all bombs," the largest non-nuclear weapon ever used in combat — targeted an underground network of caves and tunnels that Islamic State fighters had used for weeks to evade an ongoing operation by U.S. and Afghan forces.
The Afghan government said it had worked with the U.S. military to coordinate the bomb strike, a sharp escalation of the U.S. fight against Islamic State in Afghanistan.
But the use of the massive weapon has also drawn criticism, including from former President Hamid Karzai, who told a gathering in Kabul on Saturday that it amounted to "a national treason."
Most residents of the village of Shodal, a mountainside hamlet near the tunnels, had evacuated the area on the orders of Afghan special forces, limiting the harm to civilians, officials said.
U.S. helicopters continued to launch strikes near the village Saturday, providing cover for Afghan troops and U.S. military advisors on the ground. The area in remote Achin district, close to the Pakistani border, is considered one of the main redoubts of a militant group estimated to number from 600 to 800 fighters.
During a brief lull, farmers returned to Shodal to check on lands they had abandoned.
Hanifullah, a 62-year-old Shodal resident who raises chickens and sheep, had left the village and was staying at his brother's house when the bomb struck.
"The bomb's reverberations wave frightened me so badly," he said as he headed back into the village to check the damage. "I have witnessed thousands of battles, but no bomb scared me like this one did."
Faizy is a special correspondent. Times staff writer Shashank Bengali contributed to this report from Mumbai, India.
ALSO
'Take Ahmed and let me die': Victims of U.S. airstrike in Mosul recount a day of horror
'Mother of all bombs' kills 36 Islamic State militants in Afghanistan, sparks mix of anger and praise on the ground
Islamic State has fewer than 1,000 fighters in Afghanistan. So why did Trump drop the 'mother of all bombs'?
---
UPDATES:
5:05 a.m.: This article was updated with Times reporting.
This article was first published at 3:30 a.m.
---
Must-read stories from the L.A. Times
Get all the day's most vital news with our Today's Headlines newsletter, sent every weekday morning.
You may occasionally receive promotional content from the Los Angeles Times.