Regional leaders are defying Afghanistan's president. The latest is a police chief who was once a close U.S. ally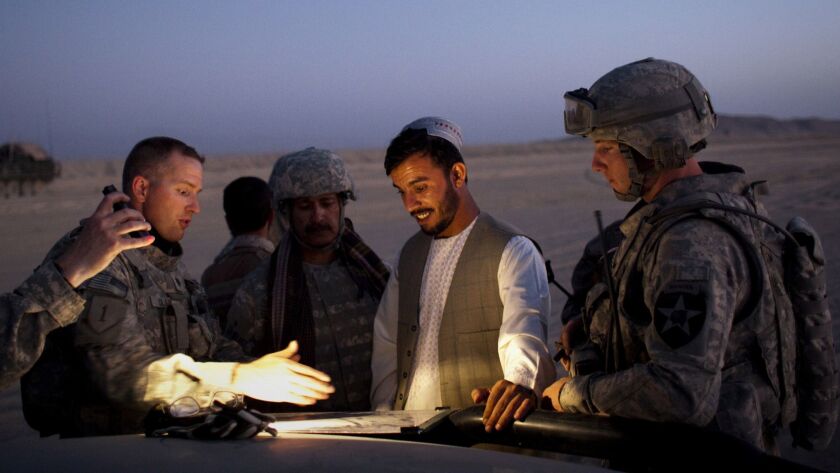 Reporting from Kandahar, Afghanistan —
In early January, Abdul Raziq, the powerful police chief of Kandahar, issued a direct challenge to Afghan President Ashraf Ghani. Speaking to reporters, Raziq said Ghani's government "cannot fire me."
It was a typical show of strength by Raziq, a onetime favorite of U.S.-led coalition forces who rose to prominence because of his zeal in fighting Taliban insurgents. A survivor of multiple assassination attempts, he brought relative calm to his volatile southern province while dismissing accusations of torture and other human rights abuses.
But Raziq's statement also highlighted the fault lines that have weakened Ghani's Western-backed government.
Until recently, Ghani was locked in a months-long dispute with an influential northern governor who refused to step down after Ghani fired him in December. The ousted governor, Atta Mohammad Noor of Balkh province, finally agreed to hand over power to a close ally in March.
Ghani has also refused to allow his vice president, Abdul Rashid Dostum, to return to Afghanistan from Turkey, where he fled amid charges that he and his aides kidnapped and sexually assaulted a rival. Both Noor and Dostum belong to a political coalition that accuses Ghani of favoring his own ethnicity, the Pashtuns, over minorities.
Raziq, a Pashtun, expressed support for Noor shortly before the former governor resigned. In an interview in March, Raziq tried to play down a rift with Ghani but again signaled that he would not accept dismissal by the president.
"I just said that if Kandahar people decide I will stay, I will stay," Raziq said. "And if they decide I will go, I will go."
But Ali Mohammad Sabawoon, a researcher at the Kabul-based Afghanistan Analysts Network, said there are unconfirmed reports that Ghani has already signed Raziq's resignation letter.
The police chief spoke inside his heavily guarded compound in the center of Kandahar, capital of the eponymous province that was the birthplace of the Taliban. The compound once belonged to the Taliban's late, one-eyed leader, Mullah Mohammed Omar. Visitors were searched several times, with a photographer's microphone given particularly thorough scrutiny — recently, a suicide bomber posing as a journalist was stopped trying to enter one of Raziq's news conferences with a bomb hidden inside a microphone.
Raziq's statements in January came after Noor indicated that the police chief could be next on the list of strongmen targeted in Ghani's effort to clean up the government and remove controversial figures from top posts. Raziq's human rights record has long made him a liability for Ghani and his U.S. backers, but experts say that removing him could prove counterproductive, at least in the short term.
"The security situation would worsen," Sabawoon said. "Generally speaking, he has maintained very good security."
Raziq sharply criticized Ghani's handling of security, echoing concerns expressed by Noor's Jamiat-i-Islami party, which has emerged as the president's greatest rival.
The U.S.-trained Afghan army and police force have struggled to keep the Taliban at bay. According to a recent Pentagon inspector general's report, only 64% of the Afghan population lived in areas controlled by the Afghan government, down from 80% in September 2013, the year before Ghani took office.
"The situation is worsening day by day," Raziq said. "You can judge the situation. People are [distancing themselves from] the government, they don't have any unity, and there is no understanding among the government [officials]."
Raziq said Noor was one of the few leaders who have succeeded against the insurgency, and credited him with securing Balkh's provincial capital, Mazar-i-Sharif.
"It's not a good situation to remove him from that place," Raziq said. The youthful looking Raziq, who is believed to be in his late 30s, was a close ally of former President Hamid Karzai, whose ethnic Pashtun roots are in southern Afghanistan, in contrast to Ghani, whose tribal roots are in the Pashtun east. Karzai, who still holds more sway in the south than Ghani, ensured Raziq stayed in power despite Western efforts to have him investigated in the torture and deaths of prisoners.
United Nations investigators found credible allegations that under Raziq's watch, Afghan detainees in Kandahar were suffocated, administered electric shocks and had their stomachs pumped with water. Many of the prisoners died in custody. Human Rights Watch has called Raziq "Kandahar's torturer-in-chief."
When Ghani made his first official visit to Kandahar in 2015, Raziq left town and did not meet him.
"I was very familiar with [Karzai]," Raziq said. "It's a different kind of a relationship with them both."
But Raziq said he doesn't believe he is making political statements and doesn't belong to any party. He said he is only interested in security — which is one reason, he went on, that he has engaged in informal discussions with local Taliban leaders for the last two years.
The talks, which he said focus on maintaining peace in the area, take place via video link from Raziq's living quarters, he said. Scared of the fate of former President Burhanuddin Rabbani, who was in charge of the government's peace efforts until he was killed by a bomb hidden inside a Taliban envoy's turban in 2011, Raziq said he never meets with Taliban members face to face.
He was skeptical of Ghani's recent offer of amnesty to the Taliban, in exchange for the militants laying down their weapons and recognizing the Afghan government, saying it carried too many conditions for militants to accept. He also said the High Peace Council, the government body tasked with negotiating with insurgents, did not have adequate representation from southern Afghanistan.
"Ninety to 95% of the Taliban belong to the south — their leadership and their manpower," he said. "But if you see the peace council, there isn't a single person from the south. The present and previous governments are just proceeding with the same policy."
He said it would be better if Afghanistan's Western backers — which the Trump administration said "strongly support the path to peace" laid out by Ghani — bypassed the peace council and communicated directly with political leaders in the south.
"Then they can get a positive result," he said. "If we fight 50 years more, we will need peace then also. We need peace right now."
ALSO
Even if born and raised in Pakistan, Afghan refugees are deported to Afghanistan, a land they've never known
An increase in bombings spreads fear in Afghanistan. It could also be a message to President Trump
Afghanistan offers amnesty to the Taliban in a bid to end 16-year war
Liuhto is a special correspondent. Times staff writer Shashank Bengali contributed to this report from Mumbai, India.
---
Must-read stories from the L.A. Times
Get the day's top news with our Today's Headlines newsletter, sent every weekday morning.
You may occasionally receive promotional content from the Los Angeles Times.