'We came here to kill the non-Muslims,' gunmen told Bangladesh hostages
Indian activists in Kolkata light candles in memory of victims of the terror attack in Dhaka, Bangladesh.
(Piyal Adhikary / EPA)
Japan International Cooperation Agency President Shinichi Kitaoka at a news conference in Tokyo discussing the fate of Japanese citizens caught in the terror attack in Bangladesh.
(Frank Robichon / EPA)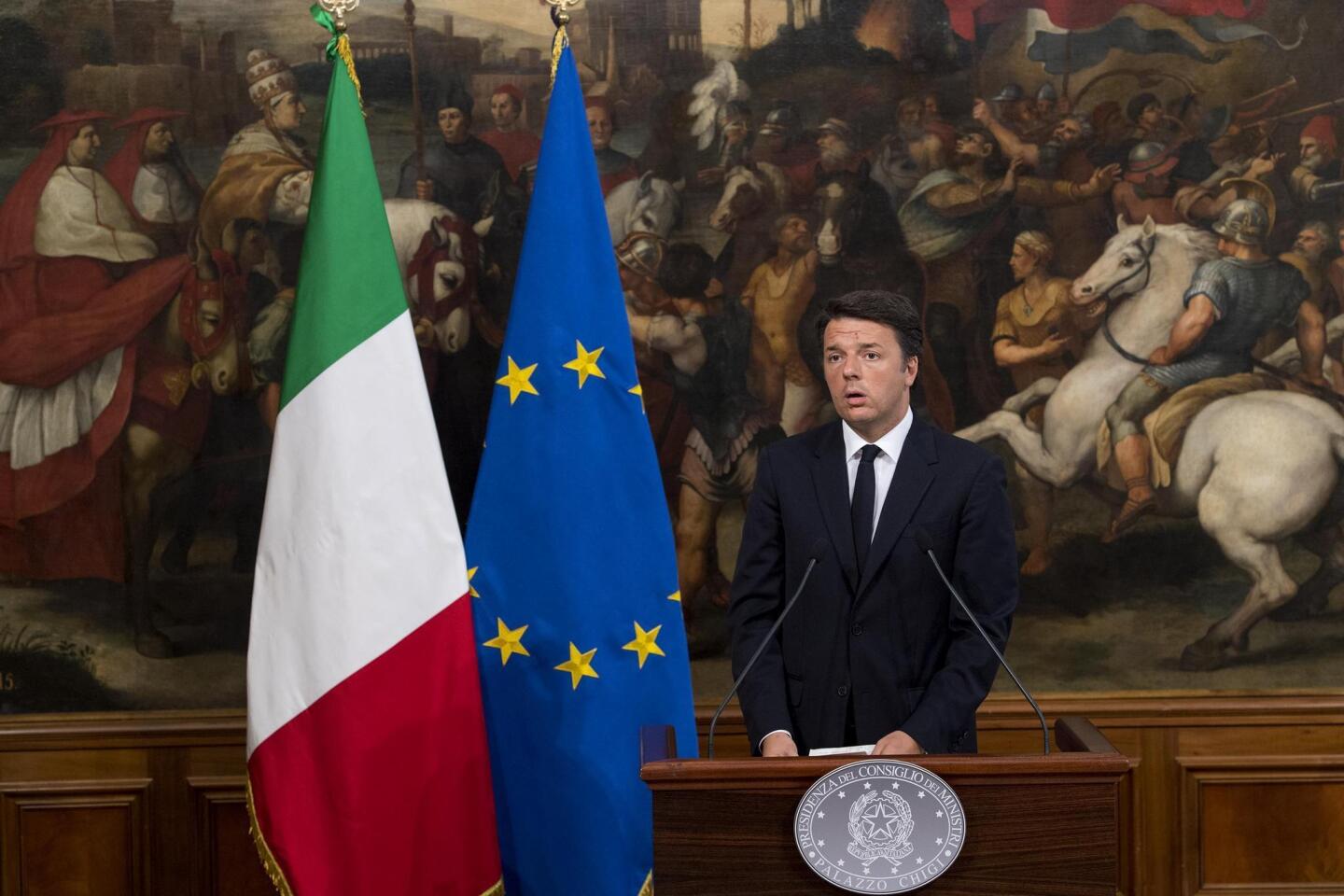 Italy's Prime Minister Matteo Renzi discusses the Dhaka attack in Rome on July 2, 2016. Italian news reports say 10 or 11 Italians were inside the cafe when attack began.
(Claudio Peri / Associated Press)
Reporting from DHAKA, Bangladesh —
The well-dressed young men entered the trendy restaurant armed with guns, crude bombs and blades. When the 10-hour siege was over, 28 people were dead — including at least one American — and Bangladesh's attempts to underplay the threat posed by Islamist radicals lay in tatters.
The hostage crisis and ensuing commando raid on a popular Dhaka eatery that ended early Saturday made it clear that Bangladesh has become a key battleground for militants inspired by the likes of Islamic State, which claimed responsibility for the attack.

For the record:
7:21 p.m. July 2, 2016An earlier version of this article said that nine Japanese and seven Italians were among those killed in the standoff. The dead included seven Japanese and nine Italians.
Army commandos rescued at least 13 people after the standoff.
One Bangladeshi witness said the attackers told him: "You people don't have to be afraid; we came here to kill the non-Muslims."
Most of the victims at the Holey Artisan Bakery in the upscale Gulshan neighborhood were foreigners, although the restaurant was packed with both expatriates and Bangladeshis eating dinner during the Ramadan holy month. Among those killed were nine Italians, seven Japanese, at least two Bangladeshis and an Indian. One of the Bangladeshis was also an American citizen.
Two police officers were fatally shot by assailants at the start of the raid Friday night. Six assailants were killed in a gun battle with Bangladeshi security forces that began several hours later, prompting questions over the speed of the government response.
One attacker was in government custody.
A statement by Islamic State on Friday night said the attack targeted citizens of "crusader" nations.
The Amaq News Agency, which is affiliated with the militant group, on Saturday released photos of the purported assailants, whom it described as Bangladeshis. The five men were shown smiling in front of an Islamic State flag and said to have been armed with "knives, cleavers, assault rifles and hand grenades."
Analysts said it was not immediately clear whether Islamic State had directed the attack. Over the last year, Islamic State and its rival, Al Qaeda in the Indian Subcontinent, claim to have carried out more than two dozen targeted killings in Bangladesh, mostly of foreigners, secular writers and religious minorities.
Bangladesh's government has been sharply criticized for downplaying the assassinations, blaming them on rival Islamist political parties and making thousands of arrests that officials acknowledged were unconnected to the crimes.
Prime Minister Sheik Hasina Wajed, in a televised address late Saturday, urged her fellow Bangladeshis to have faith in the government, and declared two days of national mourning.
"We don't want terrorism in Bangladesh," Hasina said. Referring to the killers, she said, "I don't understand their beliefs – what type of Muslims they are."
The gunmen asked everyone inside to recite from the Koran. Those who recited were spared.
— Rezaul Karim, describing what his son, Hasnat, had witnessed
The State Department confirmed that a U.S. citizen was among those killed and said it "supports Prime Minister Hasina in her commitment to combat violent extremism in Bangladesh."
Japanese Prime Minister Shinzo Abe dispatched a task force to Bangladesh to assist in the investigation. Japanese authorities have reportedly been concerned about the investigation into the killing of a Japanese citizen in Bangladesh in late 2015, which remains unsolved.
Witnesses told news agencies that the armed men stormed into the restaurant and fired weapons into the air before going after individual patrons. The restaurant's Argentine chef told a television station that he fled through a back door and escaped by jumping off the roof of the building.
Residents in the Gulshan neighborhood, which houses diplomatic missions, hotels and upscale apartments along rutted, dimly lit streets, reported hearing explosions. A Bangladeshi military official, Brig. Gen. Nayeem Ashfaq Chowdhury, said militants "used sharp weapons" to kill the 20 hostages soon after they entered.
A restaurant worker identified only as Alam told the Dhaka Tribune that he hid in a back office after the attack began. When the gunmen found him and several other employees, including a Japanese man, they directed the Bangladeshis to the main dining area but kept the Japanese man captive.
Moments later, the witness said he heard a gunshot. Many of the other victims were reportedly killed execution-style.
The hostages were given a test, according to the father of a Bangladeshi businessman who was rescued Saturday morning along with his family.
"The gunmen asked everyone inside to recite from the Koran," Rezaul Karim told the Associated Press, describing what his son, Hasnat, had witnessed inside the restaurant. "Those who recited were spared. The gunmen even gave them meals last night."
The others, he said, "were tortured."
More than 10 hours passed between the start of the raid and when Bangladesh's rapid-reaction army commandos entered the building.
"There was total pandemonium. Law enforcement had no clue what was going on," said one security analyst with knowledge of the situation, who requested anonymity to speak candidly.
The use of knives and cleavers mirrored the sharp instruments used to hack to death dozens of individuals in targeted killings over the last two years. But this was by far the most complex attack Islamist militants had carried out in Bangladesh.
A country of 160 million people, mainly Muslims, Bangladesh until recent years was held up as an example of economic development, having raised standards of living and improved public health thanks to a large garment manufacturing industry and international aid.
But a prolonged political crisis has seen Hasina's government clamp down on rival parties, including Islamists, imprisoning many top leaders and executing others for crimes related to the country's 1971 war of liberation from Pakistan. The U.S. and United Nations have described the special tribunal leading to the convictions as deeply flawed.
Analysts say the clampdown has helped encourage domestic extremists who are inspired by the brazen attacks of Islamic State.
"Dhaka pre-Holey and post-Holey are going to be two different cities," the security analyst said. "There has to be a realization that we are a high-threat environment now."
Khan is a special correspondent. Times staff writer Bengali reported from Londonderry, Northern Ireland.
ALSO
As Bangladesh launches crackdown on killings, 62-year-old Hindu man becomes the latest victim
Bangladesh may be the next proving ground for global jihadist groups
Bangladesh's Al Qaeda branch claims killing of gay rights activist and friend
Islamist militants suspected in slaying of professor in Bangladesh
---
UPDATES:
4:38 p.m.: This article has been updated throughout with staff reporting
This article was originally published at 11:39 a.m.
Must-read stories from the L.A. Times
Get the day's top news with our Today's Headlines newsletter, sent every weekday morning.
You may occasionally receive promotional content from the Los Angeles Times.