China's Belt and Road Forum lays groundwork for a new global order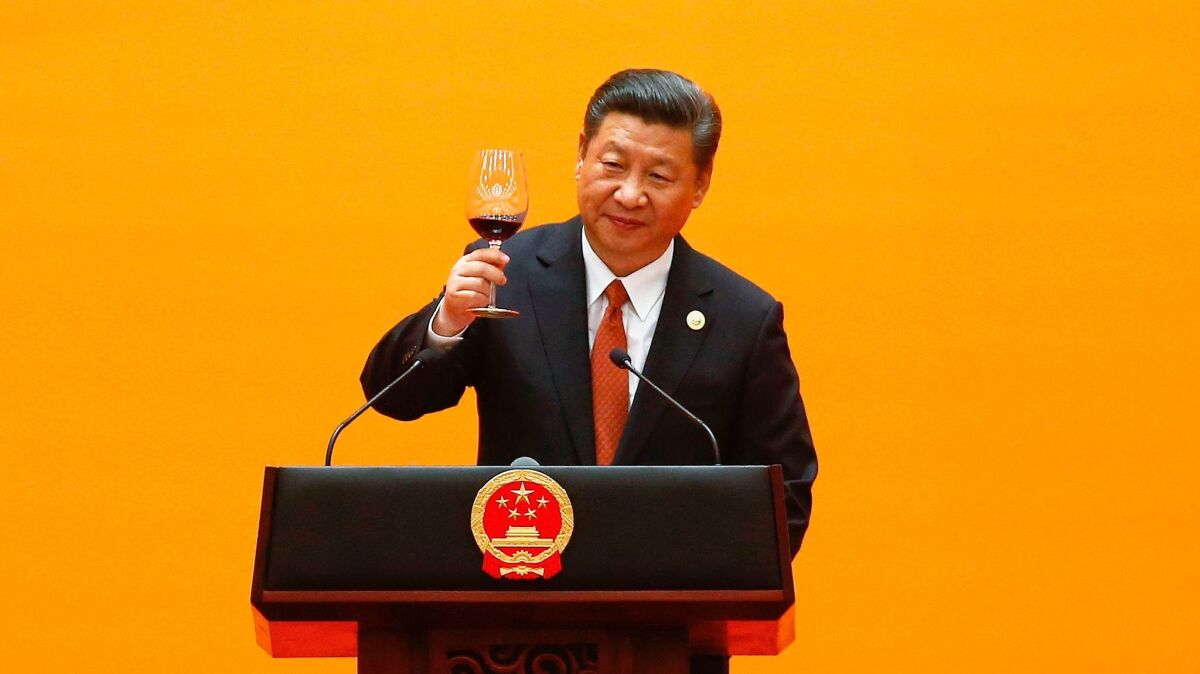 Reporting from Beijing —
Chinese President Xi Jinping conjured up images of caravans and treasure ships. Orange banners promised "common prosperity" and "mutual benefit" on Beijing streets lined with red roses. Even the name signaled friendship -- the Belt and Road Forum for International Cooperation.
But the two-day infrastructure summit that drew dozens of global leaders here carried an even stronger undercurrent: China is presenting the world with an alternative economic order. Join, or miss out.
"What we hope to create is a big family of harmonious co-existence," Xi said at the opening of the event, which focused on resurrecting ancient Silk Road trade routes.
He called it the "project of the century."
The Belt and Road Initiative, Xi's signature foreign policy project, aims to build ports, railways and pipelines that connect a sprawling sea and land network from Asia to Europe. This multi-trillion-dollar plan spans more than 60 countries and 30% of the world's GDP.
Xi's central role at the inaugural forum – from his red wine toast to nearly three dozen heads of state at the Great Hall of the People to a keynote address with Russian President Vladimir Putin in the front row – cast him as a suave international statesman ahead of a Communist Party leadership shuffle this fall.
He tied his plan to the past, but it underscored a broad new vision for the world -- one that gravitates more toward China's orbit than the West's. His message comes as the United States shifts inward under President Trump and Europe abandons many of the globalization ideals that once underpinned it.
"Xi Jinping has staked a lot of personal political cache and authority on this," said Peter Cai, a fellow at the Lowy Institute for International Policy in Australia, who studies the initiative. "Showing publicly how many international leaders came to Beijing to agree, in principle, to what China is promoting was symbolically very important."
Xi pledged more than $100 billion in financing to help develop the project across three continents. He also vowed to tackle poverty in recipient countries — an unusual foray for China, which has historically left such efforts to development agencies like the World Bank.
Leaders signed a broad communiqué that endorses global trade and seeks to increase economic growth.
The group hopes to "rebalance economic globalization so that mankind will move closer to a community of a shared future," Xi said at another speech on Monday where he announced agreements with 68 countries and international organizations.
But Chinese officials offered few specifics about loans, or even details about the project's success four years in.
Xi created the initiative to help spur domestic growth and enhance China's role abroad. He spoke about its promise Monday at a placid lakeside retreat, surrounded by strongman leaders such as Turkish President Recep Tayyip Erdoğan, and Philippine President Rodrigo Duterte.
He emphasized the need to abandon protectionism and "exclusive arrangements."
Only one Group of Seven leader attended, Italian Prime Minister Paolo Gentiloni. Few other Western nations sent top officials, although heads of the World Bank, International Monetary Fund and United Nations attended.
The U.S. sent a small delegation led by Matthew Pottinger, the administration's senior director for Asia at the National Security Council, who emphasized the importance of transparency and private sector participation. Much of China's investment, from the companies building highways on the Sri Lankan coast to the crews constructing railways in rural Ethiopia, is state-driven.
Chinese officials intended the forum to help ease fears about China's growing influence, given the country's record on issues such as human rights and the environment. Xi spoke of "cultural inclusion," but he has led a campaign against Western values that limits foreign textbooks and makes it more difficult for international nonprofits to operate in the country.
India boycotted the summit, largely due to sovereignty concerns. China is building an economic corridor with Pakistan on land India also claims. The Indian government, in a statement, warned of an "unsustainable debt burden" for participants. Other countries, such as Germany, have expressed worry about limitations on foreign firms.
"The more China can demonstrate the Belt and Road Initiative is open to outside participation in this way, the more it will be embraced by global or even American firms and suppliers," said former U.S. Treasury Secretary Henry Paulson, now chairman of the environmental-focused Paulson Institute, who participated in the forum.
Almost every Chinese newspaper covered its front pages with stories about the summit. State television broadcast live coverage of leaders walking on a red carpet to meet the Chinese president for dinner. A video of Putin, who gave an impromptu piano recital in the state guesthouse before a meeting with Xi, went viral. (He played two 1950s songs from his youth.)
The English-language China Daily, in the lead-up to the forum, released a series of videos of an American father telling his daughter bedtime stories – about the infrastructure plan.
Officials marked the occasion with a glowing golden bridge in Olympic Park. Elderly women wearing red armbands patrolled neighborhoods, police stood outside subways, some nightclubs shut down, and traffic crawled on the city's ring roads. Beijing's skies, often a soupy gray, shone bright blue.
Security was tight even outside the city. At Yunling village, a rustic community in the shadow of the Great Wall, propaganda about the forum blared from street-side loudspeakers. Older volunteers instructed visitors to register at a nearby police station.
"All the guesthouses here are closed," one villager said, waving her hands. "Nobody will receive you."
But China could not script its recalcitrant neighbor. North Korea tested a ballistic missile hours before the forum began, coloring the event and its public goal of unity. China permitted a North Korean delegation to attend the forum, despite consternation from U.S. officials.
Few Chinese newspapers reported on the test. Instead, they were filled with pictures of Xi.
"In the short term, it's all about the show," said Chen Dingding, an international relations professor at Jinan University in Guangzhou. "But if we continue this initiative and move forward on it, hopefully something good will come out of this."
Staff writer Jonathan Kaiman and Nicole Liu in the Times' Beijing bureau contributed to this report.
Meyers is a special correspondent.
Twitter: @jessicameyers
ALSO
Globalization 2.0: How China's two-day summit aims to shape a new world order
Sri Lankans who once embraced Chinese investment are now wary of Chinese domination
South Korea's new president takes office, signals willingness to engage in talks with North Korea
---
Must-read stories from the L.A. Times
Get the day's top news with our Today's Headlines newsletter, sent every weekday morning.
You may occasionally receive promotional content from the Los Angeles Times.