White House calls North Korea 'flagrant menace' after seventh missile test launch this year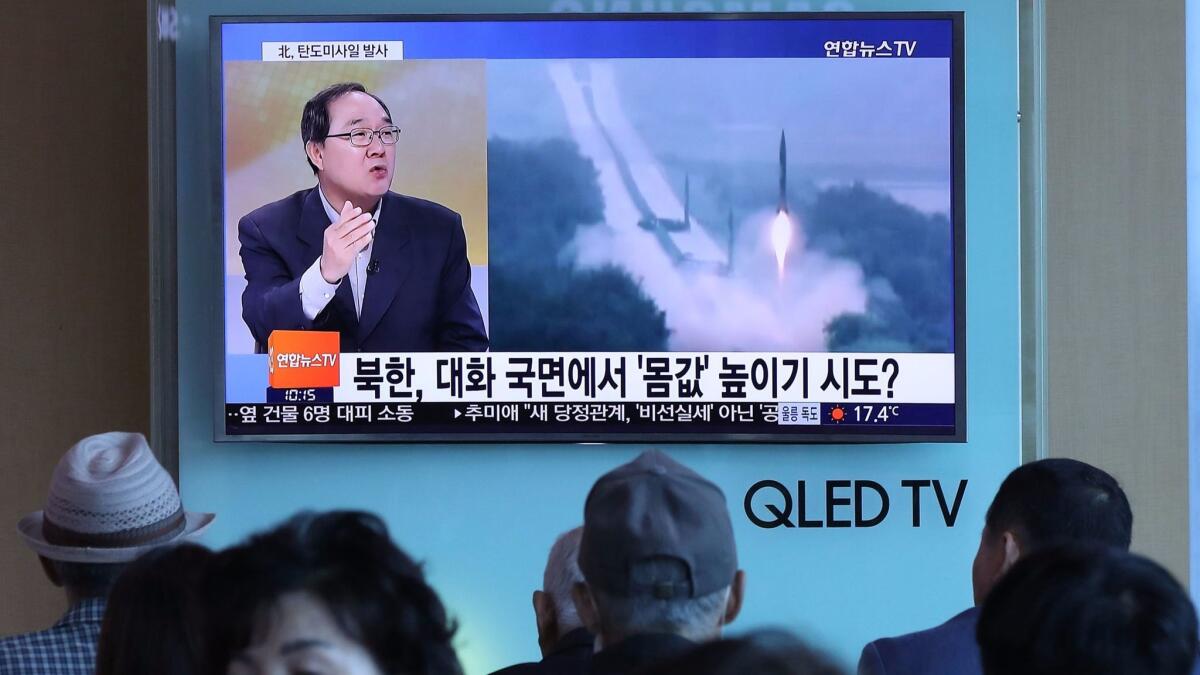 Reporting from WASHINGTON —
The White House is calling North Korea a "flagrant menace" after the test launch of a ballistic missile, the seventh such firing this year.
President Trump was briefed on the missile test, according to a statement the White House released late Saturday. The missile firing took place Sunday, North Korea time, with the projectile landing in the sea between North Korea and Japan.
"The United States maintains our ironclad commitment to stand with our allies in the face of the serious threat posed by North Korea," the statement said.
Washington and its allies will continue to "tighten the screws" on North Korea's mercurial leader Kim Jong Un, said Nikki Haley, the U.S. ambassador to the United Nations.
Speaking to ABC's "This Week," Haley said Kim is "in a state of paranoia … incredibly concerned about anything and everything around him."
The White House statement called for stronger sanctions against the North but did not directly threaten U.S. military action. Trump has said that bellicose actions by Kim's government could trigger "major, major conflict."
North Korea's official Korean Central News Agency said the country tested a new type of long-range missile "capable of carrying a large-size heavy nuclear warhead." Kim was reported to have witnessed the launch and "hugged officials in the field of rocket research, saying that they worked hard to achieve a great thing."
The test firing, against a backdrop of rising tensions on the Korean peninsula, came four days after South Korea's new president, Moon Jae-in, took office. Moon has called for outreach to Kim.
Moon, according to his office, called the launch a "clear violation" of U.N. Security Council resolutions. The Security Council was to meet Tuesday to discuss the launch, diplomats said.
In its statement, the White House appeared to call indirectly for Russian support in containing Kim's nuclear ambitions, suggesting they posed a threat to Russia as well.
"With the missile impacting so close to Russian soil — in fact, closer to Russia than to Japan — the president cannot imagine that Russia is pleased," the statement said.
Russia, a onetime ally of North Korea, is a member of a six-nation consortium aimed at reining in the reclusive nation's nuclear program through diplomatic and financial incentives, but that forum has been inactive for nearly a decade.
Russia's Interfax news agency cited military officials as saying that the missile had posed no danger to its territory. It said the projectile was tracked by Russian antimissile defenses during its 23-minute flight before plummeting into the sea more than 300 miles off the Russian coast.
Trump has also sought to enlist the assistance of China's president, Xi Jinping, with whom he met last month at his Mar-a-Lago estate in Florida, in preventing North Korea from escalating development of its weapons program.
The North Korean test came at an embarrassing moment for China, making it appear that Xi lacks influence with Kim.
The missile test occurred hours before China's biggest diplomatic event of the year, the Belt and Road Forum, built around its highly ambitious "One Belt, One Road" trade initiative, named to evoke the glories of the ancient Silk Road trade route.
Special correspondent Jessica Meyers in Beijing contributed to this report.
Aerospace peppers and astronaut robots: A town's transformation reveals China's ambitions in space
Here's what's driving North Korea's nuclear program — and it might be more than self-defense
Globalization 2.0: How China's two-day summit aims to shape a new world order
---
UPDATES:
6: 20 p.m.: This article was updated with additional details from KCNA.
5:40 p.m.: This article was updated with North Korea's official news agency saying the missile tested was capable of carrying a nuclear warhead.
This article was originally published at 4:15 p.m.
Sign up for Essential California for news, features and recommendations from the L.A. Times and beyond in your inbox six days a week.
You may occasionally receive promotional content from the Los Angeles Times.