A Hollywood-style celebrity scandal is dominating the Internet in China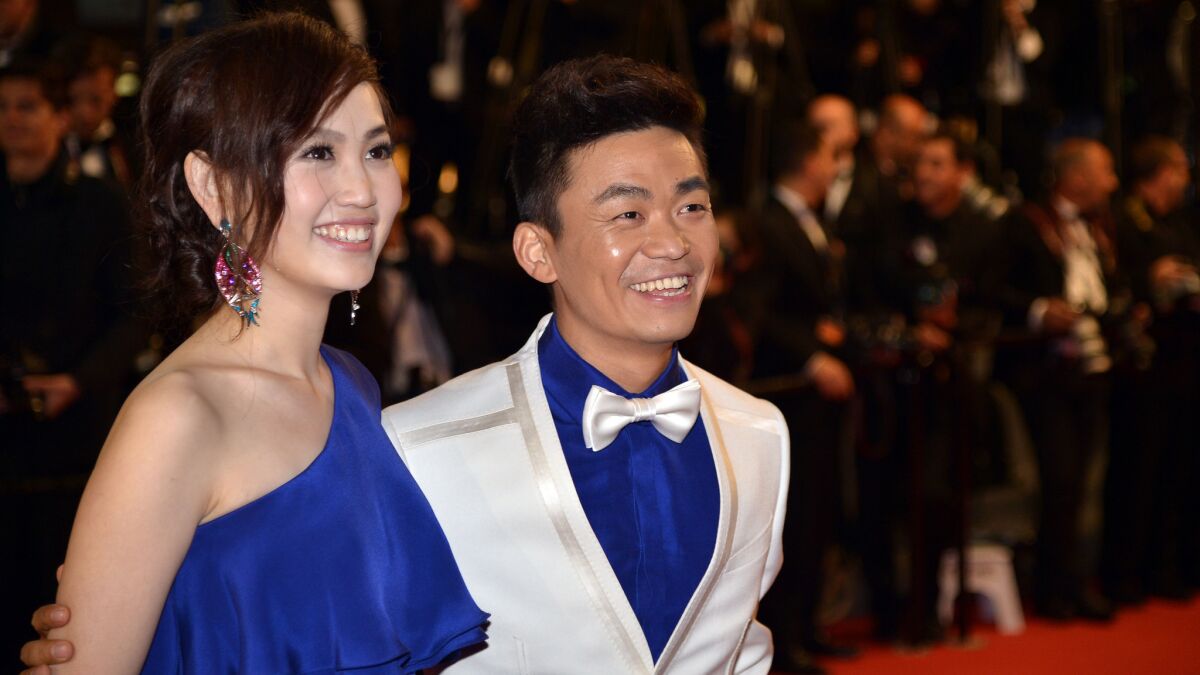 Reporting from Beijing —
China is in the midst of one of its biggest celebrity scandals in recent memory, a messy divorce which, over the last week, has dominated the country's Internet and turned ordinary social media fans into avid sleuths.
Actor Wang Baoqiang on Sunday posted via Weibo, China's Twitter, that his wife of seven years, Ma Rong, an actress, was engaged in an affair with his agent, Song Zhe. On Monday, Wang filed for divorce.
Since then, the scandal has become the biggest topic in Chinese cyberspace. The hashtag #WangBaoqiangDivorce on Weibo had been viewed 8.6 billion times as of late Friday afternoon — on average, more than six times for every one of China's more than 1.3 billion people. Chinese Internet users have overwhelmingly rallied to the actor's defense, with many even donating money to help cover his legal fees.
"Since I married Ma Rong in 2009, I've kept my wedding vows; I've been sincere to her and loyal to my marriage," Wang wrote in his original Weibo post, which has attracted 5.3 million "likes" and 3 million comments. "I protect my wife and take care of my children and all of our parents; I make efforts to be a good husband, dad and son. I work hard to provide a better living environment for my family.
"I've been absolutely loyal, honest and tolerant," he continued. "But I can't stand the evil behavior of betraying a marriage and destroying one's family."
Soon afterward, Ma struck back, claiming that Wang was the guilty party. "The more one tries to hide, the more one is exposed," she posted cryptically. "The truth will finally come out."
On Monday, Wang's company wrote on Weibo that Wang had borrowed money to fund his divorce case, sparking speculation in the Chinese media that Ma and Song had absconded with his wealth. Internet users struck out at Ma, posting a string of vitriolic comments to her Weibo page. Some users even tracked down her address and ID card number and posted them online.
"Wang Baoqiang is a village boy — he suffered a lot," said one fan's Weibo post, reflecting a popular sentiment. "All your money was made by him. Please don't take away his hard-earned money."
On Tuesday, Ma sued Wang for defamation. On Wednesday, Song's wife filed for divorce.
Wang, 32, was born to a poor family in Hebei, a dusty, mountainous province that surrounds Beijing. His debut role was as a 16-year-old victim of two scam artists in Blind Shaft, a bleak film about murder in a Chinese coal mine. He hit the mainstream soon afterward, playing charming, if naive characters in several comic capers, including A World Without Thieves (2004) and Lost in Thailand (2012), for a time China's highest grossing movie ever.
Chinese media have referred to Wang as a "grassroots star," and his down-home appeal might partly explain the overwhelming sympathy.
Yet some observers have seen it as a symptom of unfair gender relations in the country.
"It's a double standard," Lü Pin, the editor in chief at Gender Watch, a feminist activist website, told the Chinese news website Phoenix News. "Society is particularly intolerant towards women cheating on their husbands. We always find a reason, or an excuse, for men cheating. More often we'll forgive men, and give [them] a second chance."
Chinese Internet users and media have attempted to eke out as much information on the case as possible. The Legal Evening News, a state-run newspaper, published information about the couple's assets (they found nine properties, a BMW car and other "luxury goods").
An anonymous airline company employee even publicized Ma and Song's flight information to help amateur sleuths track them down. According to Chinese media, one Beijing resident flew overnight to the northeastern city of Dalian to try to find Song. (He failed).
Many Internet users have helped donate money to abet Wang's divorce — enough that swindlers have piggybacked on the scandal for financial gain. Some have composed text messages in Wang's name to solicit donations, according to an article in the Henan Legal Evening News. One victim, a villager, reportedly transferred 5,000 yuan ($750) to a swindler's account.
On Wednesday, the scandal in full swing, several U.S.-based fans located Wang's Pasadena house on a real estate app, traveled to the residence, and interviewed a neighbor about who lived there.
They didn't find much. According to a reporter for the website SinoVisionNet, the neighbor told them that two people live in the house, a man and a woman. The neighbor didn't recognize a photo of Wang.
The video of the neighbor also went viral. As of late Friday, it had been viewed at least 6 million times.
Yingzhi Yang in the Times' Beijing bureau contributed to this report.
MORE WORLD NEWS
What people are saying about 'burkinis' in France
Despite relatively few terrorist attacks, Germany is gripped by fear and false alarms
Haunting image of boy in an Aleppo ambulance captures plight of children caught in Syrian war
---
Must-read stories from the L.A. Times
Get the day's top news with our Today's Headlines newsletter, sent every weekday morning.
You may occasionally receive promotional content from the Los Angeles Times.