Haunting image of boy in an Aleppo ambulance captures plight of children caught in Syrian war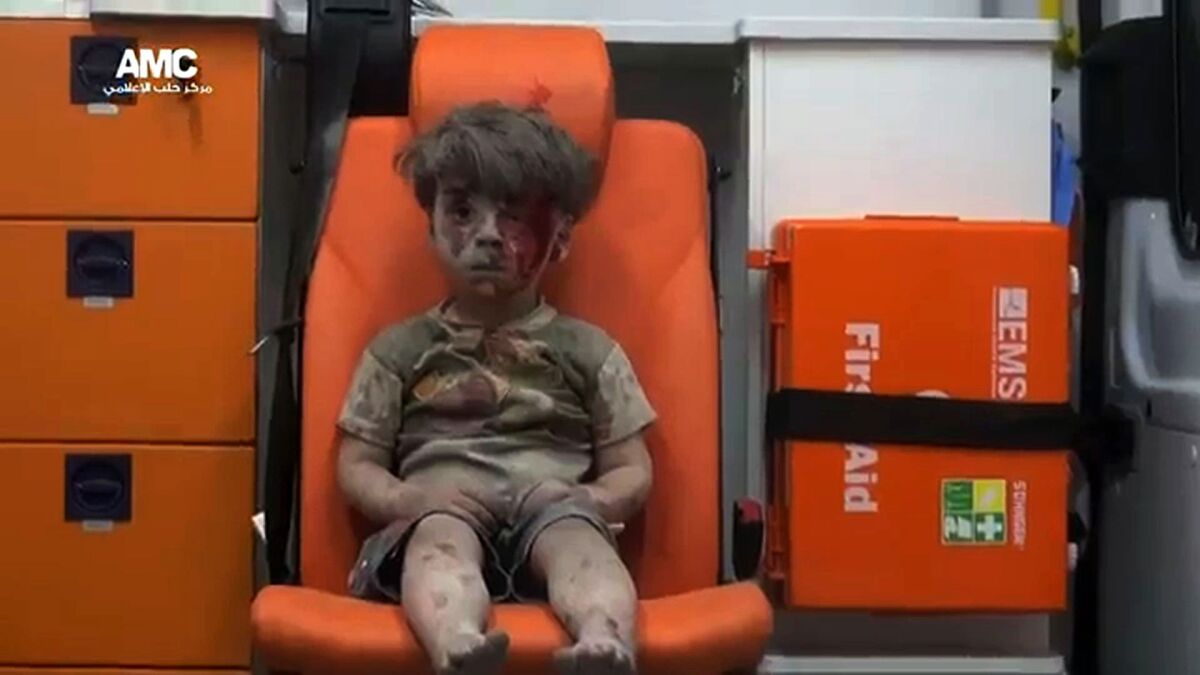 Reporting from AMMAN, Jordan —
Once again, the haunting image of a little boy has become an emblem of Syria's wartime suffering.
But amid a worldwide outpouring of grief and outrage at the sight of Omran Daqneesh — a small, silent, solitary figure, seated bloodied and dazed in the back of an ambulance in his ravaged hometown of Aleppo — the fighting ground steadily onward, spurring even a polished veteran diplomat to rail in despair over stalled humanitarian efforts.
The video of Omran, taken just after he was plucked from the rubble of his family home in Aleppo's Qaterji district in the aftermath of an apparent airstrike, ricocheted across social media and news sites Thursday after being posted online by activists the night before. Sooty and dust-covered, the little boy doesn't cry; not even a whimper escapes him. He just stares straight ahead, his small face blank with shock.
For many who saw the video and still photos online, the sight brought to mind the image that circulated nearly a year ago of a Syrian toddler whose tiny drowned corpse washed up on a Turkish beach — 3-year-old Aylan Kurdi, one small casualty of the enormous exodus driven by the savagery of the country's multi-sided conflict.
As then, the little boy's back story took time to emerge, with some details still unclear. Medical officials and activists identified Omran by name and put his age at either 4 or 5, although the photographer-activist who captured the scene said the last name Daqneesh was a pseudonym to protect the family's privacy.
Shocking images of suffering are documented daily and hourly in Syria, including many of injured children such as Omran, but it was not hard to see why this one captured worldwide attention. In the video, the barefoot boy is clad in shorts and a cartoon-emblazoned T-shirt — just like any kindergartner anywhere on a hot summer's evening — lending the chaotic events an incongruous touch of childhood familiarity, right down to his slightly pigeon-toed pose.
As elsewhere in Syria, the children of Aleppo often bear the brunt of the violence, deprived of schooling, malnourished, dying of preventable diseases, vulnerable to constant bombardment. To many online commenters, Omran became a symbol of this children's war: the boy in the ambulance.
In the video, he is first seen being handed off from one rescuer to another as first responders rushed to the darkened scene. As the camera follows him, a rescuer in a yellow vest places Omran inside a brightly lighted ambulance, settling him carefully upright in a bright-orange seat before hurrying off to help more wounded.
In the adult-sized seat, the child looks smaller than ever, little legs sticking straight out in front of him, barely extending to the edge of the cushion. Silently, he reaches up to touch his mop of tousled hair and his wounded face, then seems puzzled over what to do with his hand, which comes away covered with ash and blood. Uncertainly, he wipes it on the seat.
"When I first saw Omran, before he was taken to the ambulance, I started crying," said the photographer, Mahmoud Raslan. Omran's three siblings, ranging in age from 1 to 11, were also rescued from the rubble, along with his parents, he said, but the structure collapsed soon after they were extricated from the ruins.
"I just started shouting at the rescue workers, 'Help the boy, help the boy!' My voice was choking up," Raslan recounted in a phone interview. Medical officials said Omran and his family were treated for their injuries and released from the hospital within hours, although they had no home to go to.
Even amid the ravages of Syria's five-year conflict, the plight of Aleppo stands out. In the northern city that was once Syria's commercial capital and a cultural jewel, fighting has raged in recent weeks between government forces and rebels, each of which controls parts of the city.
Trapped civilians are enduring hunger, power cutoffs and airstrikes by Russian-backed government forces, and medical care is harder and harder to come by. In the city's opposition-held areas, at least two dozen medical facilities have been hit by government airstrikes, according to United Nations investigators, prompting medical and rescue personnel to use code names for hospitals in radio communications.
In Geneva, the U.N. envoy for Syria, Staffan de Mistura, cut short a meeting Thursday of a humanitarian task force chaired by Russia and the United States with the aim of deescalating the violence to allow aid deliveries. De Mistura declared that there was "no sense" in more talk as the transport of desperately needed supplies was delayed yet again.
"Tomorrow is World Humanitarian Day, and in Syria what we are hearing and seeing is only fighting, offensives, counteroffensives, rockets, barrel bombs, mortars, Hellfire cannons, napalm, chlorine, snipers, airstrikes, suicide bombers," the longtime diplomat, who came out of semi-retirement to take up the Syria envoy post, told reporters.
"Not one single humanitarian convoy has so far reached any of the besieged areas this month — not one single convoy, and why?" De Mistura continued, looking and sounding uncharacteristically agitated. "Because of one thing: fighting."
Later, Russia's Defense Ministry said it was prepared to introduce a "humanitarian pause" in the bombardment of rebel-held areas of Aleppo next week to allow aid to get through. De Mistura said the U.N. would "count on" Russia to ensure that Syrian government forces abided by the envisioned 48-hour pause.
In the Arab world, social media users started a hashtag campaign called #Omran_From_Under_the_Rubble, which galvanized some angry denunciations of the world's indifference to the Syrian conflict and its consequences. One widely shared image showed the child's picture digitally added to a shot of President Obama conferring with Russian leader Vladimir Putin.
Other commenters, though, focused on the simple sorrow of the scene of a child bewildered and injured.
"Here words die," posted Twitter user Al-Shumari, "and one's tongue is tied."
Special correspondent Bulos reported from Amman and Times staff writer King from Washington.
ALSO
To escape persecution, members of this Afghan minority flee to Iran — and get sent to fight in Syria
Report documents horrific torture in Syrian prisons
Two years after war, rebuilding in Gaza is far from done, and international donors are bailing
---
UPDATES:
1:20 p.m.: This article was updated with additional background and details.
7:23 a.m.: This article was updated with comment from the photographer and reactions to the images on social media.
This article was originally published at 6:50 a.m.
---
Must-read stories from the L.A. Times
Get the day's top news with our Today's Headlines newsletter, sent every weekday morning.
You may occasionally receive promotional content from the Los Angeles Times.