Chinese rights lawyer fires his own state-appointed lawyer in a dramatic court appearance
Reporting from Beijing —
The long-awaited trial of a leading Chinese human rights lawyer began Wednesday, and just as quickly was adjourned as he dramatically fired his state-appointed lawyer.
Wang Quanzhang, 42, who had been held incommunicado for more than three years, was indicted during the brief court session on charges of subverting state power. He is the latest in a series of high-profile Chinese dissidents to have their court dates set over the Christmas period as China continues to crack down on civic activism.
Renowned for his work defending victims of land expropriation, labor camps, prison abuses and political persecution – including members of the banned Falun Gong spiritual movement – Wang is the last of more than 200 lawyers detained across China on July 9, 2015, to face trial.
Known as the "709 crackdown," a reference to the date, the sweep is viewed as a pivotal moment in a continuing assault on the rule of law that has intensified under the leadership of President Xi Jinping. It has included the stifling of online dissent, the harassment of dissidents and journalists, and the suppression of religious freedom in Xinjiang province, home to millions of Muslims.
"The 709 crackdown dealt a terrible blow to China's rights-defense movement, which significantly contracted as rights lawyers were jailed, disbarred or placed under surveillance," said Yaqiu Wang of Human Rights Watch.
Court documents indicate the case against Wang rests on his work with China Action, a now discontinued nongovernmental organization focused on training lawyers in Hong Kong that Wang established in conjunction with the Swedish human rights defender Peter Dahlin, as well as his involvement in a landmark case involving the unofficial detention of Falun Gong practitioners in so-called "black jails."
Dahlin, who is also the co-founder of the human rights advocacy group Safeguard Defenders, issued a statement saying: "The very mission of China Action was to strengthen enforcement of China's laws, the very opposite of claims that it was in any way or form working to violate or break Chinese law. There is no legal basis for the prosecution of Wang Quanzhang as presented by the prosecutor, and the court should, without delay, have [him] set free."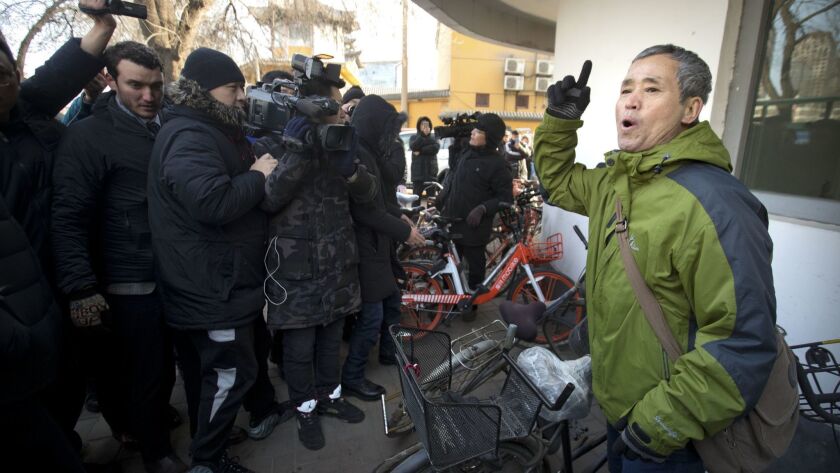 However, in a dramatic turn of events, Wang fired his state-appointed lawyer Liu Weiguo, forcing the court to postpone the trial for an as-yet-unspecified period. Liu posted the news to a WeChat group within minutes of court proceedings opening on Wednesday.
Firing state-appointed lawyers is a strategy adopted by those who feel their representation is biased, forcing the court to adjourn while another lawyer is selected, often taking 10-15 days, Dahlin said in an interview. "Wang is unlikely to get to choose his own lawyer, but this move will highlight the lack of any real trial being made available to him – that this is a show trial and nothing more," he said.
News of Wang's imminent trial in the northeastern city of Tianjin broke across social media Christmas Day after his wife, Li Wenzu, revealed in a statement that she had been visited by state security officials, who surrounded her home and warned her not to attend the trial the following day. Li hit the media spotlight last week by joining three other women in publicly shaving her head to protest Wang's detention.
Until his emergence this week, many feared Wang had died, with a report by a U.S. advocacy group, China Human Rights Defenders, indicating he had been heavily tortured in detention, nearly to the point of death, and denied access to lawyers.
"Almost every human rights lawyer in the 709 crackdown has been tortured and Wang also, but he is the last lawyer on trial, so it's very likely that he refused to take part in a TV confession, or to compromise in any way," said Teng Biao, a Chinese human rights activist and lawyer who worked with Wang in Beijing before leaving China for the U.S. in 2014.
Four Chinese human rights lawyers detained in the 709 crackdown have so far been handed sentences ranging from three to five years for subversive activities, while hundreds of others have been arbitrarily detained or interviewed, before being released on bail or after making televised confessions, according to the Hong Kong-based China Human Rights Lawyer Concern Group.
Videos emerged Wednesday of Yang Chunlin, a human rights advocate from Heilongjiang province, being bundled into an unmarked SUV outside the courthouse after shouting support for Wang.
Others detained at the scene included Zhang Zhecheng, a rights activist from Hangzhou in east China, who was removed by security after holding up a placard reading "Not guilty. Release Wang Quanzhang." Xu Yan, the wife of another detained human rights lawyer, Yu Wenshang, was also forced to leave the scene.
While it is unclear if and when Wang will be sentenced, his designation as a "ring-leader" by prosecutors ensures he is likely to be subject of a minimum of 10 years in prison under China's Criminal Law.
"The subversion charge is ironic because these were people working within the system," said Kevin Carrico, who teaches Chinese studies at Australia's Monash University. "If Wang is guilty of anything, it is of not pushing hard enough to subvert state power, and leaving the Chinese state able to arbitrarily detain and torture people who are trying to build a better society."
Green is a special correspondent.
---
Must-read stories from the L.A. Times
Get the day's top news with our Today's Headlines newsletter, sent every weekday morning.
You may occasionally receive promotional content from the Los Angeles Times.