China's new surveillance program aims to cut crime. Some fear it'll do much more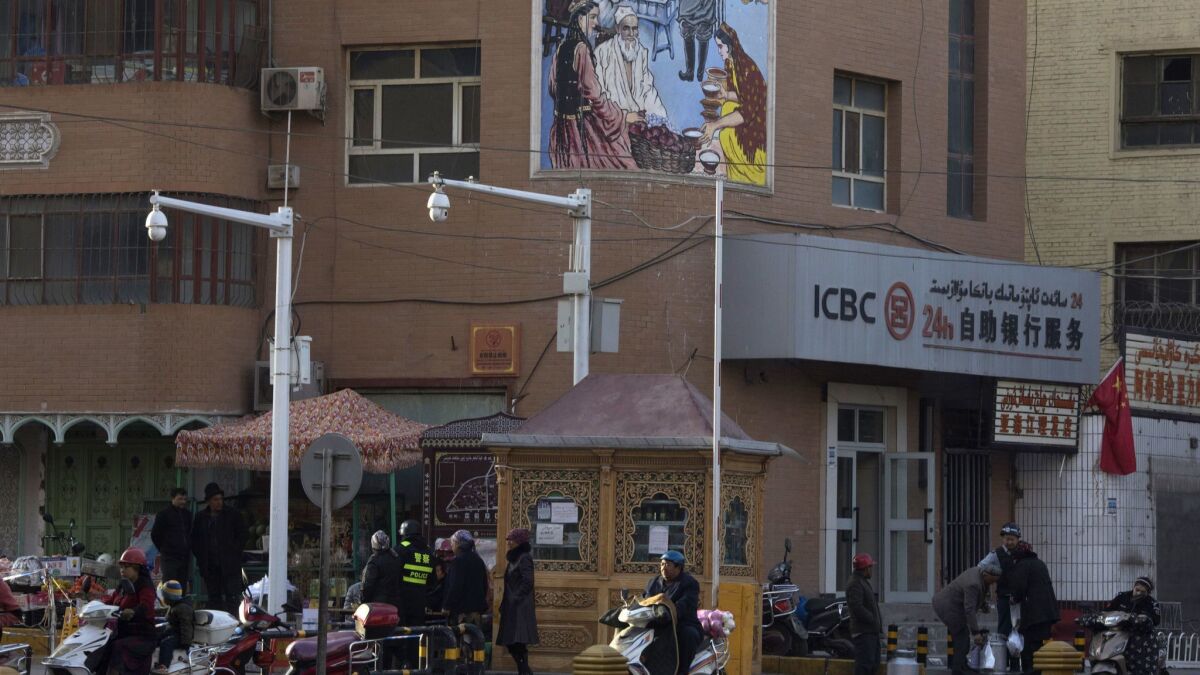 Reporting from Beijing —
When a resident of Anxi village in the Sichuan province of China set a match to a small pile of garbage in the gutter two years ago, a loudspeaker blared out his name and address and ordered him to extinguish the blaze immediately. He jumped with fright, quickly put out the flames and scurried away.
He had been caught on a surveillance camera, monitored around the clock on one of 16 screens in the village security control room.
"Everyone knew who the culprit was, so he would never dare to do that again," explained the local Communist Party secretary, Yin Xiuqin, 55, wearing a satisfied smile.
The surveillance video in Anxi is also broadcast to cellphones and some televisions — placing neighborhood snitches and busybodies on the front line of local security.
People know they are always being watched. Fear of public shaming is the essence of Sharp Eyes — or Xue Liang — a rural security project being tested in 50 Chinese towns as part of what will be a nationwide system.
The name appears to be drawn from a Mao-era slogan aimed at encouraging people to denounce those who failed to follow the Communist Party creed: "The people have sharp eyes."
China has 1.4 billion people and an estimated 176 million public and private surveillance cameras, including on every block in Beijing. As more are installed in rural areas and the technology becomes increasingly sophisticated, with the ability to recognize faces and walking styles, China is poised to overtake Britain as the world's most monitored society.
The government website of one district — Liuhe, in the eastern province of Jiangsu — boasted that security cameras will "cover everything, with no blind spots."
The goal is to catch criminals and operate alongside another evolving project, known as the social credit system, which will vacuum up data from police, hospitals, schools, banks and other institutions — and possibly from social media — and use it to rank the trustworthiness of citizens and, according to official planning documents, create a more honest society.
People will be judged not only on whether they pay bills and taxes and obey traffic regulations and other laws, but potentially also on social behavior such as how well they care for their parents.
A planning document released in 2014 said the system would let "the trustworthy roam everywhere under heaven while making it hard for the discredited to take a single step."
The final shape of the penalty-and-reward system has not been decided. But those who score poorly will probably be stopped from buying rail and air tickets, staying at good hotels or educating their children at top schools, among other measures, according to the government's planning documents, while those with good scores will get benefits. More than 10 million people who failed to follow court orders have already been blacklisted.
The system also is seen as a way to reduce corruption in China's vast government bureaucracy and prevent scandals such as the breaching of food and drug quality standards or the dumping of toxic waste in rivers.
But human rights groups say the system also could be used to track political targets amid a crackdown on dissidents and other critics of the government. Under President Xi Jinping's leadership, internet censorship has worsened, freedom of speech has narrowed, protests have been swiftly quashed, and hundreds of unapproved non-governmental organizations have been shut down.
"Extending surveillance to the local level, and maybe even into people's homes, is not for safety but for control," said Frances Eve of the Hong Kong office of Chinese Human Rights Defenders. "The government claims such programs are designed to catch criminals or keep people safe, but police treat those that exercise basic civil liberties like peaceful assembly or freedom of association as criminals."
Human Rights Watch has called China's surveillance and social credit systems "dystopian" and warned of "ominous consequences" for human rights.
Activists are especially concerned about intense surveillance in the Xinjiang region, where the United Nations has reported that as many as a million members of Muslim minority groups have been detained in reeducation camps that the government describes as vocational training centers.
"Tibetans, Uighurs and other minorities are treated with suspicion and subjected to racially based surveillance because of their ethnicity," Eve said.
But local officials and citizens in places that are testing Sharp Eyes say they like it because it has cut crime.
In Jiantai village, in Sichuan province, officials said that thieves once targeted the area before festivals to steal prized home-cured hams. It happened about 10 times a year.
The camera system cut that to five cases in 2016 and zero cases last year, according to a village official, Zhang Dabing.
And early last year, a man browsing security video on his mobile phone saw a villager pull a knife on a neighbor. He immediately called police, who rushed to the scene and broke up the fight before anyone was hurt, Zhang said.
"The village is developing a group of volunteers who are very passionate about having a peaceful neighborhood," he said. "We are developing them as active monitors."
Nearby Shanghe village has 90 households and eight surveillance cameras.
In his crowded living room with a bare bulb overhead, Yeng Linquan showed off his TV where he can tune in to local surveillance cameras whenever he wants.
"It's supplied by the government and we pay no fees," he said.
If he wants to call the police, he presses a green button on his TV remote, alerting whoever is on patrol, a duty that rotates among the families.
"I feel it's pretty useful," Yeng said. "In the past there was a lot of theft. They were stealing chickens, ducks, pigs, oil and that kind of thing. I had all sorts of stuff stolen before."
"But since the government installed Sharp Eyes I see no stealing," he said.
Villagers had been warned not to call police unless they had solid evidence, he said, "or we will be given an oral warning."
The technology is rapidly advancing, and some cities are already using cameras that recognize faces and read license plate numbers. Beijing has such systems in airports and train stations and has announced plans to install one in the city's subway.
On three occasions in April and May, police used such a system to pluck alleged criminals from crowds of up to 60,000 attending concerts by Hong Kong pop star Jacky Cheung. One of the arrested men was accused of failing to pay $17,000 for a load of potatoes three years ago.
Technology that uses artificial intelligence to comb through mountains of surveillance data is rapidly improving.
Police in the city of Guangzhou have apprehended 800 suspects and solved more than 100 crimes in the last year using a system that recognizes faces and runs them through a police database in near real time, according to Sensetime, the company that developed the technology.
Back in Anxi village, Yin showed off the village control room, with its 16 screens.
She was especially proud of some cameras that are equipped with loudspeakers.
"If there is anything to tell the villagers, we can broadcast the announcement through this speaker," Yin said. "This blue camera and loudspeaker is versatile, not only for security monitoring, but also for environmental sanitation monitoring, managing illegal parking and vendors occupying the road."
She said the cameras miss nothing, not even people who park illegally or dump trash. In two years, she said, crime, which usually amounted to petty theft and an occasional assault, has dropped to zero.
Citizens have also called the surveillance room to find elderly parents or monitor seasonal flooding without having to go to the riverbank, Yin said. The village employs people to monitor the cameras, and paid guards on motorcycles and citizen volunteers rush to the scene when somebody spots suspicious behavior and sends an alert.
The village is patrolled using a grid system that has its roots in the days of China's imperial dynasties, when rulers relied on leaders of communal blocs to provide soldiers, gather taxes and keep public order.
Residents of Anxi shrugged off any concern about intrusion.
One man said the surveillance system came in handy when his daughter disappeared for a few hours one day. He simply tapped into surveillance cameras on his cellphone and found many children playing. There she was.
Still, video surveillance has become a sensitive subject amid rising criticism from human rights advocates.
Few people wanted to be quoted by name on the subject, and local official were reluctant to discuss it with foreigners. Yin's openness about it was rare — and, it turned out, short-lived.
About 40 minutes into the interview, her phone rang. It was her boss.
Yin apologized and said was not allowed to discuss Sharp Eyes with foreigners.
Twitter: @RobynDixon_LAT
Must-read stories from the L.A. Times
Get the day's top news with our Today's Headlines newsletter, sent every weekday morning.
You may occasionally receive promotional content from the Los Angeles Times.